Most Americans Say Things Have Changed So Much They Feel Like a 'Stranger In My Own Country,' According to New Poll
A majority of Americans say that the political landscape has changed so much that they now feel like "a stranger in my own country," according to a new survey.
The findings are part of an Axios/Survey Monkey poll of over 2,800 U.S. adults from around the country. The survey was conducted from October 17 to October 20 and has a modeled error estimate of 2.5 percentage points.
Overall, 60 percent of adults polled said they agreed with the statement that "things have changed so much that I often feel like a stranger in my own country." Twenty-four percent of respondents said they "completely" agreed with the declaration and 34 percent said they "mostly" agreed with it.
Adults from both sides of the political aisle largely agreed with that view, though more Democrats felt that way than Republicans. Over 70 percent of respondents who lean Democrat said they now feel like strangers in their own land compared with 52 percent of Republicans. A majority of U.S. adults polled who do not identify with either party also agreed with the statement.
Along with feeling like strangers in their own land, Americans as a whole are angry with the way things are going in the country. Overall, 67 percent of those polled were upset with how things are going, though more Democrats (81 percent) felt that way than Republicans (57 percent).
Plus, the survey found that Americans are feeling angrier now than they did five years ago—before Donald Trump was elected president.
According to the poll, 62 percent of those polled said they find themselves feeling angrier with current events and politics more often today than they used to. While nearly three-quarters of Democrats polled felt that way, even a majority of Republicans (57 percent) agreed with the sentiment.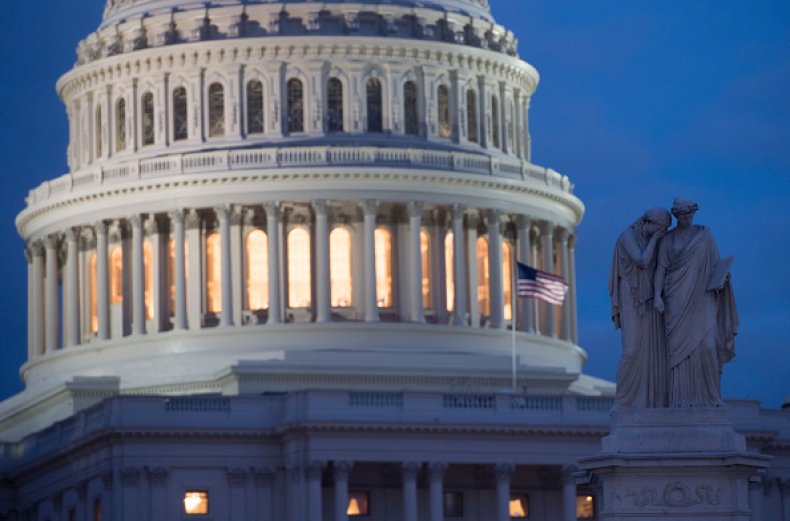 Trump's approval rating was also underwater among U.S. adults. More than half of those surveyed, 54 percent, disapproved of how Trump has handled his job as president while just 44 percent approved.
The poll was conducted at the same time House Democrats moved full steam ahead with their impeachment inquiry against Trump. Lawmakers in the House of Representatives voted on October 31 to move the probe into the national spotlight by holding public hearings.
Trump has largely dismissed the impeachment inquiry as a baseless "Democratic witch hunt." But polling has shown that public support for removing him from office has largely increased since the investigation began in late September. In fact, Americans are getting on board with the idea of impeaching Trump much faster than they did with former President Richard Nixon during the Watergate scandal.
The inquiry began amid reports that Trump tried to pressure a Ukrainian President Volodymyr Zelenskiy to investigate Biden and his son Hunter for what Trump has alleged (without evidence) were corrupt business dealings. The communication was first detailed in a complaint filed with the inspector general for the intelligence community by a whistleblower who expressed concern that Trump was "using the power of his office to solicit interference from a foreign country in the 2020 U.S. election." Trump has acknowledged that he and Zelensky discussed the Bidens in a July 25th phone call, but has denied any criminal wrongdoing.