Most Americans More Fearful Than Hopeful About What's to Come in 2022: Poll
As 2021 comes to a close, the majority of Americans aren't feeling rosy about what's in store in the new year, according to a new poll.
According to the survey, which was released by Axios and Momentive on Friday, 54 percent of Americans said they're more fearful than hopeful about what's to come for the world in 2022, while only 44 percent replied they're more optimistic about the new year.
This marks a sharp contrast from an Axios poll at the end of 2020, which found that heading in 2021, 61 percent of Americans said they were hopeful about the world in the upcoming year. Only 36 percent of people reported feeling more fearful.
Laura Wronski, senior manager for research science at Momentive, noted that the end of 2020 was "a particularly hopeful time," noting an incoming new president and optimism about the COVID-19 pandemic improving.
"I think after this year we realized it's not going to magically get better, that we're going to have to live with COVID for a while," Wronski told Axios.
In 2018, before the pandemic, 48 percent of Americans said they felt more fearful than hopeful about the upcoming year, and in 2017 that number 52 percent, Axios noted.
The close of 2021 comes as the new highly contagious Omicron variant is spreading across the U.S., causing coronavirus cases to surge.
However, the poll found that most Americans— 61 percent—are more hopeful than fearful about the outcome of the pandemic in 2022. While that's down from 76 percent at the end of 2020, only 37 percent said they are more fearful about the future of COVID-19 in 2022.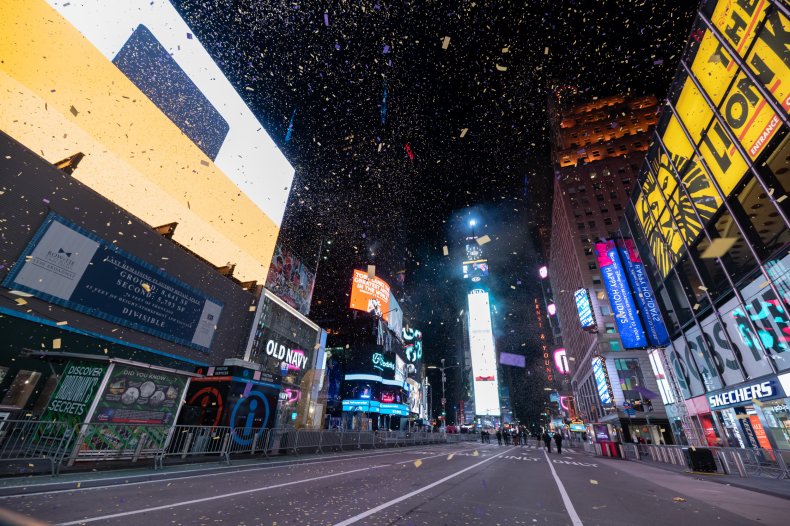 The study also revealed that 50 percent of Americans believe that 2022 will be a bad year for the economy. The concerns come as inflation rose sharply during 2021.
A report released this month found that average Americans now spend 7 percent more on their household goods while wealthy Americans are spending 6 percent more.
Among those polled, 31 percent cited "jobs and the economy" as the most important issue, while 17 percent mentioned "democracy."
Republicans reported feeling the least optimistic about 2022, with 69 percent of them stating they feel more fearful than hopeful compared to 45 percent of Democrats and 47 percent of independents.
The poll was conducted between December 14 and December 16 among a national sample of 2,602 adults in the United States, according to Axios.
The year closes as President Joe Biden continues to face low approval ratings. As of December 30, FiveThirtyEight, which tracks the president's approval rating by analyzing a wide variety of polls, gave Biden an approval rating of 43.4 percent, and a disapproval rating of 51.6 percent.