The vast majority of Americans say the future of their country is a significant source of stress and that this is the lowest point in the nation's history in living memory, according to research.
The nationally representative Stress in America 2020 report by the American Psychological Association consisted of two surveys conducted by The Harris Poll. The first, carried out between May 21 and June 3, involved 3,013 adults living in the U.S. and focused on the COVID-19 pandemic. A separate poll involving 2,058 U.S. adults looked at civil unrest in the wake of the police killing of George Floyd last month.
As many as 83 percent of those who took part in the civil unrest survey said the future of the nation is a significant source of stress, up from 66 percent last year. Some 72 percent think this is the lowest point in U.S. history that they can remember, spiking by 16 percentage points since both 2018 and 2019.
The proportion of black Americans who said they feel discrimination is a major source of stress jumped from 42 percent at the start of May to 55 percent in the latest survey.
Over seven in 10 Americans (71 percent) surveyed said police violence against minorities is a significant source of stress, with 67 percent believing the movement against racism and police violence will trigger meaningful change in the country.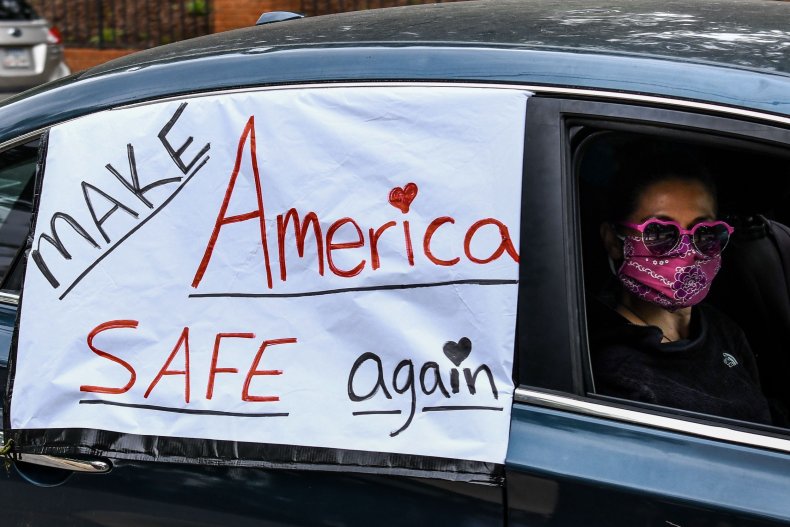 The protests against Floyd's death have come amid the COVID-19 pandemic, the worst public health crisis in a generation, as well as a subsequent hit to the economy. A total of 78 percent of respondents said the pandemic is a significant source of stress, with 66 percent pinning their feelings on the government's response, 72 percent on that of their state government, and 64 percent on the local government.
By comparing the responses of Democrats and Republicans, the researchers found the former are more likely than the latter to cite the government's response as a source of stress.
However, stress levels have fallen slightly since a previous report at the end of April and start of May, but are significantly higher than the same time last year, at 5.6 versus 4.9.
When the data was crunched according to age, three-quarters of Gen Xers, aged 42 to 55, were stressed by Washington's COVID-19 plans, followed by 67 percent of millennials, 63 percent of 18 to 23-year-old Gen Zers, 62 percent of boomers, and over half of those aged over 75, at 56 percent.
Asked what they found reassuring, 77 percent of respondents said preventative measures such as face masks and social distancing, spiking to 93 percent among older adults.
Although 72 percent were confident they could protect themselves from the coronavirus when the country re-opens, the easing of lockdown measures made 63 percent of participants feel stressed. Some 65 percent said they wished they had more information about how they should respond to their community reopening.
Most (71 percent) parents who took part in the report said they were worried that the pandemic would affect their child's development, with over half (55 percent) reporting their child had been acting out since it started. A total of 60 percent of parents said they had no idea how to keep their child occupied over the summer.
The report was published the same week as a separate poll by The Associated Press-NORC Center for Public Affairs Research, which discovered similarly negative attitudes about the country's future. The survey was carried out between June 11 and June 15 and involved 1,310 adults in the U.S.
It found 39 percent approve of Trump's performance overall, similar to a poll in May. A total of 62 percent approved of his response to the coronavirus outbreak, and 50 percent on his handling of the economy.
But 67 percent disapproved of his handling of race relations, spiking to 95 percent among Democrats, and 93 percent among black Americans. That figure fell to 62 percent among white Americans, and 32 percent of Republicans.
The majority of Americans, at 64 percent, said Trump's presidency has made the country more divided, rising to 88 percent of Democrats and 82 percent among black Americans, compared with 60 percent of white Americans and 37 percent of Republicans.
Just over half of Americans (54 percent) thought Trump had made things worse in the wake of Floyd's death, at 83 percent of Democrats, 72 percent of black Americans, 51 percent of white Americans, and 22 percent of Republicans.
Asked whether the country is heading in the wrong direction, Republicans were more likely to agree this month than the last, at 63 percent versus 42 percent. Overall, 74 percent of people agreed with this statement, compared with 65 percent in May.
The sentiments reflect the findings of a Navigator poll that showed Trump had his lowest approval rating since the start of the coronavirus pandemic.
About the writer
Kashmira Gander is Deputy Science Editor at Newsweek. Her interests include health, gender, LGBTQIA+ issues, human rights, subcultures, music, and lifestyle. Her work has also been published in the The Independent, The Independent on Sunday, The i Newspaper, the London Evening Standard and International Business Times UK.