The majority of U.S. adults believe President Donald Trump is more likely to "steal" the election in November than Democratic presidential candidate Joe Biden, as concerns that the president is attempting to undermine the U.S. Postal Service mount.
A poll carried out from August 14 to 15 by Yahoo News/YouGov showed that 62 percent of Americans believed that Trump is more likely to "steal" the election than Biden. Just 38 percent of respondents—or 24 percent less—believe Biden is more likely to somehow rig the results in his favor.
The survey found that 59 percent of U.S. adults believe that Trump's claims that the election could be "rigged" are the president "trying to delegitimize the outcome because he doesn't think he will win a majority of votes." An equal percentage of respondents said they disapproved of Trump's effort to block funding to the USPS to prevent mail-in voting, while 47 percent said they "strongly" disapprove.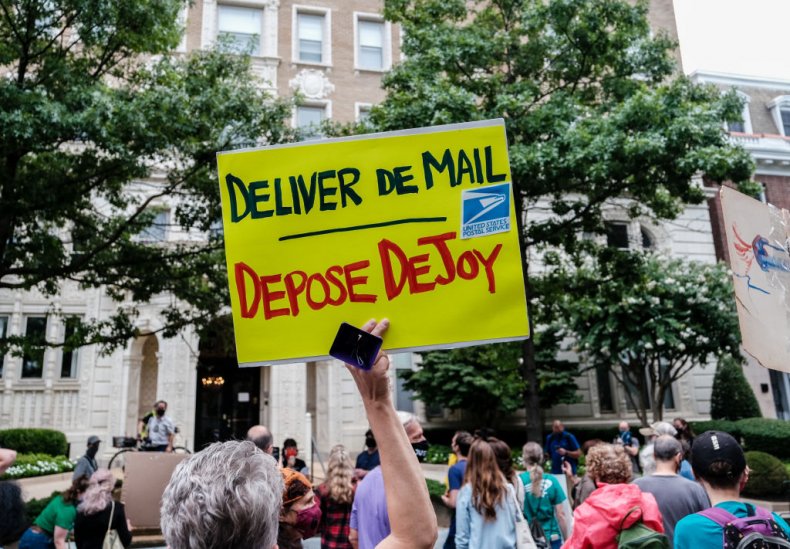 Additionally, the majority of Americans believe Trump will not accept the results of the election if he loses in November. The poll found that 57 percent said the president would not accept the results if he lost, while only 20 percent believed he would concede the election. When it comes to Biden, just 28 percent said the Democratic challenger would not accept a loss while 41 percent said he would.
On Thursday, the president openly told Fox Business in an interview that he opposed providing additional funding to the USPS because he believed it would be used to support expanded mail-in voting. The president has claimed repeatedly, without evidence, that mail-in voting is riddled with voter fraud. He has also said that mail-in voting is very different from absentee voting, which he has done multiple times since serving as president. Election officials—Democrats and Republicans—have dismissed the president's claims as inaccurate and misleading.
"They need that money in order to make the post office work, so it can take all of these millions and millions of ballots," Trump told Fox Business on Thursday
"If we don't make a deal, that means they don't get the money," the president said. "That means they can't have universal mail-in voting. They just can't have it." Later on Thursday, the president attempted to walk back the remarks, saying he would not necessarily oppose stimulus legislation that included funding for the USPS.
But Democrats have raised alarms for weeks that Trump is attempting to undermine the USPS and the election ahead of November. Wealthy Trump donor Louis DeJoy took over as the USPS' new postmaster general in June. His actions to cut costs for the cash-strapped federal agency have raised significant concerns, as they have already led to mail delays across the country. With the expansion of mail-in voting due to the novel coronavirus pandemic, many have expressed concern that Trump is using DeJoy to undermine the election.
"Trump and his handpicked Postmaster General, who just happens to be a major campaign contributor, are trying to sabotage the Postal Service, suppress the vote and undermine democracy," former Democratic presidential candidate Senator Bernie Sanders, a Vermont independent, told Newsweek last week.
"There's a reason why Trump wants to sabotage the Postal Service. In a pandemic, people need mail-in ballots," he said. "If the mail is delayed, as Trump is doing, fewer people will vote. If fewer people vote, Trump thinks he can win the election."