'The Most Dangerous': These 3 Republicans Have Broken With Mitch McConnell to Stand With Trump
Three Republican congress members have criticized Republican Senate Minority Leader Mitch McConnell for his February 13 speech blaming Donald Trump for inciting the January 6 insurrection at the Capitol.
Their criticism amplifies a growing rift in the Republican party between its pro-Trump faction and those eager to distance the GOP from Trump following the insurrection and the Republican party's loss of both the White House and the Senate during Trump's presidency.
In a Tuesday letter, Trump himself has blamed McConnell for the GOP's loss of the Senate.
On February 13, McConnell voted to acquit Trump in the impeachment trial accusing him of inciting the insurrection. But afterward, McConnell made a speech blaming Trump for starting the uprising. In his speech, McConnell said he voted to acquit Trump merely because he believed the Senate lacked the Constitutional jurisdiction to convict a president who is no longer in office.
On Monday, Florida Representative Matt Gaetz criticized McConnell in a Fox News interview, calling him part of the "new incarnations in the Republican party from those trying to purge Trumpism from our movement."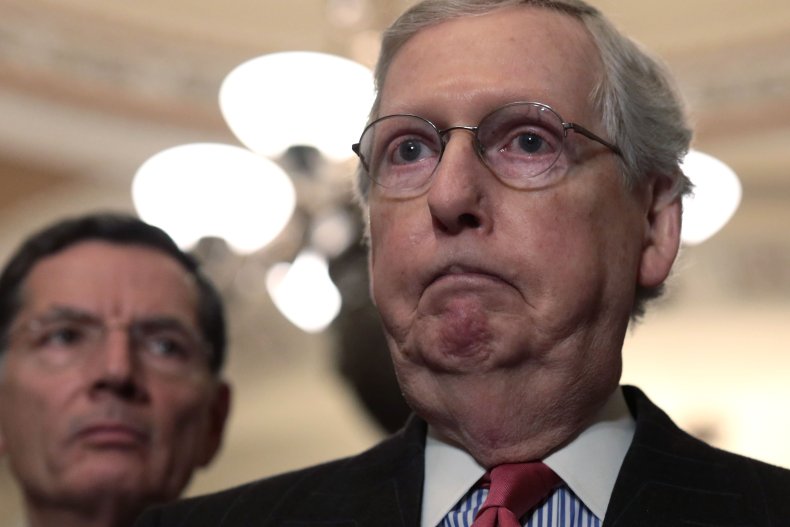 "Frankly, the most dangerous was Senate Minority Leader Mitch McConnell," Gaetz said, "who took to the floor and essentially gave the Biden Justice Department cover to prosecute the president, his son, even his supporters who didn't engage in any violent conduct on January 6th."
Gaetz was referring to McConnell's comments in which the Senate Minority Leader said of the insurrectionists, "These criminals were carrying his banners. Hanging his flags and screaming their loyalty to him."
In his February 13 speech, McConnell also said of Trump, "President Trump is still liable for everything he did while in office. He didn't get away with anything yet. We have a criminal justice system in this country. We have civil litigation."
On Monday, Republican Wisconsin Senator Ron Johnson also criticized McConnell's remarks.
"Providing a scathing speech on the floor of the Senate, that does not reflect who I think the majority of our conference," Johnson said in a Monday interview with conservative radio host Jay Weber. "He has to realize as our leader.... what he says reflects on us, right? He's representing the entire caucus."
Johnson said McConnell's comments threaten to divide the GOP when it needs to unite to defeat Democrats' "regulatory reforms" and regain control of Congress.
In a Sunday interview with Fox News, Republican Senator Lindsey Graham of South Carolina said that McConnell's speech "is an outlier regarding how Republicans feel about all this." While McConnell "got a load off his chest," Graham said, he "unfortunately he put a load on the back of Republicans."
"That speech you will see in 2022 campaigns," Graham said. "Imagine if you're a Republican running in Arizona or Georgia or New Hampshire, where we have a chance to take back the Senate, they may be playing Senator McConnell's speech and asking you about it as a candidate. And I imagine if you're an incumbent Republican there are going to be people asking you if will you support Sen. McConnell in the future."
Newsweek contacted McConnell's office for comment.
Correction, 2/17/21 2:47 p.m. EST — A previous version of this story referred to Mitch McConnell as the Senate Majority Leader. He is the Senate Minority Leader.