Most Iowa Dems More Likely to Wear Face Masks Than Republicans, Poll Says
Democrats in Iowa are more than twice as likely as Republicans to wear a face covering in public, a recent poll shows.
According to new results published in a Des Moines Register/Mediacom Iowa Poll, 76 percent of Iowa Democrats said they wear a face covering almost all or most of the time, compared to 37 percent of Iowa Republicans.
The poll also reported that 52 percent of political independents in Iowa say they wear a face mask in public.
The survey, which was taken June 7-10, showed that 36 percent of Iowans — regardless of political affiliation — said they wear a face covering almost all or most of the time, compared to 26 percent who answered they "typically never" wear a face covering while out in public.
The U.S. Centers for Disease Control and Prevention (CDC), which continues to recommend that everyone should wear a cloth face covering in public, issued its first clear stance on masks April 3.
That same day, the White House adopted the CDC's recommendation, but President Donald Trump has since sent out mixed messaging regarding the issue.
Trump, who is typically seen in public without a face mask, told attendees for his Saturday campaign rally in Tulsa, Oklahoma, that wearing a mask to the event was up to them. He decided to take the stage without a face covering.
"If people want to wear masks I think that's great. I won't be," Trump told Axios Friday, describing masks as "a double-edged sword."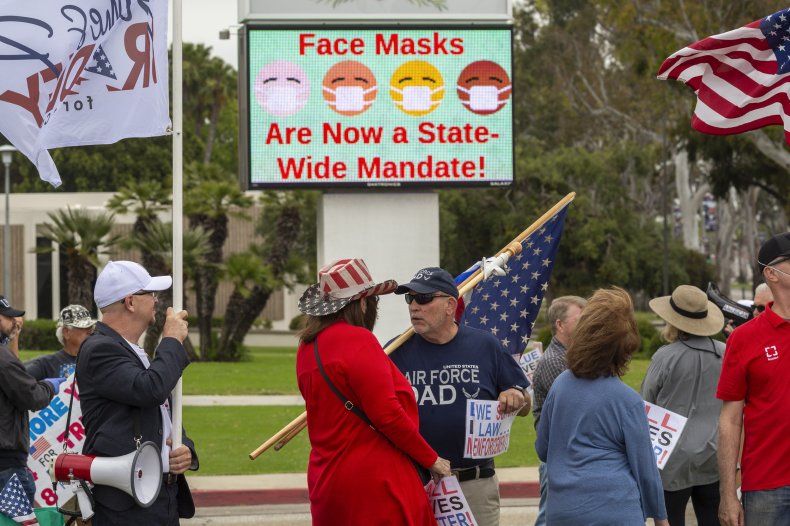 The topic of face coverings has become an increasingly politicized subject, as both national and statewide polls report a noticeable divide in opinions among registered Democrats and Republicans.
In an Economist/YouGov poll conducted April 5-7, results showed 67 percent of registered Democrats answered they would wear a mask in public, compared to the 47 percent of registered Republicans who said they would.
The partisan divide over the issue of wearing masks has continued to widen in the months since.
In a poll conducted by Quinnipiac University in late May, 87 percent of registered Democrats said masks should be required, compared to the 40 percent of Republicans who gave the same response.
The decision to enforce such a rule through mandatory law remains up to individual states, cities and counties.
About 12 states, with the most recent addition of California, currently require their citizens to wear a face covering while out in public.