The 11 Most Memorable Super Bowl Halftime Shows, From Michael Jackson to J. Lo
While the Tampa Bay Buccaneers vs. the defending champion Kansas City Chiefs will be the main event this Sunday at the Super Bowl, many people will be tuning in just for The Weeknd's halftime performance.
Here we rank the 11 most memorable halftime shows in Super Bowl history. Some made the list due to top-notch musicianship or spectacle, while others made the cut due to being notoriously ill-conceived, badly performed, or downright controversial.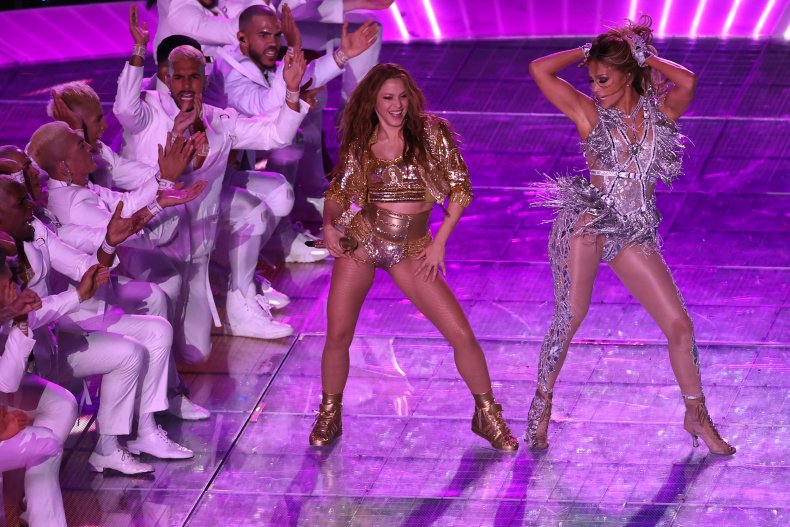 One of the first things readers may notice is that there aren't any halftime acts mentioned on this list from the early years of the Super Bowl, or even the first few decades, for that matter. During the 1960s and 1970s, halftime was no different from what you might see at a normal college game. In other words, marching bands trotting out some intricate choreography while playing patriotic or popular songs.
By the 1980's, the show's producer, Disney, took more control of the entertainment, which upped the production values while also promoting the company's parks and films. 1992 changed everything, and not in any way that Disney or anyone else could have predicted. That year, rival network Fox counter-programmed against the Super Bowl with a live episode of its popular variety show In Living Color,which drew 22 million viewers away from a halftime performance by Gloria Estefan, Olympic figure skaters, and, yes, a college marching band.
The next year, the NFL decided they needed star power to prevent a ratings steal. This brings us to the first name on this list, which is arranged chronologically.
11. Michael Jackson (1993)
Granted, child abuse allegations have diminished much of Jackson's star power, but in 1993, he was still very much the King of Pop. The Cowboys defeated the Bills by the score of 52–17 in Super Bowl XXVII, but it was Jackson in the first modern halftime show that was the story of the day. He packed his set with the hits "Jam," Billie Jean," "Black or White," "We Are the World," and "Heal the World." Bringing in the megastar proved a success, as more people tuned in for his 12-minute set than the entire first half of the game.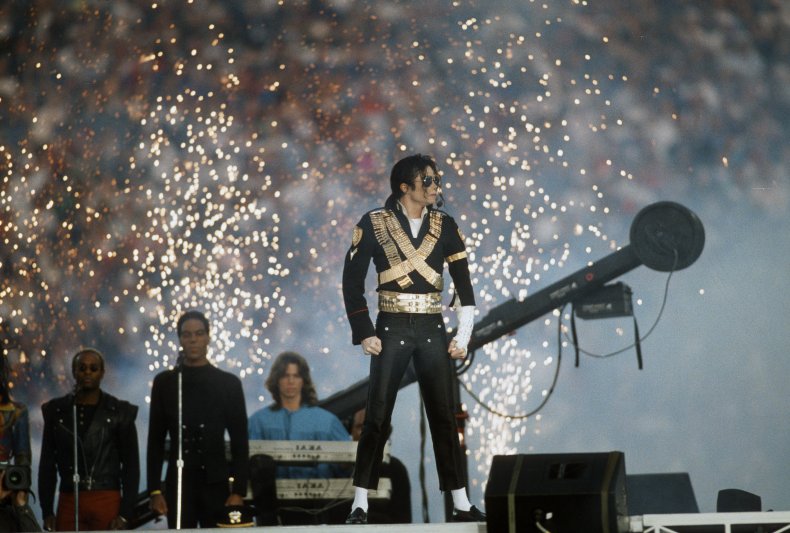 10. Indiana Jones and the Temple of the Forbidden Eye (1995)
While having pop stars drew huge numbers for halftime, ABC decided to revert back to its Disney-promoting ways only two years after Jackson. To promote Disneyland's opening of an Indiana Jones Adventure attraction, halftime that year featured a bizarre sketch of the adventurer trying to gain possession of the Vince Lombardi Trophy. Chalk this one up to being memorable for the wrong reasons, including having a Harrison Ford lookalike as Indiana and further shameless Disney-promoting with a finale of The Lion King's theme "Can You Feel the Love Tonight" performed by Tony Bennett and Patti LaBelle.
9. Diana Ross (1996)
The halftime show recovered the fumble of the previous year's Indiana Jones debacle by booking Diana Ross for Super Bowl XXX. The diva packed in 10 songs that spanned from her years with the Supremes to rent solo hits. She entered on a sparkler-shooting crane and was whisked away at the end by a helicopter, just in case there were any doubts among viewers that they were watching a bona fide star.
8. U2 (2002)
Roughly five months after 9/11, U2 rose to the monumental challenge of consoling a still-grieving nation. The Irish rock legends kicked things off with a rousing rendition of "Beautiful Day" with Bono making his way through fans to the stage. "MLK" segued to "Where the Streets Have No Name" for the finale as the names of those who lost their lives on 9/11 were displayed on a screen behind the band.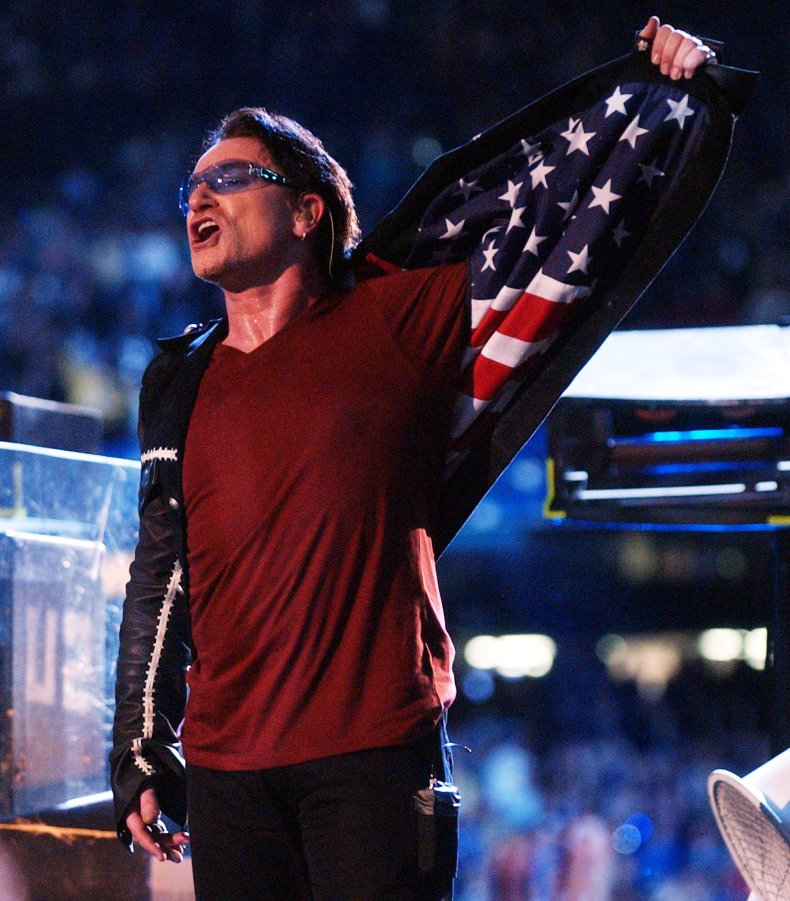 7. Janet Jackson and Justin Timberlake (2004)
Super Bowl XXXVIII's halftime show also featured P. Diddy, Kid Rock, Jessica Simpson and Nelly, though their work is largely forgotten by what will forever be known as the "wardrobe malfunction." After singing "Rhythm Nation," Janet Jackson was joined by Justin Timberlake for his hit "Rock Your Body." Timberlake tore away at Jackson's costume, revealing her breast. The FCC was furious, Jackson's career suffered mightily, but at least one positive thing sprang from the fallout: A software programmer created what would become YouTube just so people could have a place to watch the clip online.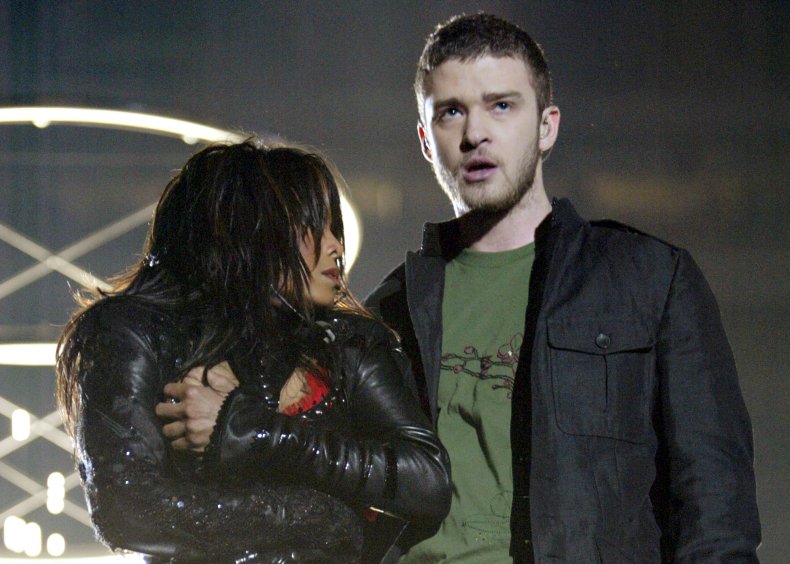 6. Prince (2007)
If this were a list of the "Best Halftime Performances" it could arguably stop here. Anyone who had forgotten Prince's greatness was reminded with this ferocious set of greatest hits mixed with choice covers of "We Will Rock You," "Proud Mary," "All Along the Watchtower," and even a Foo Fighters tune ("Best of You"). No amount of pyrotechnics from any other halftime performance could hope to reach the truly magical, transcendent finale that day. The clouds over Miami's Dolphin Stadium began pouring down rain on Prince and his band, just in time for him to launch into "Purple Rain." The image of Prince in silhouette tearing through the guitar solo isn't just one of the most memorable moments in halftime show history—it's one of the most memorable moments in the history of popular music. "And even though the equipment got wet, oddly enough, everything worked until the show was over," keyboardist Morris Hayes recalled later in Billboard. "Once we turned [the instruments] off, they wouldn't turn back on again. They were dead. We autographed them and auctioned them off to the Make-A-Wish Foundation, I think."
5. Madonna (2012)
Given the fact that fellow 1980s icons Prince and Michael Jackson graced the halftime stage, Madonna seemed overdue to do the same by the time she got her chance in 2012. Catchy pop tunes accompanied by over-the-top visuals is the Material Girl's forte, after all. She opened with "Vogue" and closed with "Like a Prayer," but what actually made the performance memorable wasn't the songs. Wearing costumes that made them appear like like cheerleaders from ancient Egypt, Nicki Minaj and M.I.A. joined Madonna, and one simple gesture from M.I.A.—a quickly flipped middle finger—brought infamy and a $16 million lawsuit down on the proceedings.
4. Beyoncé, featuring Destiny's Child (2013)
Beyoncé received backlash only weeks before Super Bowl XLVII when she lip-synced the national anthem at Barack Obama's second presidential inauguration. She subsequently promised to sing live at the halftime show, which she did in a remarkable outing. After storming through hits like "Run the World (Girls)" and "Crazy in Love," she was joined by her former Destiny's Child bandmates Kelly Rowland and Michelle Williams, who popped up through the stage for a mini-reunion. In less than 15 minutes, the world quickly forgot about the inauguration performance.
3. Katy Perry (2015)
American Idol may take up much of Katy Perry's time these days, but in 2015, she was one of the world's biggest stars. For this halftime set, she brought the theatrics, from her riding In on a robotic lion while belting out "Roar" to dancing with human chess pieces for "Dark Horse." Missy Elliott turned up for a three-song cameo that provided the musical highlight for many, yet none of that is why this performance made the list. No, instead, it was people dancing around dressed inexplicably in shark costumes. The silly image of her bedecked by dancing sharks launched a million memes and stands as one of halftime's wackiest moments.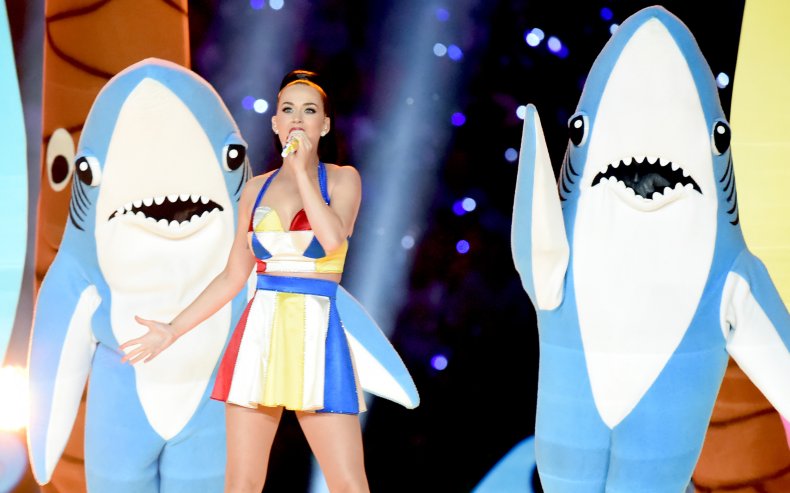 2. Lady Gaga (2017)
Lady Gaga kicked off her performance by singing "God Bless America" and "This Land Is Your Land" while hundreds of drones formed an American flag in the sky behind her. She then jumped from her high perch on top of the stadium to land onto the stage, which likely elicited countless gasps from those in attendance and from TV viewers on their couches. (The jump was actually a prerecorded effect.) The overall stage spectacle won an Emmy for outstanding lighting design/lighting direction, but most fans will remember the show for how Gaga powerfully belted out hits like "Born This Way," "Just Dance," and "Bad Romance."
1. Jennifer Lopez and Shakira (2020)
Shakira and Jennifer Lopez co-headlined last year's show to honor the Latin culture of the host city Miami. J. Lo pole-danced and dueted with her young daughter; Shakira played electric guitar and made a tongue-waggling gesture that went viral. (The gesture was actually an acknowledgment of her Lebanese roots from her father's side—it's an Arabic tradition known as zaghrouta.) Critics mostly lauded the performance, praising the showmanship, liveliness, and its celebration of strong, Latina women.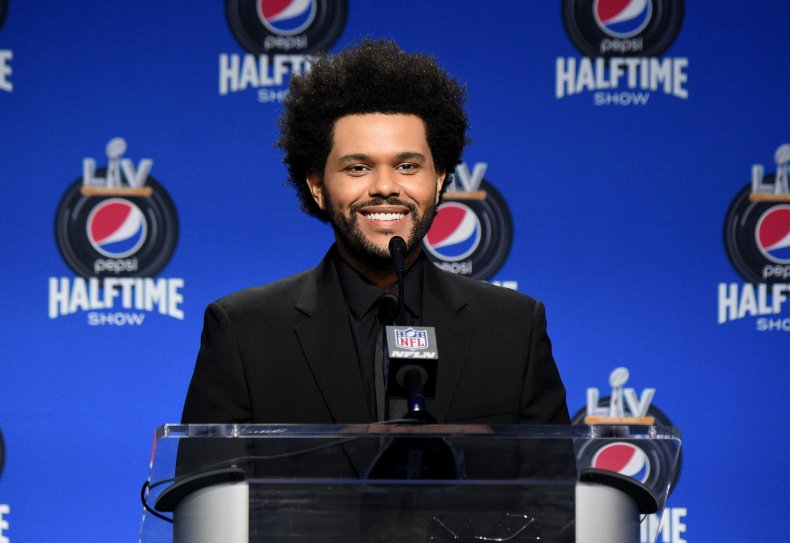 Tune in this Sunday to see if The Weeknd will deliver a performance that will earn him a spot in these ranks sometime in the future. He's already stated his set will feature no cameos, and he will sing live. This will also likely be one of the best opportunities for pandemic-weary fans to catch his perform live, since his worldwide tour was pushed to 2022.