Most Republicans Still Dispute Joe Biden's Election Win Now He's in Office: Poll
Most Republican voters still believe President Joe Biden did not legitimately win the 2020 election, even with the new commander-in-chief sitting in the White House after his victory was confirmed by Congress earlier this month.
A new poll from YouGov and The Economist found that 72 percent of Republican voters—almost three in four—believed Biden's win was illegitimate. Former President Donald Trump tried to cast doubt over the results for months, making baseless claims about mass electoral fraud.
Among those who voted for Trump to have a second term in the Oval Office, 78 percent felt the newly-inaugurated president's win was illegitimate, while 22 percent believed his victory was fair.
Democrats were far more likely to believe Biden won the election legitimately. Ninety-eight percent told pollsters that he won fair and square, while only 2 percent believed his victory was illegitimate.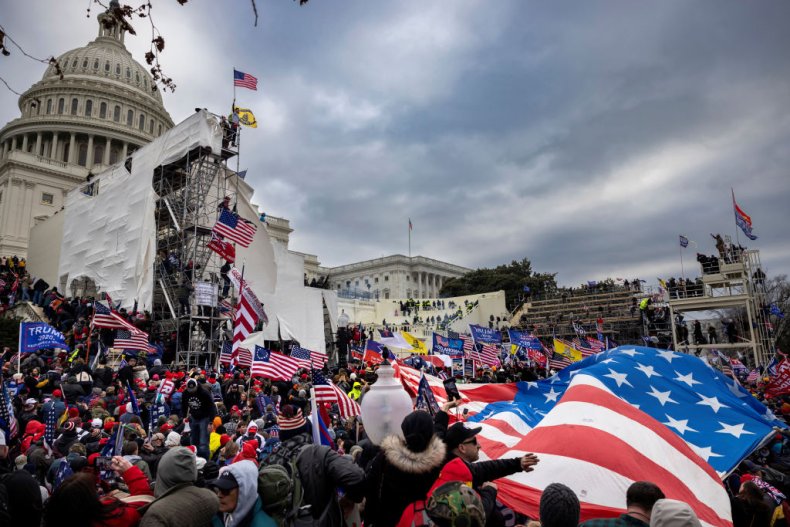 Most independent voters were also convinced Biden had won the election fairly. A little less than two-thirds of independents (65 percent) said his win was legitimate, while the remaining 35 percent believed the president's victory was illegitimate.
Overall, two-thirds of all voters (66 percent) told pollsters that Biden won the election fairly, while 34 percent felt his victory was illegitimate.
YouGov surveyed 1,500 U.S. adults, including 1,245 registered voters, between January 24 and January 26 for its latest poll. Its overall margin of error stands at 3.4 percentage points.
The pollster released the new data after Republican senators indicated that they were unlikely to vote to convict Trump in his looming second impeachment trial, which is slated to go ahead in the week beginning February 8.
Only five GOP senators broke with their party to vote against a motion from Sen. Rand Paul (R-KY) arguing that it would be unconstitutional for the former president to face an impeachment trial as he was no longer in office. Seventeen Republicans would need to vote with Democratic senators for Trump to be convicted of inciting insurrection earlier this month.
In the highly unlikely event that the ex-commander-in-chief is convicted during his impeachment trial, he could be barred from holding public office in the future.
House lawmakers passed an article of impeachment against Trump earlier this month, charging the former president with incitement of insurrection over remarks he made at a "Stop the Steal" rally attended by his supporters before the Capitol riots unfolded on January 6.
After telling his supporters to march down to the Capitol building, Trump said they would "never take back our country with weakness," and also called for a show of strength as he repeated unsubstantiated claims about voter fraud.