Most Republicans Say Capitol Riot Was Inevitable, Trump Did All He Could to Stop It: Poll
Democrats' early arguments at former President Donald Trump's impeachment trial did little to convince Republicans, who largely say in a poll that they believe he did everything he could to stop the riot and that it would have happened even if he had accepted the election results.
During the second day of his trial, House managers argued that Trump fueled the riot with his rhetoric leading up to it and that he did little to restrain the mob after it got out of control. They pointed to his tweets during the riot and a short video he released telling rioters to "go home" and that they were "very special."
"Senators, you've seen all the evidence so far and this is clear: On January 6th, President Trump left everyone in this Capitol for dead," Representative Joaquin Castro said last Wednesday.
Republicans nationwide, however, don't see it that way, according to a Quinnipiac University poll released Monday. It found that 56 percent of Republicans thought Trump did "everything he could" to stop the insurrection. Even more Republicans thought the riot would have happened even if Trump hadn't claimed the election was stolen or addressed a rally before the riot.
Taken after opening arguments in Trump's trial, the poll indicates the Democrats' arguments weren't convincing to most Republicans.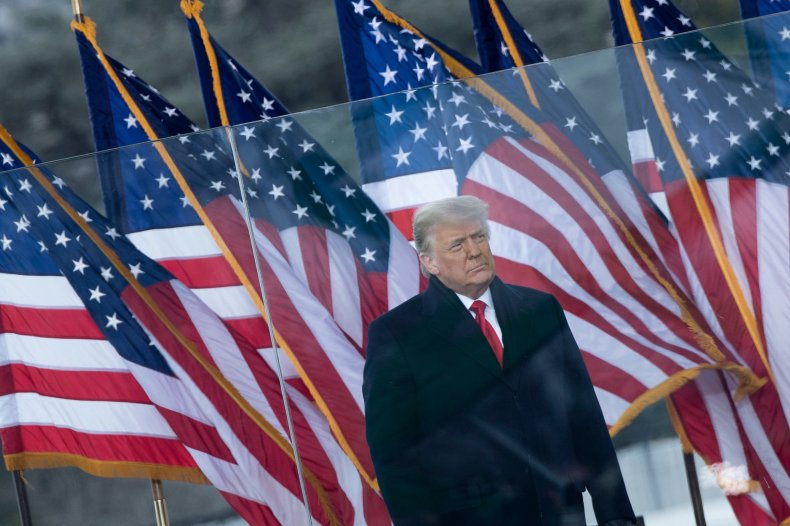 Seven Republican senators voted to convict Trump of inciting the January 6 insurrection at the Capitol, short of the 17 that were needed for a conviction. However, unlike Trump's first trial, this time the former president got criticism from even those in his party who voted to acquit, including Senate Minority Leader Mitch McConnell, who put the blame squarely on Trump.
"Trump is practically and morally responsible for provoking the events of the day," McConnell said. "[Rioters] did this because they had been fed wild falsehoods by the most powerful man on Earth—because he was angry he'd lost an election.
McConnell wasn't alone in his criticism. Senator Rob Portman, who voted to acquit, also issued a condemning statement after the trial. But, when it comes to the opinion of the Republican Party nationwide, those senators are in the minority.
"He may be down, but he is certainly not out of favor with the GOP," Quinnipiac polling analyst Tim Malloy said in a statement. "Twice impeached, vilified by Democrats in the trial, and virtually silenced by social media...despite it all, Donald Trump keeps a solid foothold in the Republican Party."
Asked if Trump was responsible for the violence on January 6, 89 percent of Republicans replied "no" in the poll.
In his Senate floor remarks after the vote, McConnell said the "leader of the free world" can't "spend weeks" alleging that "shadow forces are stealing our country and then feign surprise when people believe him and do reckless things." He called the lead-up to the riot an "interesting crescendo of conspiracy theories" orchestrated by Trump, the sole person provoking it.
Believing the Senate didn't have the power to convict Trump since he had left office, McConnell left the door open to a possible criminal trial. But that is an even less popular idea among Republicans than an impeachment conviction. Only 6 percent of the 11 percent of Republicans who said he was responsible for inciting the riot said they think the former president should face criminal charges.