Graham Assures Trump 'Case Is Over,' Plays Down Ex-President's Frustrations With Attorneys
Former President Donald Trump's attorney, Bruce Castor, had a less than impressive performance on the first day of the impeachment trial, but Senator Lindsey Graham is confident that it won't impact the verdict.
Castor was heavily criticized by both Democrats and Republicans for his rambling opening remarks that left senators struggling to home on in the key points. It reportedly prompted frustration from Trump and Republicans lost a vote to dismiss the case but the former president being convicted is still a long shot.
Despite the rough first day, Graham "reinforced" to Trump on Tuesday night that the "case is over" and all that's left is the matter of "getting the final verdict," according to The Hill.
Trump's historic second impeachment is already more bipartisan than the first, with 10 House Republicans voting to impeach him. In January, five Republican senators voted to move forward with the trial on grounds that it was constitutional. That number increased to six on Tuesday, when Senator Bill Cassidy joined Senators Susan Collins, Mitt Romney, Ben Sasse, Pat Toomey and Lisa Murkowski.
"If anyone disagrees with my vote and would like an explanation, I ask them to listen to the arguments presented by the House managers and former President Trump's lawyers," Cassidy said in a statement. "The House managers had much stronger constitutional arguments. The president's team did not."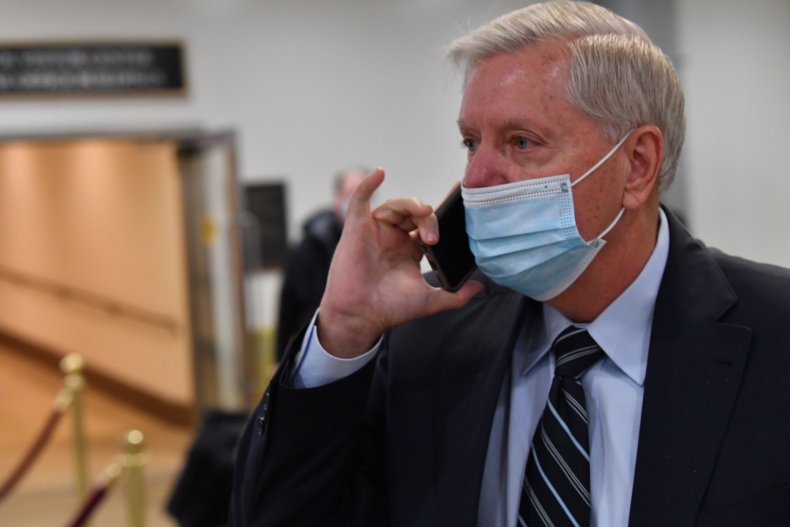 The House managers' opening arguments earned praise from even Castor, who said his team had to adjust their strategy to accommodate for the compelling case Democrats made. However, his strategy proved ineffective in convincing senators about the unconstitutionality of the trial and Alan Dershowitz, who served on Trump's first impeachment team, was perplexed.
"I have no idea what he's doing," Dershowitz told Newsmax. "[Castor] did say, I think very appropriately, that everybody wants to take revenge when they see a horrible [riot] that took place at the Capitol. But then he went off. I just don't understand it. Maybe he'll bring it home, but right now it does not appear to me to be effective advocacy."
Trump was reportedly incensed by Castor's performance and CNN's Kaitlan Collins reported that he was "basically screaming" during the opening arguments. However, when asked if he could sense Trump's frustrations, Graham said, "no, not particularly."
The two "mostly talked" about the vote and Graham reminded the former president that 44 Republicans voted to dismiss the case, suggesting that they won't vote to convict the former president. Sixteen of those 44 Senators would have to vote to convict Trump to stop an acquittal.
"I think the vote for not guilty will probably grow beyond 44," Graham said.