What Polls Say About a Trump 2024 Run as His Attorney Argues Democrats 'Fear' Him
History shows mounting a campaign against President Joe Biden in 2024 won't be an easy task for former President Donald Trump, but his attorney, Bruce Castor, said the fear of having to face him as a "political rival" is driving his impeachment.
Trump promised to be back in "some form" as he left office, raising speculation that the president could launch a 2024 run. It's a possibility that Democrats are trying to nip in the bud by convicting Trump in the Senate and bar him from office, but acquittal seems likely, leaving Trump open to becoming the second president in history to return to the White House after leaving.
Speaking on the Senate floor on Tuesday, Castor argued that the desire to move forward with convicting Trump after he left office is stemming from the possibility that voters could turn on Biden.
"We are really here because the majority in the House of Representatives does not want to face Donald Trump as a political rival in the future," Castor said. "The people are smart enough to pick a new administration if they don't like the old one and they just did."
Castor highlighted several one-term presidents and said the American people know how to change an administration if they're tired of it. He then posed the rhetorical question if that was where the "fear" was coming from—that people in 2024 "will want to change and go back to Donald Trump."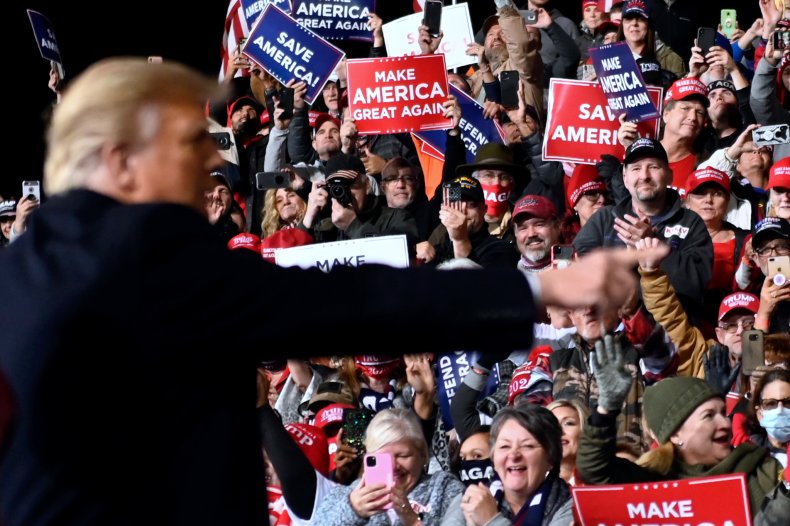 Fifty-two percent of those who voted for Trump think he should play a "major" role in the Republican Party, according to a poll from Politico/Morning Consult on January 27. More Trump voters, 60 percent thought Trump should "probably" or "definitely" run for president again in 2024, but support among Republicans in general drops slightly to 54 percent.
This was an increase from a Politico/Morning Consult poll on January 13 that found 40 percent of Republicans would vote for Trump if he ran in the 2024 primary.
Former President Grover Cleveland mounted a successful comeback in 1892 after being defeated in 1888 following his first term. He's the only president to serve two non-consecutive terms, although former President Theodore Roosevelt tried. Roosevelt, who left office in 1909, ended up running as a third-party candidate in 1912 after the Republican Party backed his successor, former President William Howard Taft, splitting the Republican vote and helping former President Woodrow Wilson, a Democrat, win the White House.
Elections also favor incumbents and only 10 presidents, including Trump, were voted out of office after one term.
If Trump were to run as a third-party candidate, as Roosevelt did, he has a good chance of splintering the Republican Party. Sixty-four percent of GOP voters would join a new political party spearheaded by Trump, according to a Hill-HarrisX poll released on February 4.
Despite reports that Trump was considering creating a third party, his adviser, Jason Miller, dismissed the idea—for now.
"There's nothing that's actively being planned regarding an effort outside of that," Miller told CNN before turning the attention to his impeachment trial. "It's completely up to Republican senators if this is something that becomes more serious."
On Saturday, Trump's former campaign manager Brad Parscale urged the former president to run again. He argued that impeaching Trump, an "outsider who is fighting the system," doesn't make people like him less, but gives him a "badge of honor."
"If Trump asked me how to win again. I would run on being impeached twice. They are about to give him superpowers," Parscale posted on Twitter "They are about to make him a martyr."