Most Republicans Want Trump 2024, Other Candidates To Agree With Him: Poll
Most Republican voters want former President Donald Trump to run for the White House again in 2024, or at least want the winner of the GOP primary to mostly agree with him on policy issues.
A new poll from Quinnipiac University found that two-thirds of Republican voters (66 percent) said they would like Trump to run for the presidency in 2024, while only 30 percent were opposed to the idea.
Among all American voters, the results were reversed. Sixty-six percent said they didn't want Trump to run again, and three in ten told pollsters they wanted him to have another go.
When asked whether they wanted GOP candidates to agree with the former president, 85 percent of Republican voters agreed that candidates should be Trumpian on policy.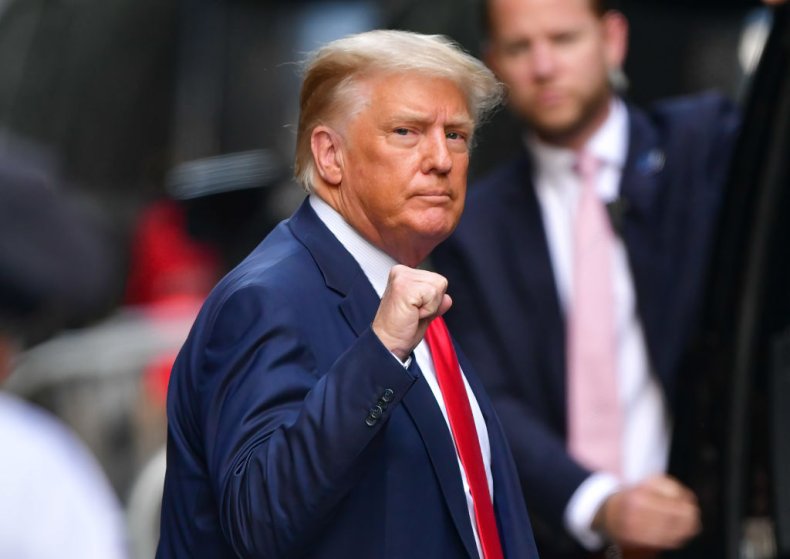 The results indicate that there is more support for Trump-era policies among the Republican base than there is for the man himself.
"The numbers fly in the face of any predictions that Donald Trump's political future is in decline," the Quinnipiac poll analyst Tim Malloy said in a statement. "By a substantial majority, Republicans: (1) believe the election was stolen from him, (2) want Trump to run again, and (3), if they can't vote for Trump, prefer someone who agrees with him."
Two-thirds of Republicans said they believed President Joe Biden's election victory was illegitimate, and only a quarter told pollsters they believed his win was legitimate.
Asked for their opinion on Trump, most GOP voters (84 percent) said they had a favorable view of him, and a marginal 13 percent had an unfavorable view of their ex-party leader.
Trump said he was "very strongly considering" running for president again in 2024 in an interview with the conservative talk show host Joe Pags on Thursday last week. "Everybody wants me to do it, the polls are all saying I have to do it," he told the presenter.
He later added that he would be "making a decision maybe before but possibly more likely right after" the 2022 midterm elections, and said he was focused on the coming battles for control of the House and Senate.
"We have the elections coming up, I'm focused on that, we want to get the House members in," he said. "We can actually pick up a couple of senators but I want to focus on that."
Thomas Gift, founding director of University College London's Center on U.S. Politics, previously told Newsweek that Trump's delay in announcing his intentions for 2024 would tighten his grip on the Republican Party amid its ongoing civil war.
"The longer he holds out making a decision, the more the anticipation around his candidacy grows, the more ability he has to play kingmaker within the party for the 2022 midterms," he said.