Donald Trump Says 2024 Decision Will 'Possibly' Come After 2022 Elections
As the fight for the future of the Republican Party continues, former President Donald Trump has said he would likely make a decision on whether he would run for the presidency again around the time of the 2022 midterm elections.
During a wide-ranging phone interview with conservative talk show host Joe Pags on Thursday, Trump went over old ground about the 2020 election he lost to President Joe Biden.
Asked when he would make a decision about running again in 2024, Trump replied: "I don't know exactly when I can say it but it's something I am very very strongly considering."
Although he lost the election, Trump is still the focal point of the Republican Party and, with crucial midterm elections in 2022, GOP candidates are clamoring for his endorsement, ensuring that he remains the center of gravity for the party.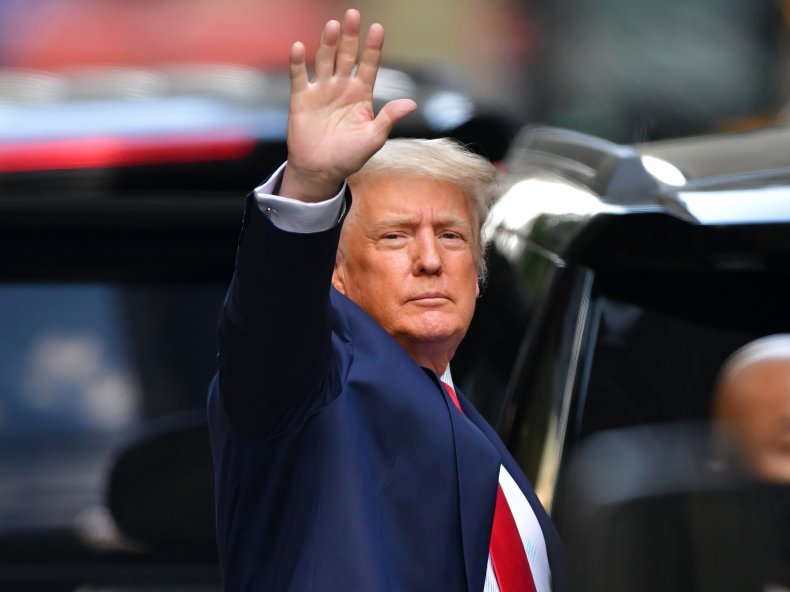 A Conservative Political Action Conference (CPAC) survey in March put Trump in front to win the 2024 Republican primaries should he run, ahead of potential contenders such as Florida Governor Ron DeSantis, South Dakota Governor Kristi Noem and Texas Senator Ted Cruz.
Trump continued: "Everybody wants me to do it, the polls are all saying I have to do it. I will be making a decision maybe before but possibly more likely right after the 2022 election.
"We have the elections coming up, I'm focused on that, we want to get the House members in," he said. "We can actually pick up a couple of senators but I want to focus on that."
Trump also used the interview to repeat his unsubstantiated claims of voter fraud. He referred to the recount in Arizona where "Republican patriots" in the GOP-led state senate have spearheaded an audit of more than 2 million ballots cast in Maricopa County. "Stay tuned for Arizona," he said. The audit is being conducted by a Florida-based consultancy firm, Cyber Ninjas.
Trump also reiterated his criticism of the January 6 commission, which has been backed by 35 House Republicans who voted with Democrats, to investigate the U.S. Capitol riot.
Describing how there was "love in that crowd" that he addressed, Trump said: "Now they want to do the commission...but they don't want to do a commission on Portland where they burned and killed people...they don't want to do it in Seattle."
"I think it's a disgrace and I don't think the Republicans should have anything to do with it," he added.
In a final question, Pags asked Trump about the latest announcement by New York Attorney General Letitia James concerning her office's civil probe into the Trump Organization.
James' office said on Tuesday that the inquiry was "no longer purely civil in nature," meaning that it would now assist the Manhattan district attorney in its criminal investigation of the Trump Organization.
"This has been going on for years now, this whole witch hunt," said Trump.
Referring to the moment when he announced his presidential candidacy in 2015, Trump said: "From the day I came down the escalator, it has been nothing but investigations and [former Special Counsel Robert] Mueller, and impeachment hoaxes."