Trump Suggests Arizona Recount Will Be First Domino to Fall: 'Let's See What They Find'
Former President Donald Trump appeared to suggest to crowds of his supporters in Mar-a-Lago Thursday that a recount vote in Arizona could be the first of many, as he continues to push the false narrative that the 2020 election was "stolen" due to voter fraud.
In a video shared on Twitter Friday by Washington Post reporter Philip Bump, Trump can be heard suggesting that several states—including Pennsylvania, Georgia, Michigan, Wisconsin and New Hampshire—could face ballot scrutiny as well.
"Let's see what they find. I wouldn't be surprised if they found thousands and thousands and thousands of votes, so we're going to watch that very closely," Trump said in the video.
"You'll watch Pennsylvania, and Georgia, and you're going to watch Michigan and Wisconsin, and you're watching New Hampshire – they found a lot of votes up in New Hampshire just now – because this was a rigged election, and everybody knows it. We're going to be watching it very closely," he added.
Trump's statements come as a recount of some 2.1 million votes in Arizona's Maricopa County is currently underway.
The decision to audit the ballots came after 29 Republican state legislators urged Congress to reject Arizona's electoral college votes—which President Joe Biden won by over 45,000 votes—"until a full forensic audit can be conducted."
The GOP-led audit began last Friday and is being conducted by a Florida-based consultancy firm, Cyber Ninjas, which has no prior election counting experience and is headed by a man who previously spread conspiracy theories claiming that the election was stolen from Trump, according to Forbes.
Arizona state Democrats, who view the effort as yet another unfounded attempt to de-legitimize the election, have attempted to stop the recount, citing concerns that the consultancy firm was not protecting voter privacy and ballot secrecy.
But on Wednesday, as the Associated Press reported, a Maricopa County judge ruled that the unprecedented audit could continue—as long as Cyber Ninjas makes public its procedures for guaranteeing the privacy of voters and the secrecy of their choices. The recount is expected to be finished by May 14, according to the Arizona Republic.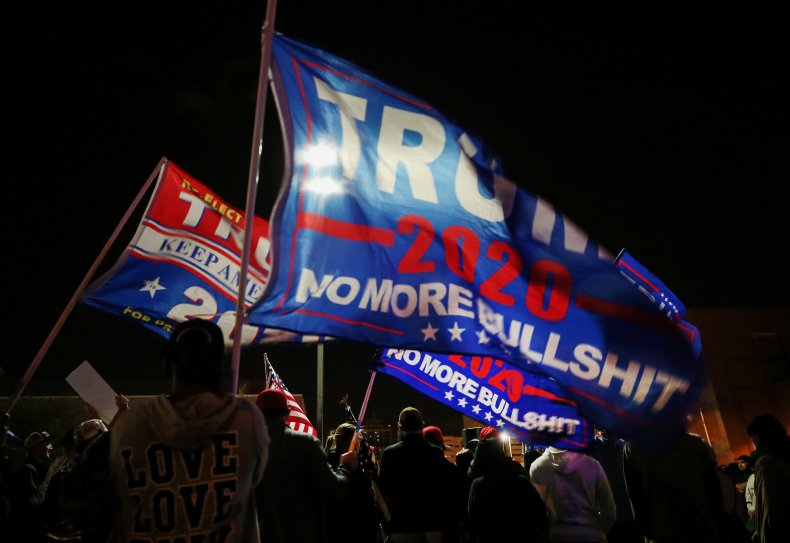 "So many people would like to thank the brave and patriotic Republican State Senators from Arizona for the incredible job they are doing in exposing the large-scale Voter Fraud which took place in the 2020 Presidential Election," Trump said in a statement on April 23.
The former president has since become "fixated" by the recount, and asks aides about the process multiple times a day, according to the Post. One Trump aide told the newspaper that the former president "talks about it constantly."
The county's recount will likely not have a significant effect on the 2020 election results. Arizona's electoral votes were previously upheld by the state's Republican governor, Republican secretary of state, and Republican state Supreme Court chief justice.
Additionally, over 60 court cases alleging election fraud filed by the Trump campaign and Republican officials were dismissed or withdrawn from courts due to lack of evidence.
Newsweek contacted Trump's office for additional comment, but did not hear back in time for publication.