Mike Pence Lags Well Behind Key GOP Contenders for a 2024 Presidential Run in CPAC Poll
If the 2024 Republican primary for president were held today, former Vice President Mike Pence wouldn't be in the top tier of contenders.
The Conservative Political Action Conference (CPAC), an annual gathering for conservatives across the country, conducted two secret ballot straw polls over the weekend.
The surveys showed overwhelming support for former President Donald Trump, as 68 percent of people gathered hoped to see him run for the White House again in 2024. In a separate poll of all the potential 2024 GOP nominees for president, Trump was the choice of 55 percent of attendees.
Notably less popular was the former vice president. Pence earned the support of just 1 percent of survey participants when convention-goers were asked who they would vote for if the Republican primary for president were held today.
Pence trailed other 2024 contenders including Florida Governor Ron DeSantis, South Dakota Governor Kristi Noem, former U.S. ambassador to the United Nations Nikki Haley, Texas Senator Ted Cruz and Kentucky Senator Rand Paul.
Pence tied with Fox News host Tucker Carlson, former Housing and Urban Development Secretary Ben Carson, Florida Senator Marco Rubio, Missouri Senator Josh Hawley and South Carolina Senator Tim Scott.
The former vice president declined an invitation to speak at CPAC and did not attend the conservative gathering. Dan Schneider, the executive director of American Conservative Union, expressed his disappointment that Pence wasn't speaking, noting that he had made an appearance at the convention more than a dozen times.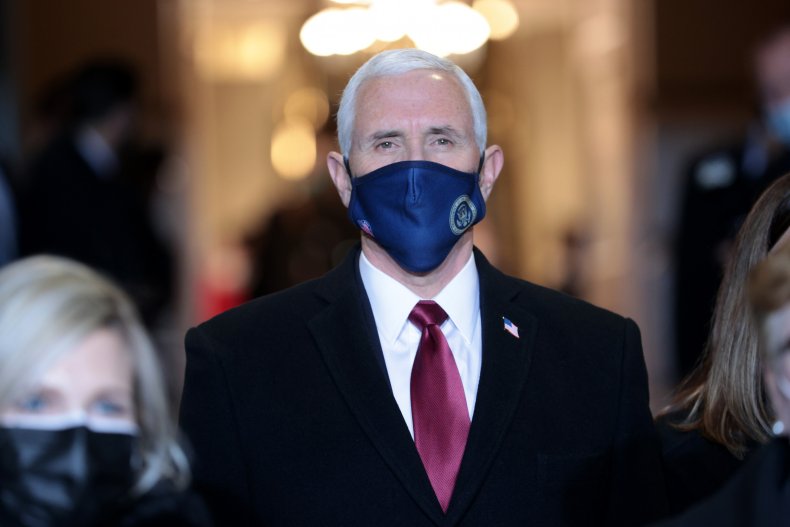 Trump, however, gave the keynote address at CPAC on Sunday and teased that he could run again in 2024: "Who knows? I may even decide to beat them [the Democrats] for the third time," he said, continuing to insist the election was stolen.
The relationship between Trump and Pence fractured in the final days of their administration. Trump had urged Pence to block the congressional certification of President Joe Biden's victory on January 6—something Pence did not have the power to do.
Pence did not block the certification, angering Trump and his supporters. As Trump supporters stormed the U.S. Capitol on January 6, threatening Pence and other lawmakers, Trump continued to criticize Pence on Twitter.
"Mike Pence didn't have the courage to do what should have been done to protect our Country and our Constitution," Trump tweeted. Though the two men later mended their relationship, according to reports.
Also unlike Trump, Pence attended Biden's inauguration on January 21. Trump was the first president in more than 150 years not to attend his successor's swearing-in ceremony.
Since leaving office, Pence has opened the Office of the Former Vice President in northern Virginia. The office will handle correspondence, scheduling requests, public statements and official activities for Pence and his wife Karen.
"The vice president and Mrs. Pence look forward to continuing to elevate causes that are near and dear to their hearts and serving the American people when called upon," said their spokesperson Kara Brooks in February.