Most White House Staffers Had No Idea Trump's $2,000 Stimulus Video Was Coming: Report
President Donald Trump's Tuesday video lambasting the COVID-19 financial relief package was recorded secretly, with only a few members of White House staff knowing it was coming.
After weeks of negotiation, Congress passed the $900 billion stimulus bill which included direct assistance payments of $600 for eligible Americans. In a move that reportedly surprised many in Washington, Trump asked Congress to rework the bill to increase the amount of the payments to $2,000. While Democrats indicated their willingness to approve the higher payments unanimously, Trump also requested that certain spending provisions be removed from the bill.
On Monday, U.S. Treasury Secretary Steven Mnuchin indicated that the $600 checks could be sent out before the end of December. Trump's reticence to sign the act could delay the timing of the direct assistance payments and other benefits outlined in the legislation.
"Throughout the summer Democrats cruelly blocked COVID relief legislation in an effort to advance their extreme left-wing agenda and influence the election," Trump said in the video. "Then, a few months ago Congress started negotiations on a new package to get urgently needed help to the American people. It's taken forever. However, the bill they are now planning to send back to my desk is much different than anticipated."
"It really is a disgrace," Trump continued, adding a request for "Congress to amend this bill and increase the ridiculously low $600 to $2,000, or $4,000 for a couple."
The recording of Trump's video, which came as a surprise to many, was reportedly coordinated by White House Chief of Staff Mark Meadows and a small number of White House aides, according to the Associated Press. While Trump did not specifically say that he would not sign the bill, Trump asked for the bill to be significantly reworked.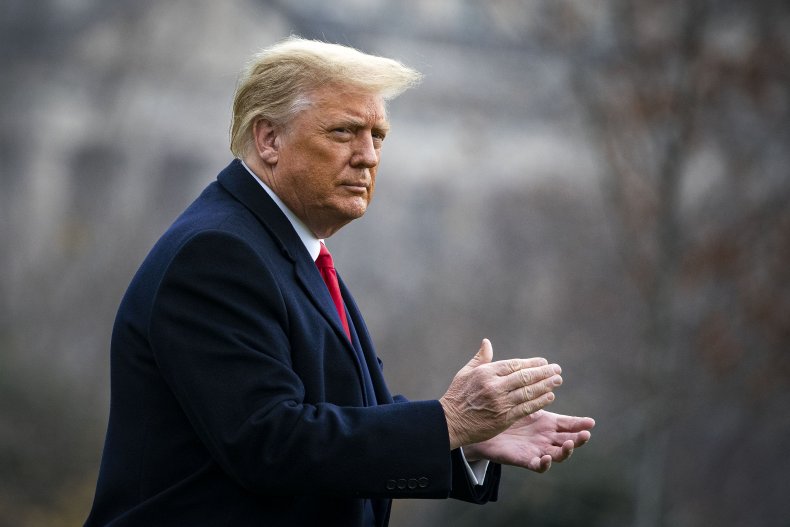 On Wednesday, Trump left the White House in order to spend at least 10 days at his Mar-A-Lago resort in Palm Beach, Florida. Trump declined to answer questions from reporters as he boarded Marine One.
Trump's announcement placed pressure on Republicans who had previously opposed the addition of larger stimulus checks to the bill. Democrats took to social media to ask Republican Senate Majority Leader Mitch McConnell to persuade members of his party to approve the larger checks.
"Americans need $2,000 checks," tweeted Democrat Senate Minority Leader Chuck Schumer on Wednesday. "Senator McConnell: Americans need help NOW."
"Republicans repeatedly refused to say what amount the President wanted for direct checks," Speaker of the House Nancy Pelosi tweeted Tuesday. "At last, the President has agreed to $2,000—Democrats are ready to bring this to the Floor this week by unanimous consent. Let's do it!"
Pelosi said in a Wednesday letter to House Democrats that it was possible to bring up a standalone bill specifically to increase the amount of direct assistance payments, but that it would require the approval of Republican Leader Kevin McCarthy before going forward.
"If the President truly wants to join us in $2,000 payments, he should call upon Leader McCarthy to agree to our Unanimous Consent request," Pelosi wrote.
Newsweek reached out to McCarthy's office and the White House for comment.