As the Battle for Mosul Begins, Civilians Describe How They Prepared for the Assault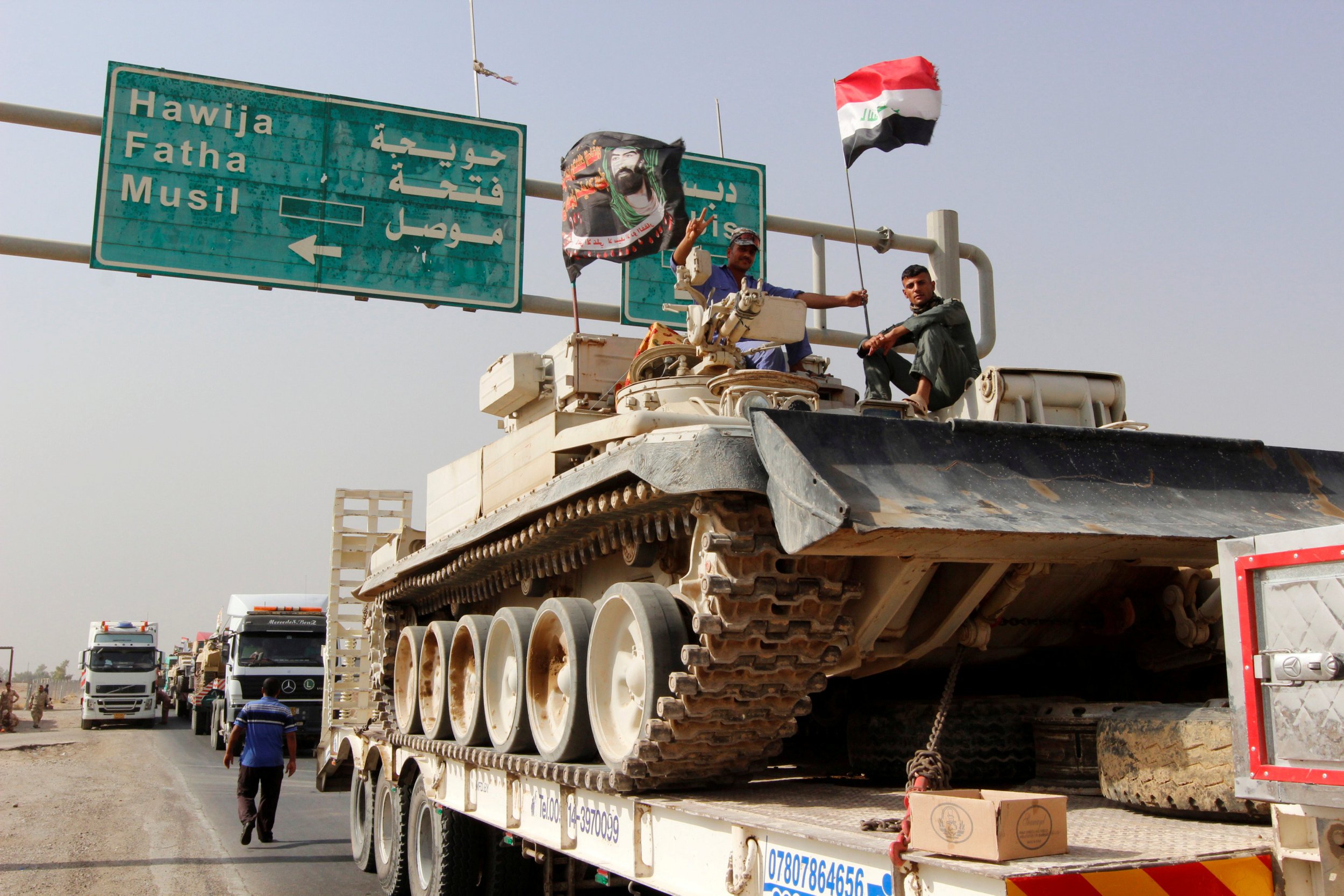 Updated | Nineteen-year-old Leyla (not her real name) has been waiting for the liberation of Mosul for more than two years. Ever since the fighters of the Islamic State (ISIS) seized her city on June 10, 2014, she has hoped for their defeat. Early on Monday, when Iraq and its allies began firing on Mosul, Leyla would have prayed for her family's safety and a quick end to the battle.
Leyla is one of six civilians in Mosul who Newsweek spoke to ahead of the offensive beginning. The group, like the hundreds of thousands of people trapped inside the northern Iraqi city, will take refuge inside their homes as the battle gets underway. Leyla said such curtailment of her freedom is not unusual—before the fighting began, she had not left her home in over a month. Speaking to Newsweek on October 11, six days ahead of the assault , Leyla said she preferred to suffer the claustrophobic boredom of remaining indoors than risk venturing out and encountering the fighters of the Islamic State (ISIS). These men, she said, would invariably challenge her dress. It's not appropriate, they would say—her eyes are visible.
In the weeks before the battle, as news spread of the coming offensive, ISIS militants became jumpy. They would go from house-to-house, Leyla said, searching for hidden cellphones or devices used to access the internet. But despite their best efforts, they could not cut Mosul off from the outside world. Word spread among civilians about the Iraqi-led plan to liberate their city and they began to prepare for the fight.
Leyla is one of the better connected people in Mosul—her family have both illicit cellphones and satellite internet equipment hidden in their house. Leyla said if ISIS militants found any of these items, they would fine her family $300 and may flog her father. Despite the danger, she would check the internet regularly, hoping for updates on the assault . Often she would call her brother to discuss the news; he fled Mosul last year so that he could continue his college education elsewhere in Iraq. (Leyla's brother acted as a translator when his sister spoke to Newsweek ).
Both siblings had read news reports about the human toll the offensive is likely to have. The U.N. has estimated that there are around 1.5 million people still living in and around Mosul. ISIS, it says, is likely to target some of those people directly, deploying them as human shields or gassing them with the chemical weapons the group has said it will use to defend Mosul. Other civilians are likely to be caught in the crossfire of the fighting.
In a bid to survive, the U.N. expects that hundreds of thousands of people will try to flee Mosul as the fighting intensifies. The organization says it is not yet equipped to deal with this level of exodus.
Leyla knows she might not survive the offensive, but when she spoke to Newsweek , she was defiant. She, her parents, and her seven-year-old sister do not want to leave Mosul because if they do, they fear they will never return. Though they were worried about the impending assault, Leyla said she was glad it would finally happen. "You don't understand what it's like in Mosul," her brother interjected before translating what Leyla had just said: "Dying freely is better than living under ISIS."
On June 10, 2014, after several days of fighting, around 800 ISIS fighters managed to rout an estimated 30,000 Iraqi soldiers to seize Mosul, then home to some two million people. It was a humiliating loss for the Iraqi government, and an astonishing victory for ISIS, which named the city its Iraqi capital. (Raqqa in northern Syria is the group's official capital).
The Iraqi government—with U.S. backing—made plans to take back the city in spring 2015, but it was forced to delay the operation after ISIS seized the city of Ramadi in May that year. Though smaller than Mosul, Ramadi's relative proximity to Baghdad—it lies 60 miles west of the Iraqi capital—was one of the reasons why pushing ISIS out of it became a priority. In January 2016, Iraq regained control of the city and two months later, on March 24, Baghdad and its allies launched their long-awaited offensive to retake Mosul.
Now, they're at the outskirts of the city, determined to keep fighting until they have routed ISIS.. But the group—which has already lost swathes of its caliphate in Iraq and Syria—won't give up without a fight.
Iraqi officials estimate that there are several thousand ISIS fighters in Mosul, who have been preparing for the offensive. Members of the group have dug tunnels beneath the city to use as storage for food and weapons—and a place to hide when the fighting is particularly intense.
Abdullah (not his real name), a 28-year-old taxi driver in Mosul—who communicated with Newsweek via emails sent to a member of Mosulyoon, an activist group trying to raise awareness of the city's plight—listed eight areas in which he claimed ISIS had dug tunnels. One of the locations, Abdullah said, is in Saddam Hussein's former presidential complex. (British jets bombed the site, which ISIS was allegedly using as a training base, in August).
The tunnels are not ISIS' only form of defence. From friends and neighbors, Leyla has heard that the group has blown up roads to the south of the city, where fighting is likely to be particularly intense. In the north and east, ISIS militants have blocked roads with concrete while in the west—where Leyla and her family used to live before airstrikes drove them out—ISIS has dug trenches and filled them with tires and oil to set alight should Iraqi troops get too close.
ISIS fighters were not the only people preparing for the assault. Over the past few weeks, civilians in Mosul have done their best to prepare for the battle, the scope and scale of which is unknown. Safa (not her real name), a 30-year-old teacher who spoke to Newsweek via Mosulyoon, said the Iraqi government had left people in Mosul to fend for themselves. "There are no shelters in the city," she wrote. "The Iraqi commander asked the citizens to stay in their homes, and we hope that our homes will be safe."
Leyla echoed Safa. During the fighting, she and her family will take shelter in a bedroom on the ground floor of their house. The room is small but it has the fewest windows in the building, so the family has decided it's the safest place to be. Other families, Leyla said, have turned their basements—which her house lacks— into makeshift shelters.
Though Leyla had stopped going outside, she said her father had been buying up dried foods, which her family have stockpiled. They have also purchased solar-powered flashlights and have packed up their identity papers and valuables, should they need to flee.
The families of ISIS fighters were not prepared to wait before making their escape. Leyla said the militant group had begun smuggling some of these people out of the city and, she thought, into Syria. Other militants—sensing they will eventually lose Mosul—might have fled. Leyla said that one day, maybe one or two months ago, her family woke to find that a neighboring ISIS fighter and his family had left their house, abandoning the city they had occupied for so long.
Though thousands of ISIS fighters still remain in Mosul, the six civilians Newsweek spoke to believe the militants will eventually be driven out of the city. One resident, a doctor, expressed concern for the future of Mosul and its residents as the various factions descend on the city.
Leyla, however, refused to worry about who will succeed ISIS. "I have no future, I am supposed to be in college now but I'm not," she said. "We are like animals, I just eat and sleep, eat and sleep and that's repeated every day." When ISIS leaves Mosul, Leyla said her life will begin again.
Teddy Cutler provided translation help.
This article has been updated to reflect recent developments in Mosul.