A mother in Texas is nursing her 5-month-old baby back to health after the infant contracted COVID-19 from a vaccinated family member.
Kristy Callaway, who resides in Corpus Christi, told Houston's CBS affiliate KHOU 11 she and her husband took all the recommended precautions throughout the COVID-19 pandemic—taking extra care due to her pregnancy and the birth of their son, Emmett. After she and her husband were vaccinated, they began visiting with vaccinated family and friends however, her 5-month old baby caught the novel coronavirus after a recent trip to see family members in Galveston County.
"We were so careful and I thought we were doing all the right things," Callaway told KHOU 11. The mother explained she and her husband didn't see family or friends throughout the pregnancy to avoid any risks. She didn't have a baby shower.
"We didn't want to do anything to harm him, this pregnancy, or put me at risk," she said.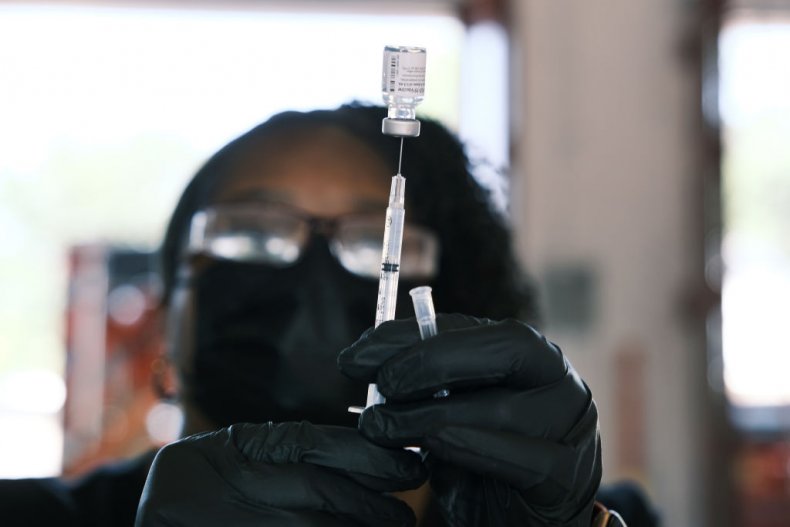 Despite their best efforts, her and her husband did catch COVID-19 during the pregnancy. The virus was brought home by her husband, who contracted it at his job as an essential worker. Callaway explained that this led her to believe that her son would have antibodies when he was born, however he still ended up contracting COVID-19 after visiting with vaccinated family members.
"He started feeling warm and feverish," the mother said. "I checked his temperature, and it was 102.7." Emmett ended up testing positive for COVID-19, as did five other fully-vaccinated family members. As of Wednesday, the baby had been sick for 11 days.
"It's scary stuff, when you're having to take turns holding your baby upright so that he can breathe to sleep, and you feel the crackling in his lungs. It's just scary," Callaway told the local news channel. She said she is worried about potential long-term impacts as well.
The mother explained her and her family remain fully supportive of vaccines and believe they make infections less severe, as public health experts and doctors have stressed. Callaway said she hopes the vaccines will soon be granted emergency use authorization for children under the age of 12.
The Food and Drug Administration (FDA) granted emergency use authorization for the Pfizer vaccine to be used in minors 12 to 15 in May. That COVID-19 vaccine was first given emergency approval for anyone 16 and older back in December.
On Tuesday, the American Academy of Pediatrics reported that COVID-19 infections in children and teenagers had jumped by more than 80 percent in a week. From July 22 to July 29, the total number of minors confirmed to have new infections of COVID-19 surged to more than 71,700 from just under 39,000 cases the prior week. Children and teens represented nearly 20 percent of the total new infections in the most recent weekly data.
It remains unclear when COVID-19 vaccines will become available for children under the age of 12. Pfizer expects to submit the data from its trials in young children by the end of September in a bid to get emergency use authorization approval from the FDA for the demographic. Moderna's trial data for children is not expected to be submitted to the FDA until the winter or early next year.
Newsweek reached out to the FDA for comment but did not immediately receive a response.
Uncommon Knowledge
Newsweek is committed to challenging conventional wisdom and finding connections in the search for common ground.
Newsweek is committed to challenging conventional wisdom and finding connections in the search for common ground.
About the writer
Jason Lemon is a Weekend Editor at Newsweek based in Brooklyn, New York. Prior to taking on the editor role, Jason's reporting focused on U.S. politics and international affairs. He joined Newsweek in 2018, and had previously worked as a founding editor at a Middle Eastern media startup called StepFeed. He also worked a year as a contributor to The Atlanta Journal-Constitution and has bylines in The Christian Science Monitor, The Palm Beach Post, Al Fanar Media and A Magazine. He is a graduate of the American University of Beirut in Lebanon and Andrews University in Michigan. You can get in touch with Jason by emailing j.lemon@newsweek.com. Languages: English, Spanish, French and Levantine Arabic