Angela Flores' Facebook Reveals Clues About Mom Accused of Killing Children
Mystery surrounds the mom accused of murdering three of her children over the Mother's Day weekend as the local community struggles to work out what was happening behind closed doors. The Facebook page belonging to Flores was still online this week, providing a few clues about the family.
Angela Flores was arrested after her 8-year-old twin boys and 12-year-old daughter were found dead on Sunday (May 8) at their home in the West Hills area of Los Angeles. Bail was set at $6 million on Monday (May 9), and Fox Los Angeles reported that another of Flores' children, a teenage boy, was also taken into custody in connection with the alleged crime. Flores is thought to have seven children, but three other children live elsewhere with their father and were unharmed, according to the New York Post.
An LAPD spokesman told Newsweek that officers responded to a 911 call at 7:40 a.m. on May 8 reporting an "assault with a deadly weapon" at a home in Victory Blvd. He added: "Officers arrived at the location and found three juveniles unresponsive inside the location, ages ranging from 8 to 12 years old. Los Angeles City Fire Department paramedics were called to the scene and determined all three children were deceased.
"The children's mother, 38-year-old Angela Flores, and a 16-year-old subject were detained for further investigation. During the subsequent investigation, Flores admitted to killing her children with the assistance of the 16-year-old subject."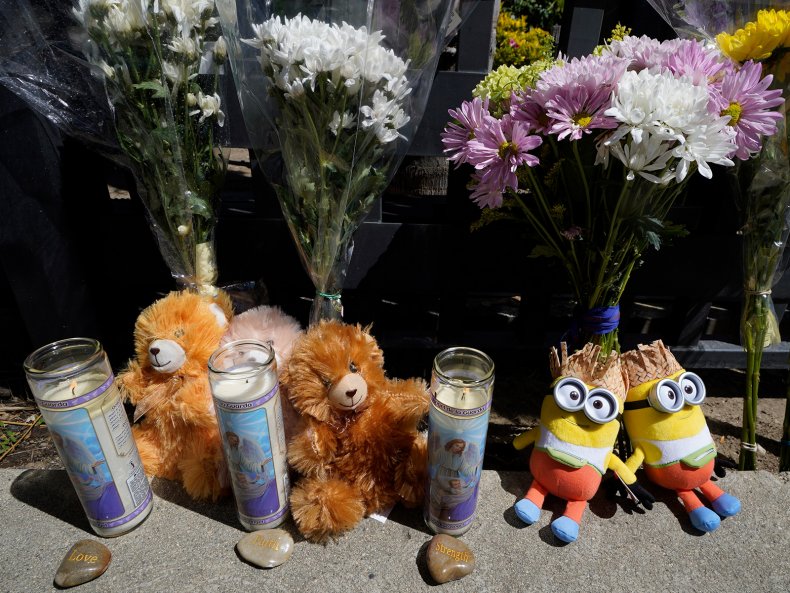 Flores was arrested for three counts of murder, and booked at Van Nuys Jail, where she is being held on $6 million bail. The 16-year-old was arrested for one count of murder, and is being held without bail at Sylmar Juvenile Hall.
The case will now be presented to the Los Angeles District Attorney's Office for filing consideration, the spokesman added.
No photos of Flores' children were uploaded to her Facebook page, and apart from an occasional post around the time of her own birthdays, no information was posted by her about her family life. In the various details provided by Flores about herself on the social media site, nowhere does it mention that she's a mother.
Her profile photo shows a smiling blonde woman, with long, carefully-curled hair. On May 1 she had added a new banner photo for the top of her page, featuring a sign reading: "Evangelist: Noun... 'A person who seeks to convert others especially by public preaching.' A zealous advocate of a cause."
Another woman, whose own Facebook says she works for a sheriff's office in Maine, replied this week: "Sick woman." Others, from various locations across the U.S., accused Flores of being a "monster."
Previous posts by Flores revealed she was a keen charity fundraiser. On October 16 last year, she wrote: "For my birthday this year, I'm asking for donations to American Cancer Society. I've chosen this nonprofit because their mission means a lot to me, and I hope you'll consider contributing as a way to celebrate with me. Every little bit will help me reach my goal."
She posted further information about the charity, but seemed to have raised around $60 of her $200 target. Nevertheless, the American Cancer Society offered her "a digital gift" for her fundraising and messaged her again two days later after she failed to claim it.
They wrote: "Angela, thanks again for supporting The American Cancer Society. We are reaching back out to remind you to connect with us! We'd still love to offer you a gift as a thank you for fundraising." It is unclear whether Flores had taken the charity up on its offer.
Her fundraising work dates back at least eight years. In March 2014, Flores shared details of an event to raise money for a family whose 12-year-old child had died in Missouri. It was unclear whether Flores personally knew the family of Devin Fossett, who tragically drowned after falling through the ice of a lake in Odessa, or whether she had just been touched by the news of his death.
Her Facebook wall showed she tried to help raise funds for the family by sharing details of a fundraiser in Odessa, writing: "Bracelets will be sold for $5 each (cash only) to raise money to aide in the final expenses of Devin Fossett. He tragically passed away on March 3rd 2014 at the age of 12 after falling through the ice of a local Odessa lake."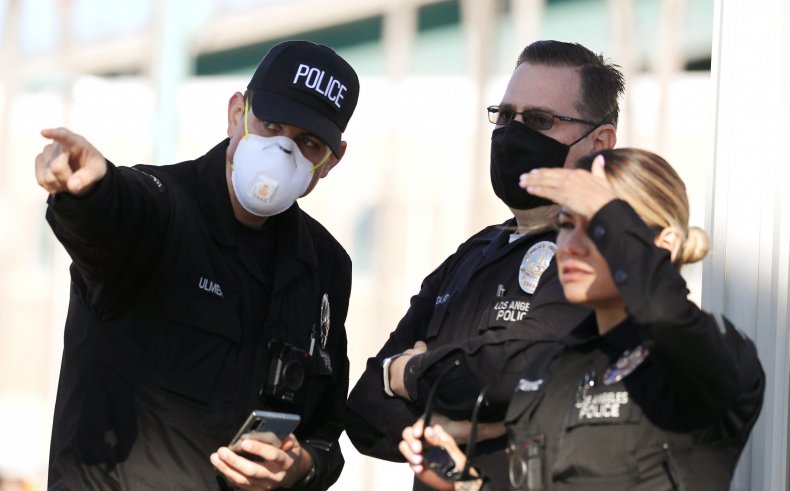 On Flores' Facebook page, she describes herself as a "digital creator" and provides details of a construction firm based in Ohio. She is also a member of the company's private Facebook group.
Some of Flores' posts are in Spanish, such as an invitation to a birthday party at a ranch in Bucyrus, Kansas in October 2018. Occasionally she tagged relatives who are based in Mexico.
Flores has two songs listed under the "music" section of her Facebook page; a song called "Change the World" by Christian singer Kieran the Light and the song "Life Goes On" by Oliver Tree. Her "likes" section includes the "2002 Parsons High School Class Reunion" in Kansas, and various venues in Kansas, such as a picnic spot and an event center.
There are no details provided on Flores' Facebook page that hint at the tragedy awaiting her family, and shocked local residents have been left reeling after the alleged murders of the children.
Neighbor Pricila Canales told KTLA that Flores and her family had moved into their home three months ago, and that she had sometimes heard shouting coming from the property. Canales said she had heard raised voices the night before the murders: "[I] just kept hearing screaming, but I couldn't make out what she was saying."
Other locals said there had been no indication of anything amiss at Flores' home. An unnamed neighbor told KTLA: "They have the nicest house on the block. They looked like really nice people. No reason to suspect anything."
Update 5/11/22, 6:41 a.m. EDT: This article has been updated to include comment from an LAPD spokesman.