Mother Refuses To Let Kids Social Distance, Wear Masks, Tells School Board Both Are A 'Pagan Ritual' For Satanists
As a Wisconsin school district prepares to resume full-time, in-person instruction, one parent voiced strong opposition to safety protocols that local board members and global health officials agree will reduce COVID-19 transmission risks among students.
The parent, Heidi Anderson, said her children "are not subject" to complying with mitigation procedures because they are Christians during a Board of Education meeting in Elmbrook, near Milwaukee, on Tuesday night. At the end of the meeting, board members decided students within the Elmbrook School District must wear face coverings and maintain six feet distance between one another while attending classes this fall.
Earlier, the board heard statements from community members about whether they felt Elmbrook schools should reopen, and what reopening should look like if they supported a plan to do so.
Anderson argued against the district's then-proposed mitigation measures in her comments favoring reopening. She questioned the rationale behind health mandates and suggested masks and physical distancing are a "pagan ritual" that contradicts her religious beliefs.
"We're concerned about the disregard for our civil liberties in your plan," said Anderson, who told the board that two of her children are enrolled in Elmbrook schools.
"Six-foot distance and masks are a pagan ritual of satanic worshippers," she continued. "We are Christians. Our children do not practice satanic worship. We don't have them stand six feet apart from each other with facial coverings."
Leading public health agencies, such as the World Health Organization and Centers for Disease Control and Prevention, recognize that both practices provide barriers to the novel coronavirus' spread through public settings.
Anderson described mask use and social distancing guidelines as "draconian measures" in her statement to the school board Tuesday night. She also questioned the legitimacy of health experts' recommendation to remain at least 6 feet apart, asking: "Why is not 3? Why is it not 5? Why is it not 10? Why is it not 30?"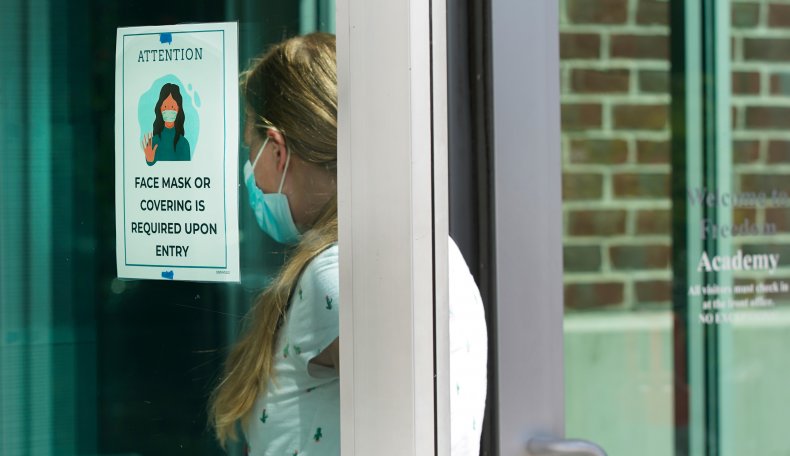 Temple University epidemiologist Krys Johnson told Live Science in March that the measurement equates to "the average distance that respiratory droplets from a sneeze or cough travel before they settle and are no longer likely to be inhaled by other people." Most public health guidance, including those issued by the WHO and CDC, note that maintaining six feet of distance alone does not offer enough protection to combat COVID-19 spread.
Elmbrook's school board meeting took place as reports of rising virus cases among children in the U.S. elevated concerns about returning to classrooms for in-person learning. Data published by the American Academy of Pediatrics and Children's Hospital Association on July 30 showed close to 100,000 new cases of the novel coronavirus in children during the previous two weeks. More than 7,600 children in Wisconsin had tested positive for COVID-19 when the report was published.
Newsweek reached out to the Elmbrook School District for comments but did not receive a reply in time for publication.