On Mother's Day, Here's How Many Moms Are Still Separated From Their Children Under The Trump Administration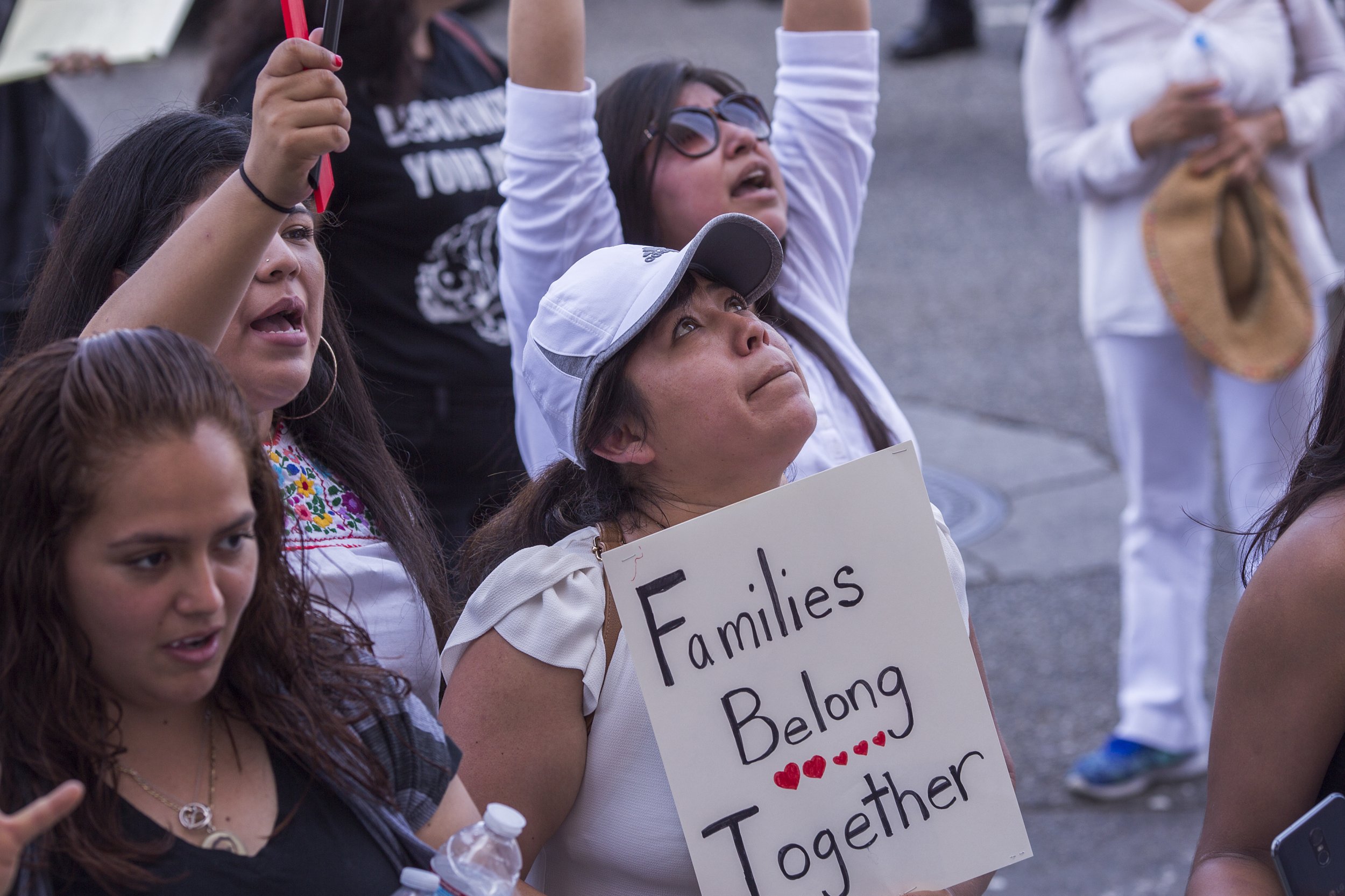 This Mother's Day, immigration advocates are asking families across the United States to remember the hundreds of mothers who are still separated from their children due to the Trump administration's hardline immigration policies.
"Mother's day is a day to celebrate moms and their strength and resilience, but, there are moms out there who will not get to experience this day...Mothers who don't know if they will ever get to see their children again," activist Meena Harris told Newsweek.
In support of the mothers who still have yet to be reunited with their children as a result of the Trump administration's "zero tolerance" family separation policy, Harris has launched a Mother's Day campaign that will see moms across the country, including some high-profile celebrities, don "Phenomenal Mother" T-shirts on Sunday, to encourage more women to speak out against family separation and detention.
Mothers across the U.S. are expected to share photos of their t-shirts on social media under the hashtag #phenomenalmothers, with proceeds of the $35 T-shirt sales going towards Families Belong Together, an organization that has been at the forefront of helping to reunite families separated at the U.S.-Mexico border.
"We really want to make the point that this is an ongoing humanitarian crisis and that there has been no accountability," Harris, whose Phenomenal Mothers campaign is part of a wider Phenomenal Women Action Campaign that she started in response to the outcome of the 2016 election, told Newsweek.
"The point of focusing on mothers is to recognize the fact that so many of these migrant families are led by women and mothers who have sacrificed everything and given up everything and have done the unimaginable, carrying their children with them across long and dangerous distances," said Harris. "It's about recognizing the strength and resilience of those mothers and how the worst nightmare has happened to them, which is that they got to the border only to have their children ripped from their arms."
The Phenomenal Mothers campaign comes just as this month marks the one-year anniversary of former U.S. Attorney General Jeff Sessions announcing the Trump administration's "zero tolerance" policy at the border, which saw adults caught crossing into the U.S. outside of designated ports of entry immediately jailed, while their children were taken into the custody of the Health and Human Services department.
As it stands, Families Belong Together Chair Jess Morales Rocketto said that as a result of the Trump administration's hardline immigration policies, there are still hundreds of families waiting to be reunited.
It is still unclear exactly how many families were separated at the border as a result of the Trump administration's "zero tolerance" rule, with the government asserting that it could take another two years to identify all of the families affected.
However, the Trump administration has, so far, identified at least 2,816 children separated from their parents.
In addition to those affected, by the controversial policy, however, there are still dozens of families being separated at the border, with a recent status report from the government identifying at least 245 children who had been separated from their families since the family separation policy ended in late June.
The administration said there were a number of reasons that famiiles are still being separated at the border, including "criminality, prosecution, gang affiliation or other law enforcement purpose," such as officials being unable to verify a "familial relationship". In other cases, the government said children were separated from their parents due to "health issues" and hospitalization.
Ultimately, Morales Rocketto told Newsweek, the true number of how many families have been and continue to be separated by the U.S. government, is nearly impossible to quantify.
"I wish I had a number for that question..." Morales Rocketto said. However, she said that her organization suspects that the true number of how many families have been separated by the Trump administration could "potentially be in the thousands, even tens of thousands."
"The Trump administration characterizes family units as mothers, fathers and children and you need to have a birth certificate to be recognized as a parent or guardian. So, that makes it really difficult to know," Morales Rocketto said.
The activist said she believes it is also important to acknowledge that family separation in the U.S. extends far beyond the border. "In so many ways the government is supporting a policy of family separation, whether it's due to mass incarceration or because of the family separation policy."
What brings Morales Rocketto hope is campaigns like Phenomenal Mothers, that have seen women across the country rise to the forefront of efforts to combat hardline immigration policies like the Trump administration's family separation policies.
"I do get emotional when I talk about this," Morales Rocketto said, her voice beginning to waver. "It does give me hope to know that there are mothers all over the country who are willing to be a sponsor or donate money [to support migrant families.]"
With Sunday's Phenomenal Mothers campaign, Morales Rocketto said she hopes to "send a message to every single family that we have not forgotten them and, not just that, but also that we are still fighting for them."
It's important to recognize that families do care and that families belong together," she said.