A motorcyclist has died after hitting a bear while riding on a Florida road. The 42-year-old, who has not been named, struck the animal while driving through Marion County in north central Florida. Reports said he was not wearing a helmet and was thrown from the motorbike.
The incident happened at around 11 p.m. EST on Thursday on State Road 40, just west of U.S. Route 19, near the Ocala National Forest. Florida Highway Patrol said the animal was standing in the road when the 1999 Honda motorcycle collided with it.
The rider was ejected from the bike as it overturned. The man was taken to a hospital and later died, a report from the Florida Highway Patrol said.
Newsweek contacted the Florida Highway Patrol for comment.
Black bears are the only species of bear in Florida.
With a statewide population of around 4,000, according to the most recent estimate provided by the Florida Fish and Wildlife Conservation Commission, encounters with bears in populous Florida are not uncommon. However biologists estimate there were as few as 300 bears in Florida in the 1970s.
Residents who live in areas where bears are present are advised to store garbage in a secure area in order to avoid conflict with the animals, which can weigh up to 400 pounds and can pick up scents from over a mile away.
The Florida Fish and Wildlife Conservation Commission says black bears are shy and generally not aggressive, and when seen near homes or workplaces they are often just passing through.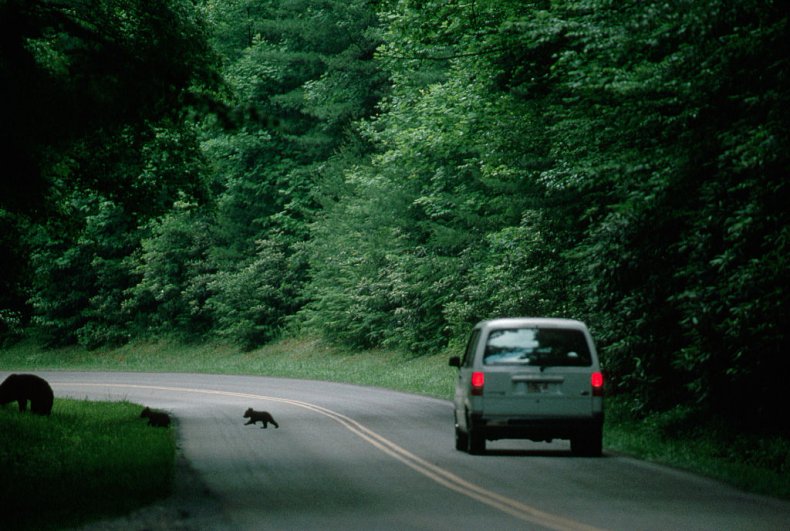 In 2014, three people died and eight others were injured in a three-vehicle crash in a remote area of Florida that started when the first car struck a 300-pound black bear.
The three were killed when they got out of their vehicle to help another driver who had stopped after hitting the animal on a road in the Big Cypress Seminole reservation area.
The woman who initially crashed into the bear was unharmed.
"We've never had an accident involving a black bear," Seminole Police Department spokesman Gary Bitner said at the time.
"There are black bears throughout Florida and this is in the Everglades, so there absolutely are black bears in that area."
In 2018, a driver escaped injury after colliding with a bear that had wandered onto an Oregon highway.
The animal was killed and the front of the vehicle was damaged but local authorities said the driver was unhurt.