A mountain climber and outdoor enthusiast has given fans a closer look at the lifeless frostbitten fingers he has been left with following an expedition gone awry.
According to his personal website, Fahad Badar is a Qatari banker by trade whose passion for climbing has seen him take on some of the highest and most iconic mountain peaks in the world.
Badar has climbed Mount Kilimanjaro in Africa as well as Europe's highest peak, Mount Elbrus, while in May 2019 he made history as the first Arab male to climb both Mount Everest and Lhotse in a single expedition.
More recently still, he embarked on an epic 68-mile expedition to climb Mount Vinson in Antarctica. Part of an ongoing challenge to climb the seven highest summits in the world, Badar's quest has been one of sacrifice, and not just in terms of the level of training required to reach his goal.
In a shocking video posted to his TikTok account last month, Badar showcased the extent of his sacrifice with the loss of four fingers and the tip of the thumb on his left hand as a result of frostbite, which also impacted the tip of one finger on his right hand.
The clip, which has been viewed more than 45 million times, was filmed three weeks ahead of an operation to remove the affected digits.
The video can be watched here.
Bobak Zonnoor, MD, writing for Medscape, says frostbite represents "the most common type of freezing injury" and is defined as "the freezing and crystalizing of fluids in the interstitial and cellular spaces as a consequence of prolonged exposure to freezing temperatures."
The Mayo Clinic states there are three specific states of frostbite, the most serious being deep frostbite, which affects all layers of the skin, turning the affected area white or blue-grey and resulting in a loss of sensation or some pain in the affected area. Skin tissue can turn black and hard in an indication that the cells have died.
If left untreated, deep frostbite can lead to infection, tetanus or gangrene, a condition caused by an interruption of blood flow to the affected area. In cases of gangrene, amputation is often the end result.
Badar told Newsweek his injuries were incurred during an expedition to Broad Peak mountain in Pakistan in July where he almost lost his life.
Badar's climb was beset by a series of delays and challenges. A fellow climber died while two high-altitude porters also turned around as the group closed in on the 8,047-meter summit, citing altitude sickness.
His situation went from bad to worse when his expedition guide also turned back, leaving Badar alone to fend for himself in the brutal temperatures.
"After climbing non-stop for almost 27 hours I was stranded overnight at almost 8,000 meters," he said. "I was almost dead but I survived the night without oxygen, alone in the cold. I had hallucinations due to low oxygen and was lost."
Badar was eventually rescued but gradually realized four fingers on his left hand and one on his right had been irreparably damaged by severe frostbite.
"I had severe pain in my fingers and they were numb, however the pain increased. I left Pakistan seven days after the incident and flew to New York for treatment but it was already too late. At that point I started discussing surgery options."
He was initially put on a course of medication to manage the pain of his frostbitten fingers but the situation reached a point where they were "totally dead" and there was "no pain at all" with his affected digits left feeling "like rock."
Badar said he has been surprised by the reaction to his TikTok video which he puts down to the shock many would have felt at seeing dry-gangrene up close and his own calm demeanor.
"I was already over it as it was almost two months after the incident so I had already been through the five stages of grief and was planning for my life afterwards," he said. "There is no use for just being sad or depressed, life goes on and I am alive."
Badar has since had the affected fingers removed but he has one more surgery to undergo in London before he plans to return home and resume his job as a banker. That's not the only thing he will be resuming.
"I plan to continue climbing mountains," he said. "My injury will not stop me. actually it will push me even more to take on challenges in my life."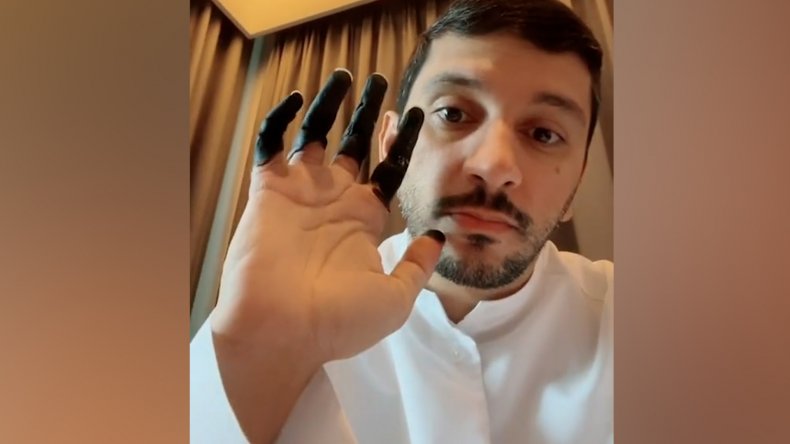 UPDATE 10/22/21, 5:48 a.m. ET: This article was updated a new video and images and comment from Badar.