A mountain lion was spotted roaming around early Saturday for the second time this week in Petaluma, California, prompting police to issue a safety warning for nearby residents.
Police told people in the area to stay inside and call them if they come into contact with the mountain lion.
Saturday's sighting came just days after police were made aware of a big cat prowling in the area on Wednesday. That day, wildlife agencies and Petaluma police were on alert after a mountain lion was reported several times by local residents. It was not immediately clear on Saturday whether the latest big cat sighting involved the same animal.
"If seen again in residential areas, please contact Petaluma Police Department. Always use caution around wildlife and do not approach," the police department said in a statement on Wednesday.
Joe Luchok, a Petaluma resident, told CBS SF that he saw the mountain lion on Wednesday and was able to capture footage of the animal from a home security camera.
"It was amazing," Luchok said of the Wednesday encounter. "My wife saw it initially out in the street, from the window, and thought it was a giant dog. Called 911 instantly."
In the footage, he said, the mountain lion "came walking this way down the side of the house and climbed over the fence."
Ken Paglia of the California Department of Fish & Wildlife told CBS SF that coming across a mountain lion is "both beautiful and scary."
"They are amazing creatures, they are beautiful. At the same time, we know innately that a mountain lion is a dangerous creature," he added. Paglia said that mountain lion sightings closer to residential areas are more common during warmer months.
"It's just that time of year," he said. "It's the time of year when young, male mountain lions get pushed out by their mothers and they have to find new territory."
At the end of May, another mountain lion made headlines after it was spotted strolling the streets of the Portola and Bernal Heights neighborhoods in San Francisco for two days. The lion was later found hiding in a tree and taken by the California Department of Fish and Wildlife to be released into its proper environment.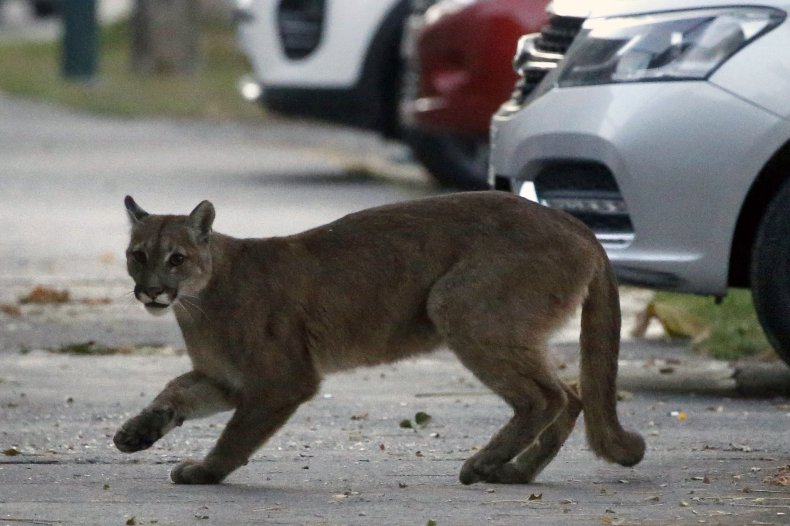 A week later, a mountain lion broke through a glass window of a home in San Bruno, California, and was allegedly trying to "hunt" the taxidermy wildlife featured on the home's wall.
"While mountain lion sightings are fairly common throughout Northern California, this type of incident is out of the ordinary," The San Bruno Police Department said of the incident. "Mountain lions typically pose little threat to humans, and generally avoid any human interaction," the news release added.
Police offered additional tips for residents to reduce their risk should they come into contact with a mountain lion in California, including keeping an eye on kids and pets, installing outdoor lights on their property, and removing dense vegetation around homes.