A mom hilariously gave her young son a classic Mr. Burns' haircut from The Simpsons, with a video of the look going viral online.
Johanna Clark, from Australia, uploaded a clip to her Tiktok page, @pink_nade, showing her child, 12-year-old Nathaniel, sporting the unusual hairdo.
"Am I a bad mum for gletting my son cut his hair like Mr Burns [sic]," she captioned the footage, which can be seen here.
The youngster re-enacts Mr. Burns' famous line and mannerisms—saying Smithers while interlocking his fingers together.
Clark captioned the clip: "Gargomal or Limmeny Snickets even?" As she added the hashtags #mrburns and #thesimpsons, among others.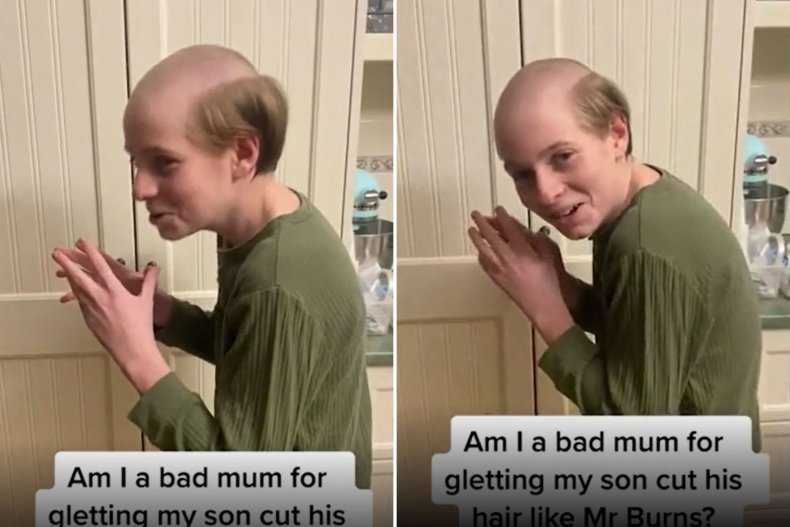 Speaking to Newsweek, Clark said: "The clip is about my 12-year-old son Nathaniel. He asked for this hair cut, which was actually inspired by Gargamel from the Smurfs but made him look a bit more like Mr. Burns than anything else.
"Nathaniel is a quirky, confident child with autism. I would not normally cut my kid's hair like this but thought, you know what, it's just hair. It will grow back, he thinks it's funny and is confident enough to rock it so we went ahead and cut it for him."
She added: "He is a bit of a larrikin and the class clown and loves the giggles he gets when people see him with the hair cut."
Since being shared earlier this month, the video has racked up more than 6 million views, as people raved about the hairstyle.
And Clark shared more info in the comments, saying: "He freaking loves it! Made his year...
"Haha totally worth it to see his face when he looked in the mirror."
While she added it was "good honest fun," admitting she was "still giggling."
Lolly wrote: "I love his confidence, and it kind of suits him. But why Mr Burns, specifically."
Kibekelo joked: "Looks like an excellent time for new passport photos."
Margaret Palermo wrote: "He is happy and confident, it's just hair, besides it's a good learning experience for when he's 50, so you're defo a great mom."
ViridianEchoes thought: "He's having fun, I don't think it was a bad idea."
Annie Jordan reckoned: "No, he's living his best life."
And Silvia Sun said: "U are the best mom for letting him create this wonderful memory with u."
Fleur raved: "Child and mom of the year."
While Mil added: "What on earth I mean if he likes it."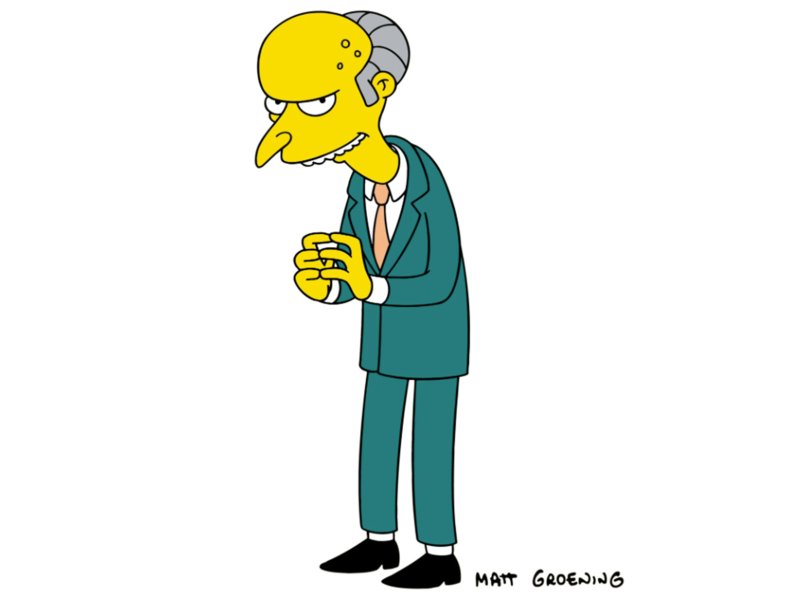 Mr. Burns is one of the main characters in the iconic T.V. show The Simpsons, which has been going since 1989.
It follows the ups and downs of the fictional townspeople, focusing on Marge, Homer, Bart, Lisa and Maggie.
Mr. Burns, billionaire owner of the Springfield Nuclear Powerplant, and Homer's boss, is known for his catchphrases, including "excellent," "you're fired," and "release the hounds."
While he was also the subject of the tense season six finale, in a Dallas-esque re-telling entitled Who Shot Mr Burns Part I and Part II. (Spoiler: It was Maggie.)
Widely touted as being a centenarian, Mr. Burns' iconic look, complete with liver spots, is probably due to male pattern baldness.
The American Academy of Dermatology Association (AAD) said: "The most common cause of hair loss in men, male-pattern hair loss can begin early. Sometimes, it starts in your late teens or early twenties.
"Usually, it appears later. By 50 years of age, more than half of white men have a visible sign of male-pattern hair loss like noticeable thinning, a receding hairline, or balding."
Update 7/21/22, 6:00 a.m. ET: This article was updated with comment, video and photos from Clark.