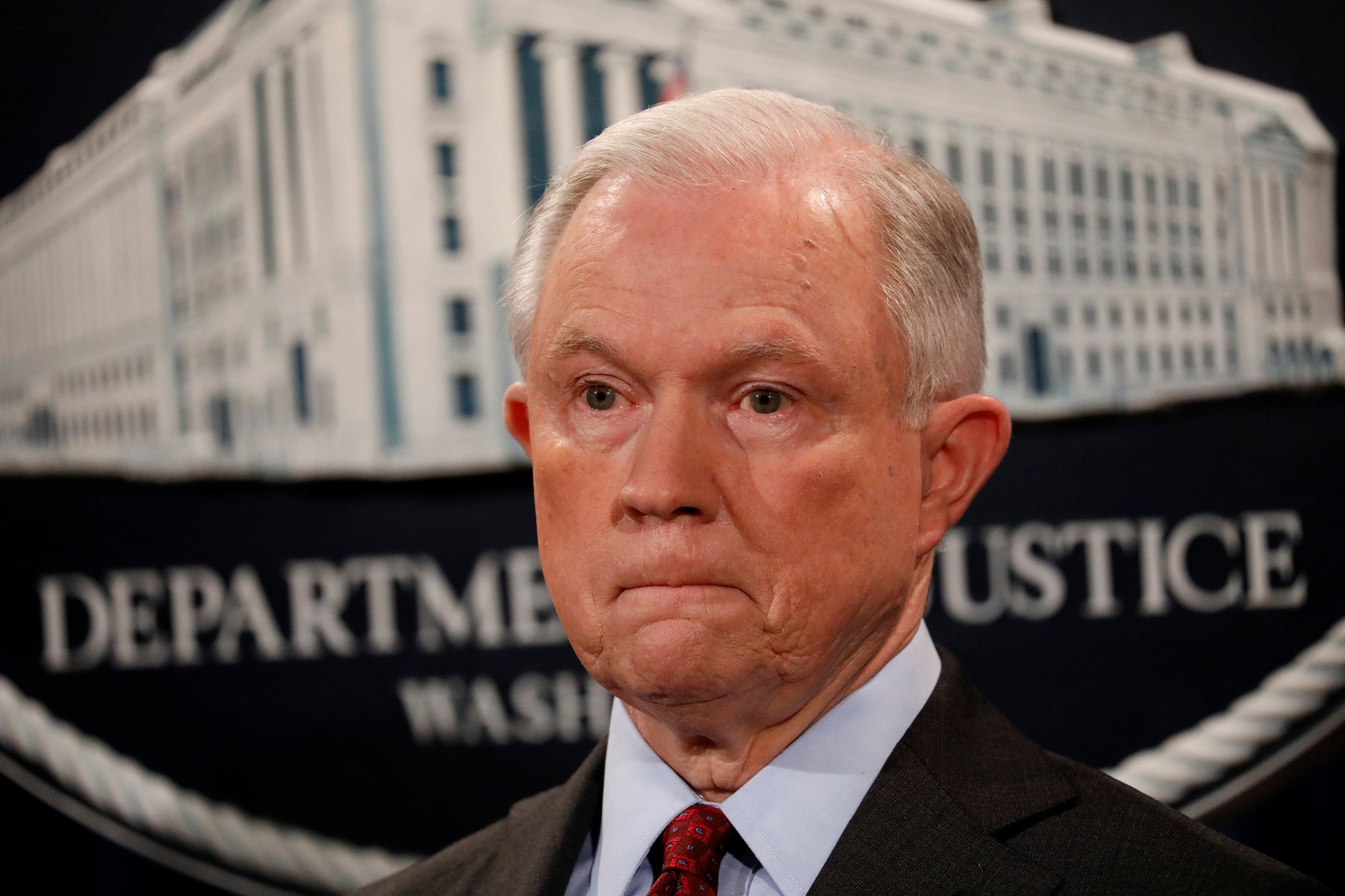 In a speech that underlined his single-minded focus on MS-13, Attorney General Jeff Sessions pledged Thursday to "dismantle this gang, clique by clique and member by member," and claimed gang members exploit the unaccompanied minors program to enter the country as "wolves in sheep clothing."
Sessions, who has repeatedly called attention to the gang in speeches, also described the personnel and policy changes he's implemented to make "the decimation and dismantlement of MS-13 a top priority."
Session's focus on MS-13 and illegal immigration has raised concerns from local law enforcement leaders, who worry that the attention will make undocumented immigrants less likely to cooperate with investigators, and from civil rights advocates, who believe his gang and immigration policies amount to racial profiling of minorities.
About 40 protesters organized by the ACLU demonstrated outside the federal courthouse where Sessions spoke, waving signs that read "Jeff: Go Home" and "Racism is #Notwelcome," Reuters reported.
The former senator for Alabama also announced that the Department of Justice is working with the Department of Homeland Security to examine the unaccompanied minors program, adding that gang members take advantage of the program and use it to recruit new members. Sessions didn't clarify how gang members did that and didn't take questions after his speech to law enforcement officials, but a Long Island police commissioner said in April that seven of the 13 MS-13 members indicted earlier this year came to the U.S. as unaccompanied minors.
Sessions laid out other moves he has made to attack the gang, including reconstituting the DOJ's Organized Crime Council, ordering other federal law enforcement agencies to make MS-13 a top priority and assigning 300 more prosecutors to focus on violent crime and immigration.
"Let me be clear about something: The status quo is unacceptable. This is America. We will not allow the likes of MS-13 or any other gang to prey upon our communities, to decapitate individuals with machetes, baseball bats and chains, or to turn places like Boston, Washington, D.C., and Long Island, New York, into war zones," Sessions said. (The full text of his prepared remarks is available here.) "All law-abiding individuals must be free to walk down any street without fear of being hacked with a machete just because they don't don the white and blue of the Mara."
President Donald Trump also has promised to decimate the organization, saying in a July speech: "We're going to destroy the vile criminal cartel MS-13."
A gang assessment released by the Texas Department of Public Safety a few days before Trump's speech found that MS-13 is now arguably the most recognized transnational street gang in the world, with ongoing command, control and coordination between gang leaders and cliques in several different countries.