MS-13 Gang Member Who Brutally Hacked Man to Death With a Machete Sentenced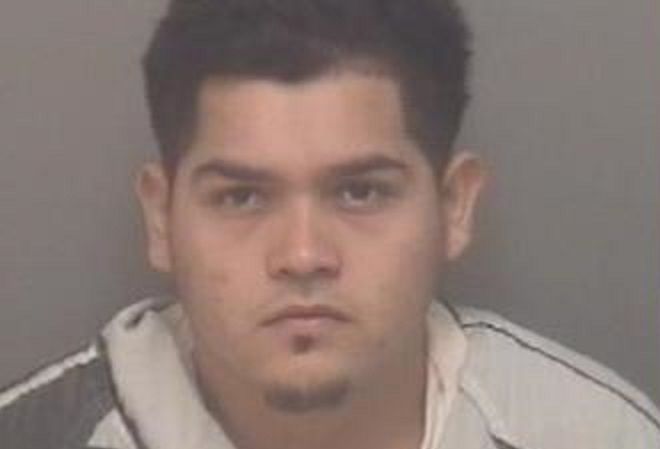 An MS-13 gang member has been sentenced to 30 years in jail for his part in a machete slaying of a man in Albemarle County.
Walter Antonio Argueta Amaya, a 21-year-old Salvadorian national, admitted to hacking to death Marvin Joel Rivera Guevara. Guevara's mutilated body was found in a creek in the Woolen Mills neighborhood in Scottsville, Virginia in July 2017.
Read more: MS-13 gang members accused of 'hacking' police informer to death with machetes
Amaya, who is an undocumented immigrant, will serve 15 years of a 40-year sentence for first-degree murder and 15 years of a 40-year sentence for murder by lynching, reports The Daily Progress.
Amaya also received 10 years for abduction and five years for criminal gang participation. Both these sentences were suspended.
Amaya was one of four MS-13 gang members to plead guilty to Guevara's killing. The sentencing of Juan Carlos Argueta, Jose Luis Escobar-Umana and Eduardo Zelaya are all due to take place at later dates.
Escobar-Umana pleaded guilty to the same charges as Amaya, while Argueta and Zelaya admitted gang participation and lynching in connection to Guevara's death in exchange for dropping first-degree murder and abduction charges.
According to court records, Guevara—who was also in the country illegally—was targeted after telling a co-worker that the infamous El Salvadorian gang didn't make the rules in the U.S.
Guevara did not have any associations with any gangs, The Daily Progress reports.
The gang members hacked at Guevara's body with machetes at least 144 times after forcing him into the creek at gunpoint. His body was so badly mutilated that his family was unable to identify him, meaning DNA testing had to be used to, according to the Virginia Medical Examiner.
After his release, Amaya must observe at least 40 years of good behavior and has been banned from making contact with the victim's family. He will also likely be deported back to El Salvador following his release.
If he returns to the U.S., Amaya will be sentenced to an additional 50 years in jail for violating his terms, reports WVIR.
The notorious MS-13 gang was founded in Los Angeles in the 1980s and is believed to have as many as 10,000 members in the U.S. The gang is known for its members' distinctive tattoos and extreme criminal activity, best summed up by its motto "Mata, roba, viola, control" (Kill, steal, rape, control).
In 2012, the U.S. Department of the Treasury officially designated MS-13 as a "transnational criminal organization," joining other feared gangs such as the Yakuza in Japan and Mexican cartel the Zetas.