'Ms. Marvel' Review Bombing Called 'Racist White Replacement Nonsense'
Marvel fans are speculating as to why the new Disney+ show Ms. Marvel is being "review-bombed" with some suggesting it's because it features a central superhero with a more diverse background than previous Marvel Cinematic Universe (MCU) lead characters.
Ms. Marvel is the latest MCU TV show to launch exclusively on Disney+, but despite overwhelmingly positive critics reviews, the audience score on certain sites doesn't reflect this. Rotten Tomatoes, the popular online review aggregator, suggests Ms. Marvel has an overall critics review rating of 95 percent while the audience score is a lower but still respectable 87 percent. However, the audience score on IMDb rates the same show at just 6.5 out of 10 at time of writing.
The show has been praised for its welcome diversity in the MCU, as the central character 16-year-old Kamala Khan, played by Iman Vellani, is Marvel's first lead Muslim superhero. Disney had foregone the big-name talent that usually make up the cast of an MCU movie or TV show, instead casting actors from diverse backgrounds.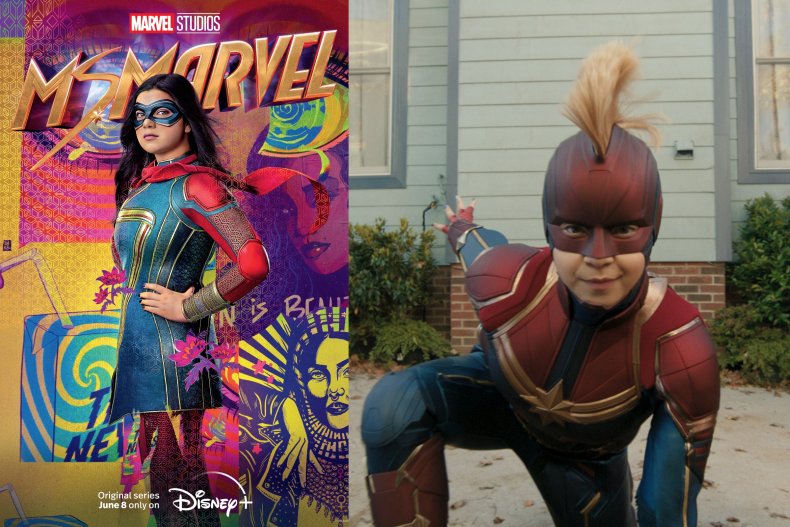 Twitter user @Jessiegender caused a stir online when she suggested this focus on diversity and straying from Marvel's norm is what led to it becoming targeted online.
"Ms. Marvel (which is great) is being review bombed in part because some people see her as a Muslim girl 'replacing' the white Carol Danvers. Not only is this racist white replacement nonsense, it's hypocritical given all the harassment [Brie] Larson got. It's perpetual racism and sexism," she said.
Referring to the same backlash Larson received when she was cast as Captain Marvel, @Jessiegender continued, "An endless perpetual motion machine of racism, sexism and homophobia that constantly attacks the latest target using the last one as the one they're defending, forgetting how they harassed that person the same way before."
Thousands of Twitter users responded to this assessment with likes, retweets and comments.
Writer and podcaster Joanna Robinson commented on the apparent "review bombing" of Ms. Marvel, reminding her Twitter followers why "it's a good rule of thumb to NEVER pay attention to this dumb, chaotic, toxic rating system." She continued by stating you shouldn't listen to someone next time someone points out the IMDb rating of something, urging people to respond with "So?"
YouTuber Joe Vargas pointed out an odd phenomenon relating to his own review of Ms. Marvel. He shared screenshots showing that his post was instantly downvoted and received negative comments within minutes of going live, despite the fact that Ms. Marvel hadn't even launched to the public yet.
The comments continued to be supportive for the character of Kamala Khan. "I don't get the hate, either. I'm not Muslim or Pakistani or anything of the sort and she's a cool character who deserves the praise she gets," @somethingamyss wrote. "She's so wholesome and cute! I loved her in the comics and the TV show is a great adaptation," said @Lady8Jane.
The concept of "review bombing" a project is an internet phenomenon when a large number of people will spam it with negative reviews in an attempt to harm its sales, audience numbers or popularity.
The Captain Marvel movie was also seemingly a victim of review bombing as the 2019 movie received 50,000 negative reviews on Rotten Tomatoes before it was even released, leading the site to change its rules going forwards.
Proof that Ms. Marvel may have been subject to a review bomb could be seen when looking at the individual scores for the show's episodes. Only one episode is available to launch on the platform so far, and while the show overall has a 6.5 rating on IMDb from at least 14,000 users, the episode "Generation Why" has a rating of 7.5 from at least 5,300 reviewers.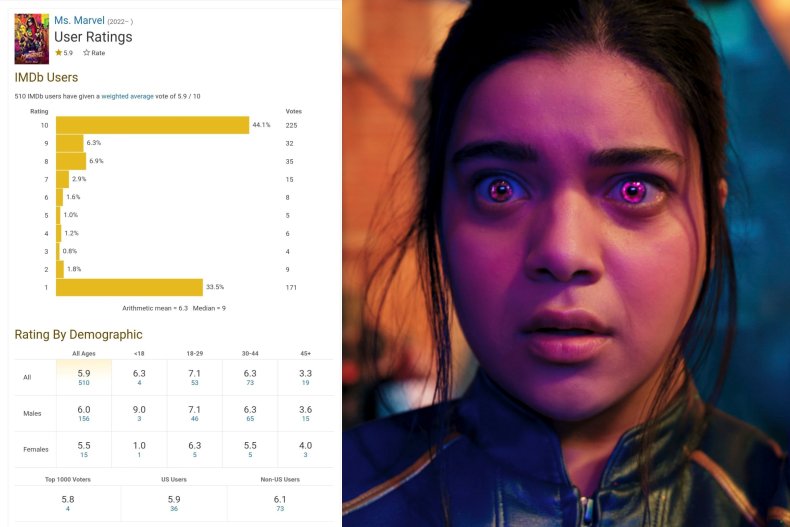 Over on Reddit, user @miketrevfrank argued that Ms. Marvel was being targeted by sharing a screenshot purporting to show the overall reviews. It is unclear when the screenshot was taken but the image showed that Ms. Marvel has received 33.5 percent reviews rating it 1/10, while 44.1 percent rated it at 10/10. At the time of writing, 3,122 users have given the show a 1/10 rating, totaling 23.5 percent of users.
The thread discussing review bombing was shut down by Reddit moderators because there was "A LOT of actual racism, sexism and Islamophobia in the comment section."
Over on Twitter, @McBDirect said this Marvel project was being treated differently to those that came before by comparing the number of one-star reviews Ms. Marvel had on IMDb.
While Ms. Marvel received over 20 percent 1/10 ratings, some of Marvel's poorest performing shows including Inhumans (11.6 percent) and Iron Fist (3.9 percent) received far less negative reactions, said @McBDirect. These numbers were verified by Newsweek.
The introduction of Kamala Khan in this TV show as Ms. Marvel is due to be a precursor to the movie The Marvels, scheduled for July 2023, which will reportedly see her team up with Brie Larson and Teyonah Parris, who play Carol Danvers and Monica Rambeau, respectively.
Ms. Marvel is the latest Disney+ TV show which airs new episodes every Wednesday on the streaming platform. It's a six-parter with the season finale scheduled to air on July 13.