MSF Calls Moria Refugee Camp's Dismissal of Growing Sex Abuse Reports 'Deeply Concerning'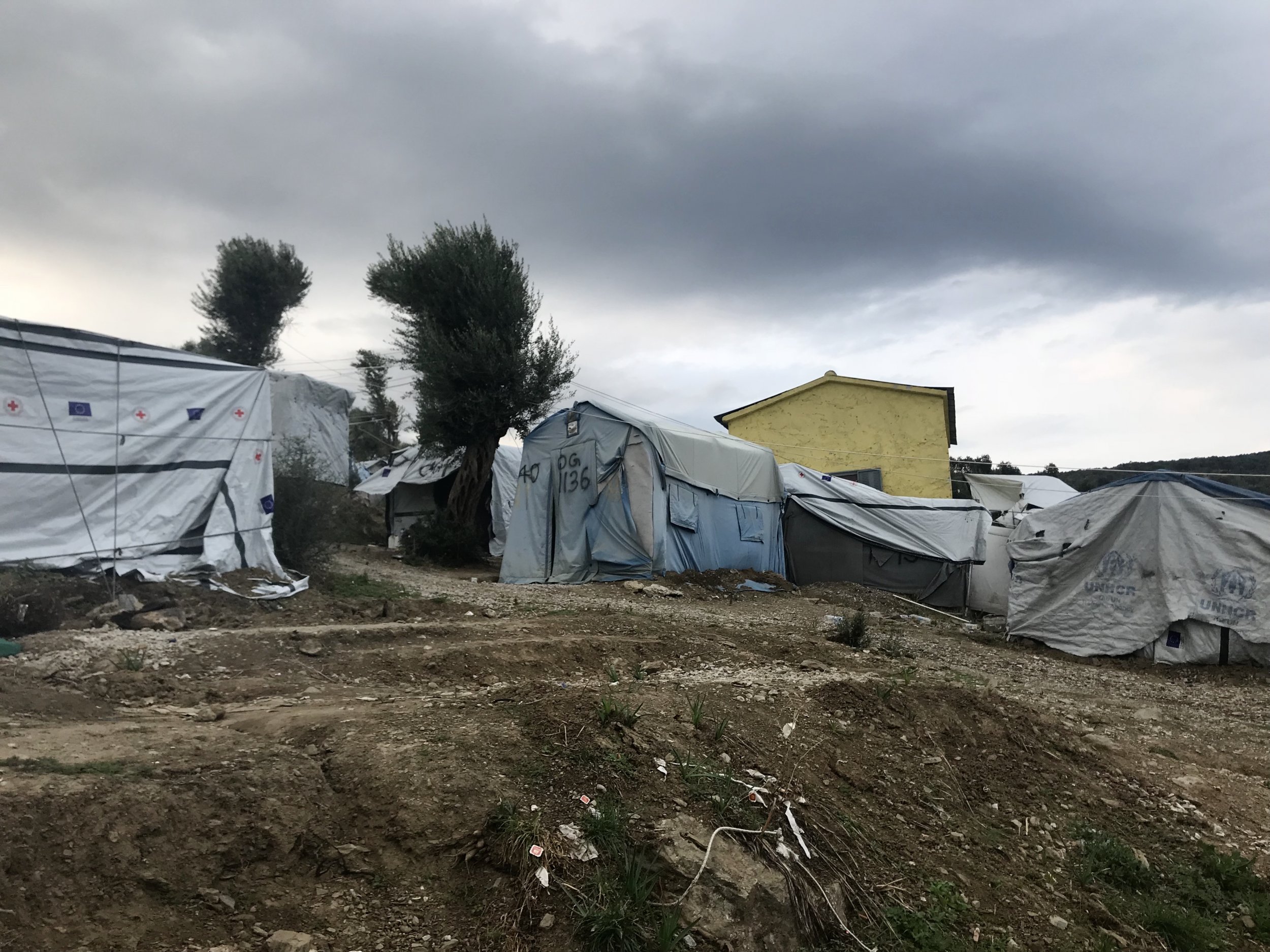 Médecins Sans Frontières (MSF) is "deeply" concerned for the welfare of refugees and migrants living at Greece's Moria refugee camp. This follows the camp's director dismissing the claim of a rise in reports of sexual abuse at Moria and the "Olive Grove," an overflow site where hundreds of refugees and migrants are living in tents just outside the camp's borders. The claim was first reported by Newsweek.
Days after Newsweek reported that MSF had seen a rise in reported instances of sexual assault against children, women and men at Moria and the Olive Grove since mid-May, Moria refugee camp director Ioannis Balbakakis reportedly rejected the organization's warning as "fake news."
Speaking with state-run Athens-Macedonia News Agency, he said only a "very small" number of rape cases have occurred at Moria. He did not go into further detail on how many cases have been reported, nor did he address allegations of abuse at the Olive Grove, according to Greek newspaper Kathimerini.
Asked by Newsweek for comment, as well as for specific data on reported sexual abuse at Moria refugee camp and the adjacent Olive Grove, Balbakakis only responded that his office acts "under Greek law 4540." He pointed to article 23, which covers sexual abuse according to article 25 of Directive 2013/33/EU of the European Parliament and council, which outlines standards for the reception of applicants for international protection.
The article, which covers provisions for vulnerable victims of torture and violence, asserts that "member states shall ensure that persons who have been subjected to torture, rape or other serious acts of violence receive the necessary treatment for the damage caused by such acts, in particular access to appropriate medical and psychological treatment or care."
It also asserts that "those working with victims of torture, rape or other serious acts of violence shall have had and shall continue to receive appropriate training concerning their needs, and shall be bound by the confidentiality rules provided for in national law, in relation to any information they obtain in the course of their work."
Asked again by Newsweek whether his office could expand on its denial that rates of sexual abuse have been on the rise at Moria refugee camp and the Olive Grove and whether it could provide data to back that assertion up, the camp director did not immediately respond.
He also did not respond to a question on whether his office's responsibilities under Greek law extend to the Olive Grove site outside of Moria.
In a statement emailed to Newsweek, MSF's Head of Mission in Greece, Louise Roland-Gosselin, said: "MSF bases its statements on direct medical experience, based on what our teams treat and what our patients tell us."
"It is deeply concerning to MSF that these cases are being brushed aside as lies despite repeated warnings from MSF and other organizations," Roland-Gosselin said.
"Given the urgency of the situation, and the environment of fear and violence that many people experience in Moria, it is critical that immediate action is taken to safeguard and protect this very vulnerable population."
At both Moria and the Olive Grove, where the United Nations High Commissioner for Refugees (UNHCR) estimates roughly 1,500 people are living in a largely unprotected area, numerous families told Newsweek they live in fear for their safety after hearing widespread reports and rumors of violence and sexual abuse against women, children and men across the camp.
In one case, a family told Newsweek they had heard of a father who had left his tent in the Olive Grove to join the food line at Moria to get a meal for him and his daughter. When he arrived, he found a man attempting to sexually assault his child.
That same day, Newsweek spoke with MSF's Medical Coordinator Declan Barry, who had a strikingly similar story to share.
After explaining that since mid-May the MSF had seen an average of one reported case of sexual assault per week and that around 10 of those incidents had involved children, Barry said: "In one particular case, it was a single father and he had just left his tent to get food... And he came back to find his child had been sexually abused."
"One case is not acceptable, let alone one a week," Barry said of the reported abuse. "And I'm sure it's happening a lot more frequently than that."
The medical coordinator said that some of the children who had been sexually abused were also among a growing number of children at Moria that had recently attempted suicide, self-harmed or struggled with suicidal thoughts.
On Tuesday, UNHCR Associate Communications Officer Boris Cheshirkov told Newsweek that he had also seen a rise of reports in sexual abuse, though many of them occurred en route to Lesvos or in the migrants' home countries.
Cheshirkov said that in the first half of 2018, the UNHCR saw a nearly 40 percent rise in incoming reports of sexual violence from refugees and migrants in Lesvos, compared to the second half of 2017. It is important to note, however, that two-thirds of reports came from individuals alleging abuse in their home countries or on the way to Greece, while one-third alleged abuse within Lesvos.
Cheshirkov said that most of the reports were made "on the islands" and "from Moria and Lesvos."
Read more: Families live in fear at Greece's biggest refugee camp, as reports of sexual abuse on the rise
The UNHCR spokesperson said that the issue of sexual abuse at Moria and the Olive Grove is "very concerning" to the refugee agency.
He asserted that the UNHCR has repeatedly called for authorities to see "security scaled up inside Moria and outside Moria in the adjacent Olive Grove" for the safety of those living there, as well as for authorities to address concerning conditions at both sites.
Cheshirkov said that conditions at the Olive Grove were especially "appalling," and warned that the site "is not a suitable location for people who are seeking safety and shelter."
The UNHCR spokesperson said that while some relief has come in recent weeks, with the population at Moria and the Olive Grove shrinking from around 8,500 people to 6,500 after a push to fast-track transfers from Lesvos to Athens, that number is still around three times the capacity the camp was originally intended to manage.