MSNBC Contributor Jason Johnson 'Not Pleased' With Chauvin Verdict, Calls It 'Cultural Makeup Call'
MSNBC contributor Jason Johnson said he is "not pleased" with the verdict in the Derek Chauvin murder trial.
"I actually always thought he would be found guilty because it's sort of a cultural makeup call," Jackson said in response to Tuesday's guilty verdict. "I'm not happy. I'm not pleased. I don't have any sense of satisfaction. I don't think this is the system working. I don't think this is a good thing."
Chauvin, a former Minneapolis police officer, was found guilty on all three counts—third-degree murder, unintentional second-degree murder and second-degree manslaughter—by the jury after nine hours of deliberation. He is the first of four officers charged in the death of George Floyd last May.
"What this says to me is that in order to get a nominal degree of justice in this country, that a Black man has to be murdered, on air, viewed by the entire world. There would have to be a year's worth of protests, and a phalanx of other white police officers to tell one white officer he was wrong, in order to get one scintilla of justice," Johnson said.
"That doesn't make me feel happy. That doesn't make me feel satisfied. It makes me worry about what's going to happen when these other officers are held on trial," he continued.
"It makes me upset all the more that we didn't have this for Breonna Taylor. It makes me concerned about what's going to happen in the trial for Ahmaud Arbery. No. This is not the system working. This is a makeup call. This is the justice system trying to say, Hey, this is one bad apple," Johnson said.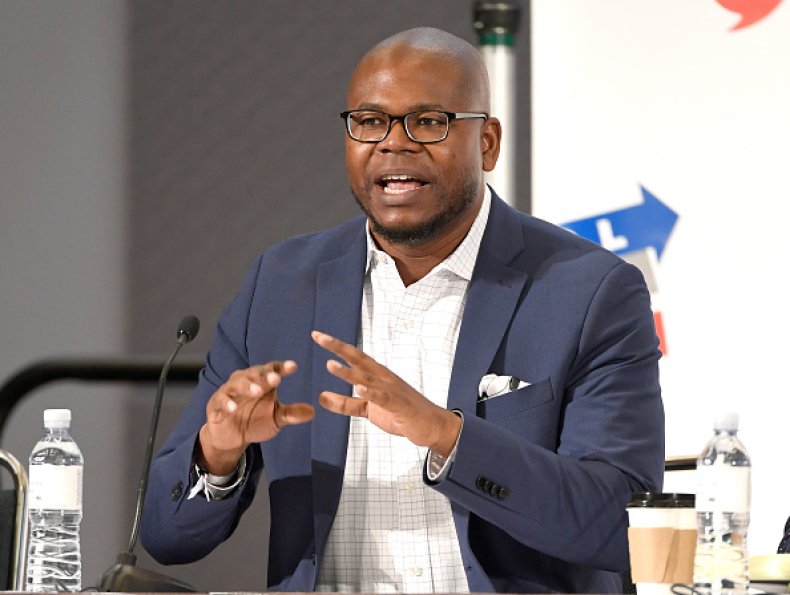 Johnson called for police reform, saying that unless there are changes made to departments across the nation, Black people will continue to die at the hands of the police.
"There's still going to be young, Black men and women across this country being shot today, tomorrow and two weeks from now," he said. "Because unless we have some radical reform, there's no lesson learned."
His words echoed those of other prominent Black Lives Matter activists who have stopped short of calling the decision "justice" and who have continued the push for reform.
"George Floyd should still be alive, full stop. Derek Chauvin's guilty verdict doesn't fix an irredeemable, racist system of policing rooted in white supremacy that will continue working against and harming Black people just as designed," the Movement for Black Lives said in a statement. "Minnesota police couldn't even go the full length of the trial without taking the life of another Black person, and now we're grieving for Daunte Wright just as we continue to grieve for George Floyd."
"Our calls for defunding the police will continue to grow louder with each police murder," the statement read. "We will not give up fighting until Black people and communities get the justice and liberation they deserve."