MSNBC Host Confronts Trump Ally Peter Navarro Over 'Peaceful People' Claim About Jan. 6
MSNBC host Ari Melber confronted former Trump administration official Peter Navarro after he said that he only saw "peaceful people" near the U.S. Capitol on January 6, 2021.
Hundreds of supporters of former President Donald Trump stormed the Capitol on January 6 in an apparent effort to disrupt the formal certification of President Joe Biden's Electoral College victory. Their attack came after months of Trump and his allies spreading lies about the 2020 election results, and directly following the then president urging his supporters to walk to the legislative building and "fight like hell."
Melber asked Navarro, Trump's former director of the Office of Trade and Manufacturing Policy, about the violence during a Friday interview. Navarro was a key figure promoting misinformation about the 2020 election results. Although Navarro agreed that the attack on the Capitol was wrong, he defended his and other Trump allies' efforts to overturn the election results through peaceful means.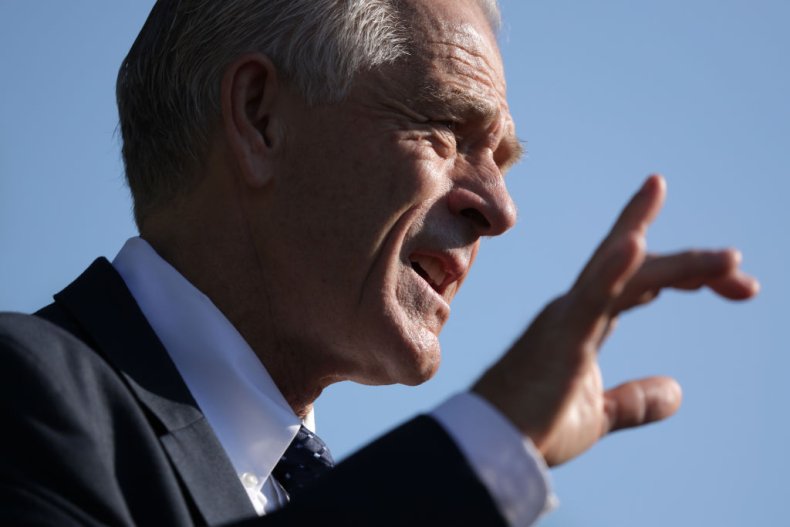 "Everything I did was clearly between the lines," Navarro said. He asserted that all his actions were lawful.
The MSNBC host went on to play video and audio of Trump telling supporters on January 6 to "fight like hell." He also played audio of Trump telling Fox News in an interview that his supporters on January 6 "were peaceful people. These were great people."
The former president "falsely says they were peaceful. Do you acknowledge they were not?" Melber asked Navarro.
"I ran the [National] Mall that day," the Trump ally responded. He said he "saw nothing but peaceful people walking along up to that Capitol. I did not personally observe storming the gates there."
"But you've seen the tape. You know what happened. You know Donald Trump lied about it," Melber interjected.
Navarro then began to deflect, questioning why the U.S. Capitol Police were not better prepared and why the National Guard had not arrived quicker. Melber responded by pointing out that "the Capitol Police were being beaten and attacked by Trump fans." He added: "I think you know that."
"We only wanted peace that day," Navarro insisted, holding up his hands dramatically. "That's my bottom line."
Trump and many of his allies have repeatedly downplayed the events of January 6, suggesting the events surrounding the Capitol attack were more like a peaceful protest. They have also criticized the treatment of the hundreds of people arrested in the wake of the assault.
Earlier this month, 11 members of the far-right Oath Keepers group were charged with seditious conspiracy and other charges for crimes related to the January 6 attack. The group allegedly had stockpiled weapons and equipment to prepare for violence in timing with Trump's efforts to overturn the election results.
Meanwhile, Trump and his allies continue to claim that the 2020 election was "rigged" or "stolen" in favor of Biden. No evidence has emerged substantiating the allegation. To the contrary, audits and recounts in states across the country—including in areas where the election was overseen by pro-Trump Republicans—have consistently reaffirmed Biden's win.
More than 60 election challenge lawsuits filed by Trump and his supporters failed in state and federal courts. Even judges appointed by Trump and fellow Republicans have consistently ruled against the legal challenges. Multiple former Trump administration officials have asserted publicly that there is "no evidence" to support claims of widespread fraud in the 2020 election.