MSNBC host Nicolle Wallace on Tuesday dismissively cut short a statement from House Minority Leader Kevin McCarthy (R-Calif.) condemning Rep. Marjorie Taylor Greene (R-Ga.) for comparing a mask mandates to the treatment of Jews in Nazi Germany.
Wallace, who served as White House communications director during the administration of former President George W. Bush, suggested that McCarthy's statement came too late while discussing Greene's remarks during a segment of her show Deadline: White House.
"McCarthy, who didn't bat an eyelash in his zeal to purge Liz Cheney from her leadership post, issued his statement about Greene's tweet this morning, in which she compared a supermarket's face mask policy to Nazis labeling Jews with star of David badges," Wallace said.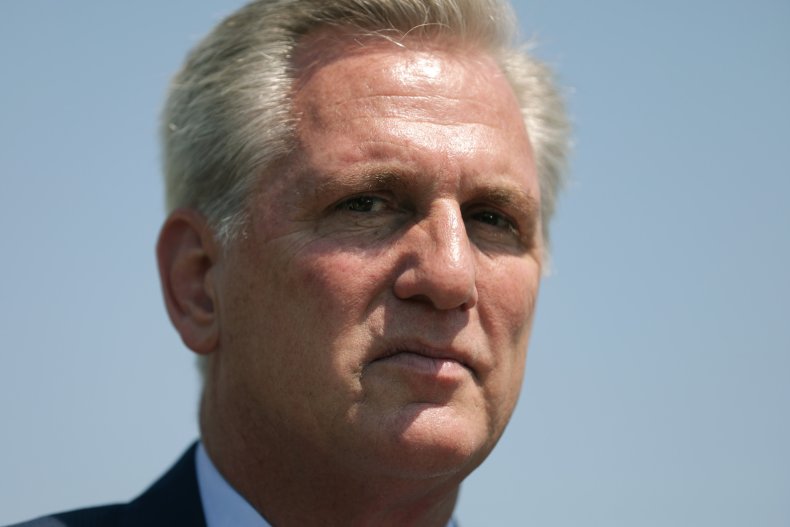 "McCarthy called Greene's words 'appalling,'" she continued. "McCarthy added 'the Holocaust is the greatest atrocity committed in history, the fact that this needs to be stated today is deeply troubling.' ... I'm not going to read the rest of this. Blah, blah, blah, it came five days late. That's all you need to know."
The part of the statement that Wallace skipped included McCarthy's condemnation of Greene's "language."
McCarthy's statement went on to argue that "anti-Semitism is on the rise in the Democrat Party" but is being "completely ignored" by Speaker of the House Nancy Pelosi (D-Calif.).
Wallace later explained that she believed McCarthy's statement "isn't really a condemnation at all" because it came five days too late. She argued that McCarthy "would have raced to the microphones or called into Fox News" sooner if Greene's statements had troubled him.
During an appearance on the right-wing news network Real America's Voice last Thursday, Greene compared Pelosi's mandate that masks must be worn in the House chamber until all members are vaccinated against COVID-19 to Nazis forcing Jews to wear gold stars before being forced on trains and murdered in gas chambers.
"We can look back in a time in history when people were told to wear a gold star and they were definitely treated like second-class citizens," Greene said. "They were put in trains and taken to gas chambers in Nazi Germany. And this is exactly the type of abuse Nancy Pelosi is talking about."
Greene has refused to back down from her comments despite heavy criticism from both sides of the political spectrum and has instead made several similar analogies on Twitter. After McCarthy issued his statement condemning her comparison, Greene shared another Twitter user's tweet describing him as a "moron" and "feckless c**t," before quickly deleting it.
Newsweek reached out to McCarthy's office for comment.