North Korea's Kim Jong Un Makes 'a Fool' of Donald Trump 'Every Day,' MSNBC Morning Joe Host Says
MSNBC host Joe Scarborough slammed President Donald Trump on Wednesday after reports and photos indicated that North Korea is building a submarine capable of launching ballistic missiles.
"It's not a stretch to say that Donald Trump's most lasting legacy may well be writing what he calls love letters to a dictator in North Korea, who – during his presidency – is going to develop the ability to deliver nuclear weapons to Georgia, Alabama, Florida, Seattle, Los Angeles, you name it," Scarborough, who previously served as a Republican congressman but now identifies as an independent, said on Morning Joe. "That's going to be Donald Trump's legacy."
Trump "is being made a fool of every day by the leader of North Korea and he can't admit it," Scarborough added later in the segment. "He'd rather just keep being made a fool of instead of admitting that he was disastrously wrong and that he's made America far less safe."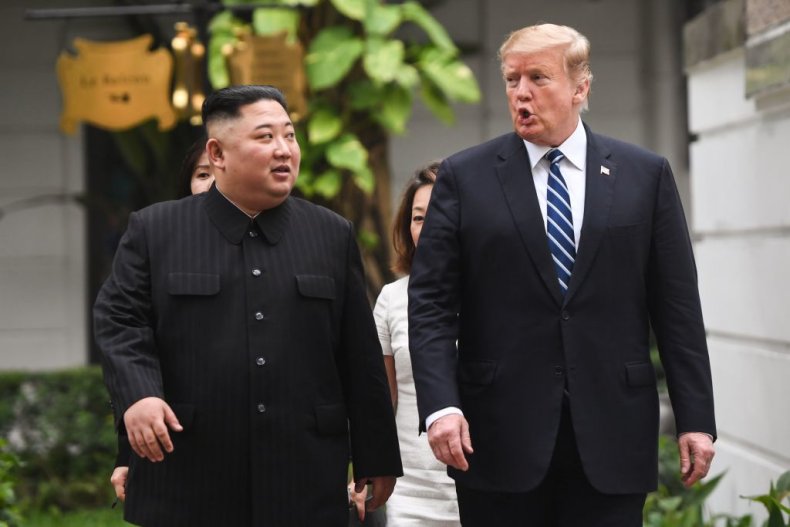 Satellite photos taken on Monday appear to reveal that North Korea is constructing a new submarine capable of carrying ballistic missiles, according to an analysis by the Washington-based think-tank the Center for Strategic and International Studies (CSIS). In July, North Korean state media claimed that the country's leader Kim Jong Un had inspected a "newly built submarine," and the images appear to confirm that report.
"While many media sources have described this new submarine as an imminent threat, it is more accurate to describe it as an emerging threat," the CSIS report cautioned.
Japanese officials also warned this week that North Korea appeared to be developing new missile warheads that could potentially out-maneuver existing defense systems, The Guardian reported. That warning came after North Korean media reported on Saturday that Kim had overseen the testing of a "super-large multiple rocket launcher." According to analysts, this would be at least the fourth new missile system the east Asian nation has unveiled since denuclearization talks stalled between Kim and Trump stalled earlier this year.
Despite the concerns, Trump has repeatedly praised Kim and said he is confident that the North Korean dictator will follow through on his pledge to denuclearize. Last summer, Trump became the first sitting U.S. president to meet with a North Korean head of state face-to-face last summer. They have met in person twice since then, with Trump in June also becoming the first America president to step into North Korea across the demilitarized zone (DMZ) line dividing North and South Korea.
As Scarborough noted, Trump has described letters exchanged between him and Kim as "beautiful." He also claimed last year that he and the dictator "fell in love."
The president has repeatedly dismissed North Korean missile tests over the past few months, insisting that he has a good relationship with Kim and that there is nothing to be concerned about. On Monday, Trump again spoke favorably of North Korea and Kim, despite the missile test over the weekend.
"I think that North Korea has tremendous economic potential," he said. "And I think that Kim Jong Un sees that he would be the leader, and I think he sees the tremendous potential that it's got."