Secretary of State Mike Pompeo attempted to explain to Fox News host Chris Wallace what President Donald Trump meant when he said last year that he "fell in love" with North Korean leader Kim Jong Un.
Pompeo appeared on Fox News on Sunday to discuss Trump's upcoming summit with Kim in Vietnam later this week. The meeting will be the second between the two leaders, who met for the first time last summer in Singapore for a historic summit that marked the first time a sitting U.S. president met face-to-face with North Korea's top leader. A few months after their direct talks, Trump bizarrely said that he and Kim "fell in love."
Wallace confronted Pompeo about the president's comments on Sunday, while also asking the secretary about assessments from experts that suggest Trump's expectations of Kim are unrealistic. "After Singapore, the president tweeted this: 'There is no longer a nuclear threat from North Korea.' And he talks repeatedly about the strength of his relationship with Kim," the host pointed out, before playing a clip of Trump bragging about his relationship with the North Korean leader.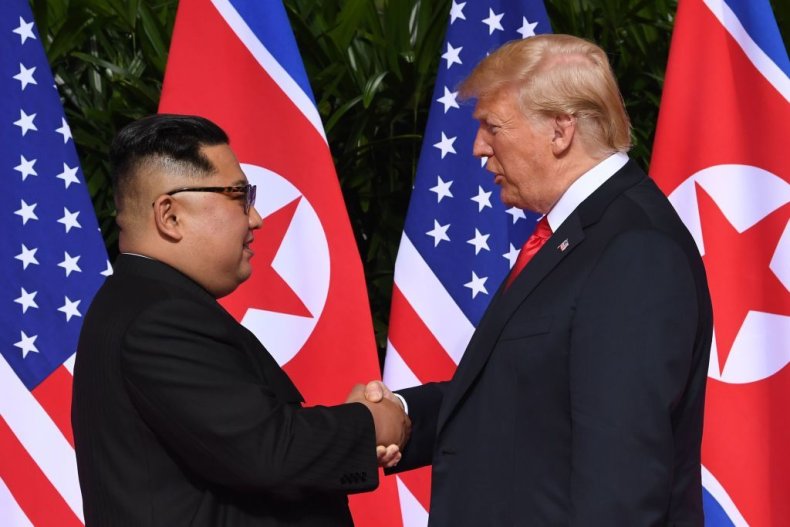 In the clip, the president said that Kim "wrote me beautiful letters, and they're great letters. We fell in love."
Wallace asked Pompeo: "Why does the president say that?"
"Relationships matter, Chris," Pompeo responded. "They affect everything in our lives, whether it's grand strategy in denuclearization or simpler things. Relationships absolutely matter, it's important that the true leaders are able to effectively communicate," he continued. "I have observed this over the past weeks and months, I watch them exchange messages, I watched our team understand the messages that the two leaders are providing."
In a separate interview with CNN's Jake Tapper, Pompeo inaccurately said that Trump has never assessed that the nuclear threat from North Korea has ended.
"He tweeted there is no longer a nuclear threat from North Korea," Tapper pointed out.
"What he said was the efforts made in Singapore, this commitment have substantially taken down the risk to the American people," the secretary of state replied. "It's the mission of the secretary of state and the President of the United States to keep American people secure. We're aiming to achieve that."
"That's just a direct quote," Tapper responded. "But I want to move on."
At the end of January, Trump's own intelligence leaders contradicted his rosy portrayal of North Korea and Kim.
"We currently assess that North Korea will seek to retain its WMD capabilities and is unlikely to completely give up its nuclear weapons and production capabilities because its leaders ultimately view nuclear weapons as critical to regime survival," Director of National Intelligence Dan Coats, who was appointed by the president, said during a Senate Intelligence Committee hearing. He explained that the "assessment is bolstered by our observations of some activity that is inconsistent with full denuclearization."
Trump pushed back after the hearing, saying his intelligence leaders were "naive" and should "go back to school," as they also gave a report on Iran that conflicted with his foreign policy.
On Sunday morning, the president again spoke positively of North Korea and his upcoming summit with Kim.
"I will be leaving for Hanoi, Vietnam, early tomorrow for a Summit with Kim Jong Un of North Korea, where we both expect a continuation of the progress made at first Summit in Singapore," he wrote on Twitter, asking: "Denuclearization?"
Last Thursday, Bruce Klingner, a former deputy division chief for Korea at the CIA, assessed that "we've had no denuclearisation since Singapore." He also cited reports and satellite imagery that suggest the precise opposite, saying: "In fact, North Korea continues to nuclearize."
But Trump insisted in a follow-up tweet on Sunday that "Kim realizes, perhaps better than anyone else, that without nuclear weapons, his country could fast become one of the great economic powers anywhere in the World. Because of its location and people (and him), it has more potential for rapid growth than any other nation!"