'Morning Joe' Hosts Tell Beto O'Rourke: 'Stop Apologizing' For Being White Man, Log Off Twitter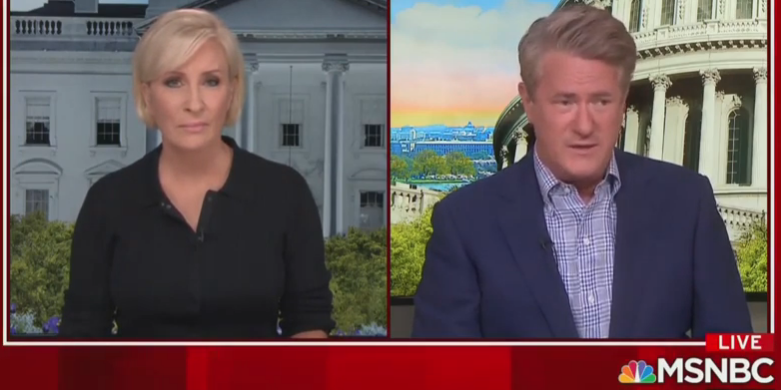 MSNBC Morning Joe hosts Mika Brzezinski and Joe Scarborough urged 2020 Democratic candidate Beto O'Rourke to "stop apologizing" for being white, wealthy or male after his very apologetic appearance on The View Tuesday.
The Wednesday "Morning Joe" segment saw both MSNBC hosts offering the former Texas representative some campaign advice as he moves forward to the Democratic presidential primaries, particularly in regards to news media appearances. O'Rourke offered several of his own apologies about his past actions on ABC's The View Tuesday, which irked Scarborough and Brzezinski, with the latter even suggesting O'Rourke drop the presidential bid and run again for U.S. Senate in Texas.
O'Rourke appears to be re-launching his campaign and told The View hosts he regrets his Vanity Fair magazine cover, which he said "reinforces the perception of privilege." The Morning Joe hosts, in turn, demanded O'Rourke dismiss his Twitter critics, log off social media and instead own up to his identity.
"I have campaign advice for Beto, if he is re-launching his campaign. It is this: stop apologizing," Scarborough said Wednesday. "Run for the Senate," Brzezinski interjected.
"Do not apologize for being on Vanity Fair. Own it," he continued. "Do not apologize for having a very rich father-in-law. Own it. Do not apologize for taking Republican positions in the past. That's what you did, OK? That's what Donald Trump did. He took Democratic positions his whole life. Own it. Explain why you did it. Do not apologize for being white. Do not apologize for being privileged. Do not apologize for anything."
"For being a man," Brzezinski interjected.
"For being a man," Scarborough echoed. "And also, Beto, do not apologize for getting great press coverage ... What you want is great press coverage. Let your opponents whine. Ignore the blue check marks. If you're on Twitter, get off of it. And just start talking to voters. They don't live on Twitter. They do not live on Twitter."
Scarborough and Brzezinski have consistenly lamented the influence of social media and its volatile environment for scorn that comes one day and is gone the next. Brzezinski defended one of Beto's 2020 Democratic rivals, Joe Biden, from the Twitter masses, urging #MeToo to back off with criticism over accusations of "inappropriate touching" from his past.
"Like come on! We're not snowflakes," Brzezinski said in an April show, taking on so-called "Social Justice Warriors" or "SJWs" on Twitter. "Okay, are we? Are you a snowflake?"
O'Rourke's comments that "no one is born to be president" Tuesday aren't his first round of apologies in his short presidential candidacy. In March, during his Vanity Fair cover campaign launch, O'Rourke offered two apologies for a mild joke he made about raising children with his wife and the unearthing of bizarre fiction he wrote at age fifteen.
Scarborough and Brzezinski said O'Rourke is too susceptible to the whims and complaints of Twitter users and political journalists that sit on social media "all day."
"Stop apologizing, OK?" Scarborough added. "That is my free advice. You're paying people to give you advice? Let me tell you, it's bad advice."