MSNBC Host Says Trump Still Just 'a One Man Circus' Amid Impeachment Push Over Ukraine Scandal
MSNBC host Joe Scarborough mocked President Donald Trump's response to the fast-moving impeachment inquiry led by Democrats on Monday, arguing that he is confronting the situation without proper counsel.
"This is moving very quickly and yet the White House still seems ill-prepared, nothing like the Clinton White House with their impeachment war room, nothing obviously like Nixon's White House," Scarborough, a former Republican congressman who now identifies as an independent, said on his weekday show Morning Joe on Monday. "Even in the most dire of times for this president and this administration, [it's] a one man circus act."
Earlier in the segment, Scarbrough and his co-host Mika Brzezinski also pointed to a recent poll showing that 55 percent of Americans support the impeachment inquiry against the president. The Morning Joe host pointed out that the CBS News/YouGov poll also found that 20 percent of Republicans support the inquiry.
"Now it's 55 percent, well over half of Americans," Scarborough said. The host added that the "most troubling [part] for the president" is the fact that 20 percent of Republicans support the Democratic-led probe.
Trump has turned to his usual playbook, slamming the impeachment inquiry as "partisan" and a "witch hunt." He and his personal lawyer Rudy Giuliani have blasted Democrats as well as Republican critics. They've attempted to deflect from the controversy surrounding the president's actions in Ukraine by pointing to unsubstantiated allegations against Joe Biden and debunked conspiracy theories about Democrats.
Speaker of the House Nancy Pelosi, the top Democrat in Congress, announced the formal launch of the impeachment inquiry last Tuesday, following revelations about Trump's actions toward Ukrainian leaders. The president repeatedly pressured Ukraine's President Volodymyr Zelensky to open an investigation into his political rival, former Vice President Joe Biden and his son Hunter Biden's business dealings in the Eastern European nation.
Ahead of a July 25 call with Zelensky, Trump withheld $391 million in military aid to Ukraine. During that conversation, Trump asked the president to do him a favor and investigate the Bidens as well as a widely debunked conspiracy theory related to the Democrats and the 2016 presidential election hacking. Although Trump is not known to have explicitly threatened to withhold the aid unless the investigations were launched, Ukrainian officials have said they were given the impression that the president's support could be impacted by their willingness to open the probes.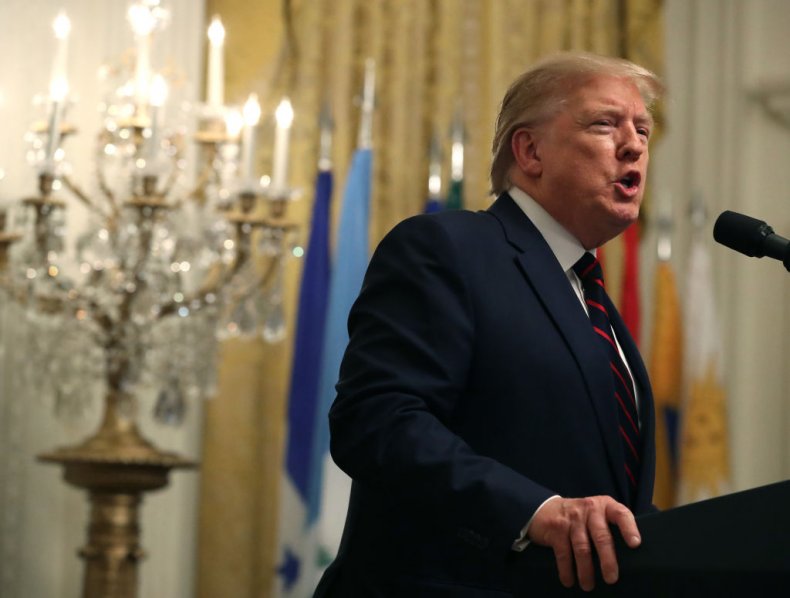 Republicans and Democrats were concerned about Trump's decision to withhold the aid, as the military funding enjoys significant bipartisan support. Lawmakers see Ukraine as integral to countering Russia's malign activity, as the nation has been embroiled in a civil war against Russian-backed separatist rebels since 2015. The aid was eventually released after pressure from Republicans and Democrats.
Trump's allegations against Biden are unsubstantiated. The president alleges that the Democratic presidential candidate pressured Ukraine to fire a prosecutor who was investigating a Ukrainian business his son was working with. However, that prosecutor had actually stonewalled a British investigation into the company's dealings, and European leaders, as well as the World Bank and the International Monetary Fund, wanted the prosecutor to be removed.
Biden did strongly encourage Ukrainians to remove the prosecutor, threatening that $1 billion in aid could be withheld if he was not, citing the officials lax stance toward corruption. As analysts have pointed out, Biden's actions actually made it more likely that his son's business dealings with the company would face problems, not less likely.
NBC correspondent Heidi Przybyla pointed this out during Morning Joe on Monday. "I think we need to restate this, over and over again, the entire Western world was on the same page, that this prosecutor, Viktor Shokin, needed to go," she said. "He was a Kremlin ally holdover, who was himself being accused of corruption."