Fox Host to Trump Aide on President Using Private Lawyers Against Biden In Ukraine: 'Enough With the Rhetoric'
Fox News anchor Chris Wallace pushed back hard in a Sunday interview with President Donald Trump's senior adviser Stephen Miller, as the White House aide attempted to spin the growing Ukraine scandal.
"Enough with the rhetoric," Wallace said on Fox News Sunday. "Let's talk about some specific facts in this. Why did President Trump use his private attorney Rudy Giuliani, and as we just reported, two other private lawyers to try to dig up dirt from the Ukrainian government on Joe Biden, rather than going through his State Department?"
Miller attempted to avoid the question, instead pushing the unsubstantiated conspiracy theory that Democratic presidential candidate and former Vice President Joe Biden and his son Hunter Biden acted corruptly in Ukraine. After letting him talk for a bit, Wallace cut Miller off, urging him to answer the original question before they discussed the Bidens in more depth.
"I've asked you a specific question, I'd like a specific answer," Wallace asserted. "The president's got the State Department, he's got the CIA, he's got the Pentagon, he's got a number of other agencies. Why did he use three private lawyers to get information on Biden from the Ukrainian government rather than go through all of the agencies of his government?"
Again, the Trump adviser tried to discuss other issues, but Wallace wasn't having it. He cut him off saying: "How about answering my question?"
"Stephen, I'm asking you a direct question. Why did the president use private attorneys rather than going to the State Department? If you don't know, that's an acceptable answer," the Fox News journalist continued. As Miller again tried to deflect, while insisting he had an answer, Wallace said: "You have your non-answer at this point."
Earlier in the Sunday show, Wallace reported breaking news from Fox that Trump's personal lawyer Giuliani had worked with two other private attorneys in his effort to find dirt on Biden in Ukraine. Lawyers Joe DiGenova and his wife Victoria Toensing reportedly worked with the former mayor of New York City in his efforts. An unidentified top U.S. official told the news network that only Trump was aware of what the three were doing, referring to their work as "off the books." The two additional attorneys were already known to be strong supporters of the president.
Trump has faced increasing backlash over his efforts to pressure Ukrainian leaders to open an investigation targeting the former business dealings of Hunter Biden, the son of his Democratic political rival and former Vice President Joe Biden. Giuliania spearheaded the effort, and the president's controversial actions led to an unidentified whistleblower, reportedly from the CIA, filing an official complaint.
During a July 25 call with Ukraine's President Volodymyr Zelensky, Trump repeatedly urged his counterpart in Kiev to open the probe into the Bidens. Meanwhile, Trump had temporarily suspended military aid to Ukraine, despite the funding having strong bipartisan support as well as the approval of the Pentagon and intelligence agencies. The aide was seen as crucial to Ukraine's ongoing civil war against Russian-backed separatist rebels.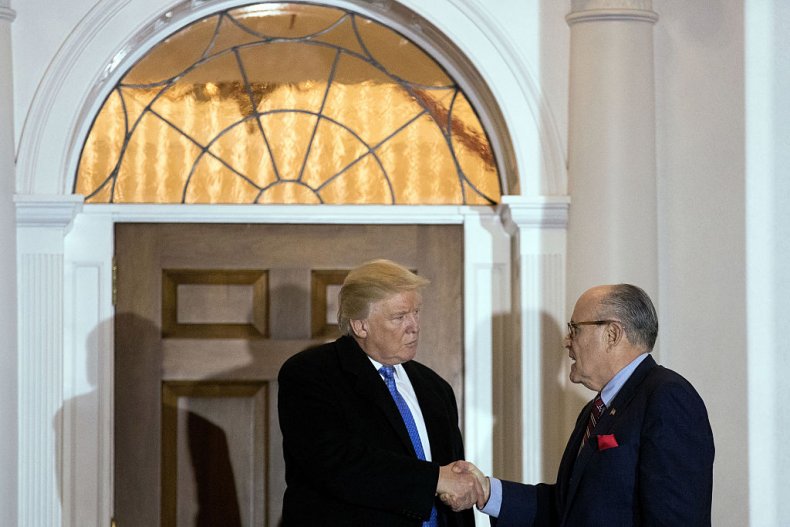 Although it has not been established that the aid was withheld specifically as leverage for Trump to use against Ukraine to open the probe against his political rival, Ukrainian officials have said they were given the impression that the president's support would be impacted by how they proceeded. The aid was eventually released, however, after the urging of Republicans and Democrats.
The recent revelations led Speaker of the House Nancy Pelosi, the top Democrat in Washington, to launch an official impeachment inquiry into Trump, centering around the allegations with Ukraine. Although Trump and his supporters have dismissed the impeachment push as "partisan" and a "witch hunt," several prominent Republicans have referred to the president's actions as "troubling."
Despite working for Fox News, which features many prominent Trump loyalists and defenders in its roster of talent, Wallace has remained an independent voice on the network, regularly pushing back against the rhetoric and claims of White House officials. On Friday, the anchor criticized Trump defenders during a Fox News segment.
"The spinning that has been done by the president's defenders over the last 24 hours since this very damaging whistleblower complaint came out—the spinning is not surprising—but it is astonishing, and I think deeply misleading," he said. Many interpreted this remark as a dig at staunch Trump supporters on Fox News. But the network told The New York Times that Wallace was not referring to his colleagues.