Donald Trump's Ukraine Phone Call 'Made Me Sick,' Republican Former Governor John Kasich Says
Republican former Governor John Kasich slammed President Donald Trump's controversial call with Ukraine's president as "completely inappropriate," saying it made him "sick."
Kasich, who served two terms as governor of Ohio, stepping down in January, made the remarks after he was asked about the call during an interview with CNN's New Day on Thursday. "It made me sick to my stomach," the GOP politician said. "You don't expect presidents to do that, and it was completely inappropriate, and frankly, it borders on—it doesn't border, it was an outrageous thing. He should never have done that."
"What is it we're surprised by these days?" Kasich asked. "The president says things. He does things. It's pretty shocking. So there isn't much he could do that would, frankly, shock me," he added.
Kasich warned that "if it becomes more and more serious, and more and more obvious that there was a quid pro quo, it's gonna be real trouble for the White House," suggesting Republicans in Congress could turn against Trump. He argued that his party has always been highly concerned with issues of national security, such as the conflict in Ukraine.
The former Republican governor did criticize Democratic Speaker of the House Nancy Pelosi however, saying she had "moved too fast" by opening the impeachment investigation. He warned that pursuing impeachment too quickly would "divide this country," saying the probe had to be handled "appropriately."
A whistleblower filed a formal complaint, a redacted version of which was released Thursday morning, warning of allegedly inappropriate efforts by Trump to pressure Ukraine's new president Volodymyr Zelensky to launch an investigation into the business dealings of Hunter Biden, the son of Democratic presidential candidate and former Vice President Joe Biden. A summary transcript of a July 25 phone call between Trump and Zelensky, which was released Wednesday, showed that the president repeatedly pressured his counterpart in Kyiv to open the investigation and to cooperate with Trump's personal lawyer Rudy Giuliani.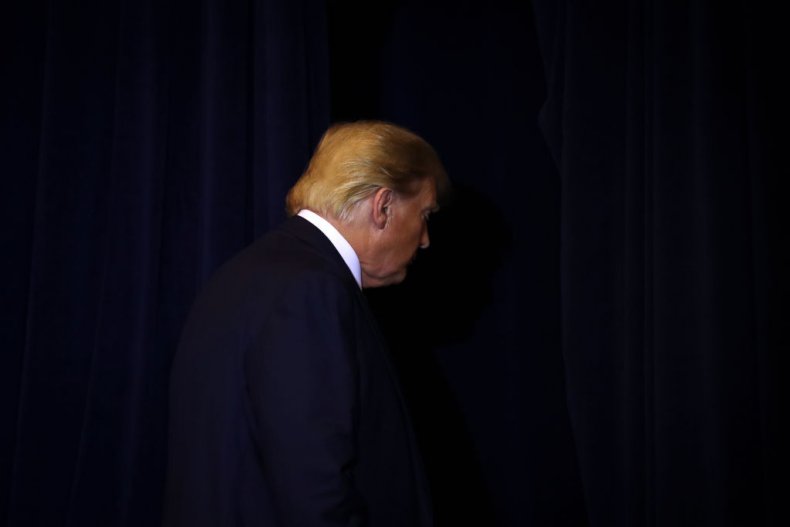 Prior to that call, Trump had ordered the suspension of $391 million in military aid to Ukraine. That decision came despite widespread bipartisan support for giving that aid to Ukraine, which is involved in an ongoing conflict with Russian-backed separatist rebels. Although it has not been established that the aid was withheld specifically as leverage to encourage Ukraine to investigate Biden, Ukrainian officials have said they were given the impression that Trump's backing of their new president would be impacted by his willingness to pursue the probe.
Trump has slammed the anonymous whistleblower as "partisan" and characterized the entire scandal as a "witch hunt." However, several Republican senators have expressed concern over the phone call and the complaint.
"There's obviously lots that's very troubling there [in the phone call]," GOP Senator Ben Sasse of Nebraska has said. And Republican Senator Mitt Romney of Utah referred to the phone call as "deeply troubling."