MSNBC's Joy Reid Calls Out Kyrsten Sinema Over Voting Rights Act After John Lewis Tweet
MSNBC host Joy Reid criticized Senator Kyrsten Sinema over her position on voting rights, after the Arizona Democrat posted a tweet commemorating the late civil rights icon Democratic Representative John Lewis of Georgia.
Lewis died on July 17, 2020 at the age of 80 while still serving in the House of Representatives. As a young man, Lewis was one of the original 13 Freedom Riders and marched with Dr. Martin Luther King Jr. He was first elected to Congress in 1987, and was passionate about expanding access to voting and combating systemic racism in American society.
"Our nation lost a civil rights giant one year ago today. John Lewis was a personal hero of mine—a man of principle and courage, who encapsulated all the qualities of a true leader. Rest in power, my dear friend," Sinema tweeted on Saturday, commemorating the one-year anniversary of the congressman's death.
But some, like Reid, were quick to call out Sinema's remarks. The Arizona Democrat has repeatedly voiced her opposition to ending the Senate's legislative filibuster, which under the current makeup of the upper chamber of Congress all but guarantees key Democratic voting rights legislation will fail to pass.
"John Lewis is indeed very much missed, Senator. And if he was indeed your dear friend, one would think you wouldn't stand back and allow the work of his life: voting rights and the Voting Rights Act he literally bled for, to die. Yet, here you are..." Reid wrote, retweeting Sinema's post.
Fellow MSNBC host Mehdi Hasan shared similar criticism of the Arizona lawmaker.
"...says the woman still supporting the filibuster that is blocking a voting rights bill literally named after John Lewis," Hasan tweeted.
Reverend William Barber II, a prominent religious leader who co-chairs the Poor People's Campaign, slammed Sinema as well.
"DON'T BE SHAMFUL,[sic] CLAIMING YOU HONOR JOHN LEWIS WHILE YOU BLOCK THE WORK HE STOOD FOR," Barber tweeted.
In June, Sinema voted with all 49 other members of the Senate's Democratic Caucus to advance the For the People Act, a significant piece of voting rights legislation that President Joe Biden and Democratic leaders have emphasized is a key priority. But all 50 Senate Republicans voted against the bill, making it fall far short of the 60 votes necessary to overcome a filibuster.
"I believe the right to vote, faith in the integrity of our electoral process, and trust in elected officials are critical to the health and vitality of our democracy," Sinema said in a statement about her vote at the time. "I am proud to support the For The People Act because it restores safeguards that protect every American's right to vote, reduces the influence of money in politics, secures our elections from foreign interference, and holds government officials to the highest ethical standards."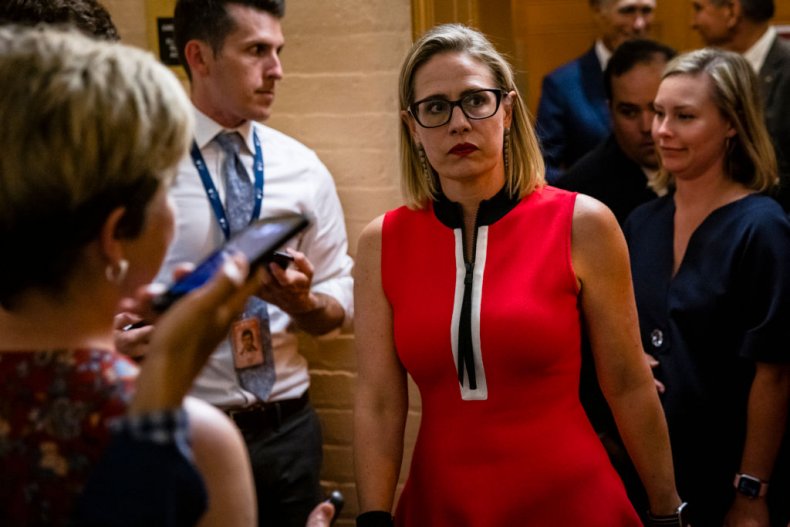 Although most Democratic lawmakers have expressed support for ending the filibuster in a bid to push through more legislation without GOP buy-in, Sinema—along with Senator Joe Manchin of West Virginia—has been a key voice opposing such a move. The two moderate Democratic lawmakers argue that bipartisanship is valuable, defending their position. They also caution that ending the filibuster could be bad for Democrats if Republicans take back control of Congress in subsequent elections.
Newsweek reached out to Sinema's press representatives for comment, but did not immediately receive a response.