MTV showed off its impressive seating arrangements ahead of the annual Video Music Awards (VMAs).
A human-sized Moonman—modeled after the iconic award handed out to winners—ran through the seats at the Provincial Center in New Jersey, showing photos of the stars who will be at the awards on Tuesday night.
As per awards show custom, giant photos of the guests attending and their names were taped onto seats to help crew prepare for the big night.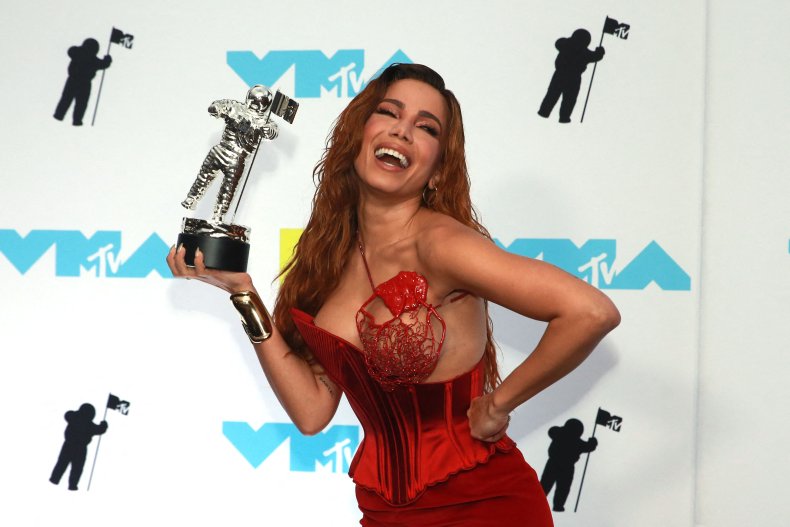 Just some of the musicians the Moonman celebrated in a video posted to TikTok included Shakira, Sean "Diddy" Combs, Doja Cat, French Montana, Brazilian superstar Anitta, Olivia Rodrigo and Oscar winner Jared Leto.
"Me trying to pick the perfect seat for the VMAs tomorrow," read the caption on the TikTok.
Known for its headline making moments, the MTV VMAs celebrate the best music videos of the past year and this year's show will air in more than 150 countries around the world.
Rapper Nicki Minaj serves as host of the awards and also will be performing during the live event.
Colombian singer Shakira will be receiving the hallowed Vanguard Award to honor her astounding career including selling 95 million albums globally and multiple Grammy awards. She is counted among the top five artists overall of all time on YouTube with over 20 billion cumulative views.
Shakira will be performing some of her memorable songs on the night, as will hip hop mogul Diddy, who is returning to the VMAs stage for the first time since 2005.
Diddy will be receiving the Global Icon Award for his work as a producer, rapper, mogul and actor.
Hip hop stars Cardi B and Megan Thee Stallion will make their live performance debut of their second collaboration, "Bongos."
Other performers on the night include Olivia Rodrigo, Doja Cat, Anitta, Fall Out Boy, Demi Lovato, Future, Lil Wayne, Karol G, country star Kelsea Ballerini, Metro Boomin and Italian rock band Måneskin.
DMC, LL Cool J, Grandmaster Flash and the Furious Five, and Doug E. Fresh will lead the performance dedicated to the 50th anniversary of hip hop.
Newark Mayor Ras J. Baraka celebrated the VMAs return to New Jersey.
"Awarding Newark as host city for the 2023 VMAs... reverberates our city's historic vibe as a hotbed of musical genius. Starting with America's first known composer in 1759, through the jazz explosion in the 1920s, and up to today's full spectrum of genres from hip hop to opera, Newark has long served as America's turntable for harmonic expression," Baraka said in a statement.
"The relevance of the Video Music Awards rising up today from the same city that registered the film and video industry's first nitrocellulose patent is not lost on me as Newark continues to sit squarely at the crossroads of motion picture and music."
The MTV VMAs air on Tuesday, September 12 at 8PM ET/PT.