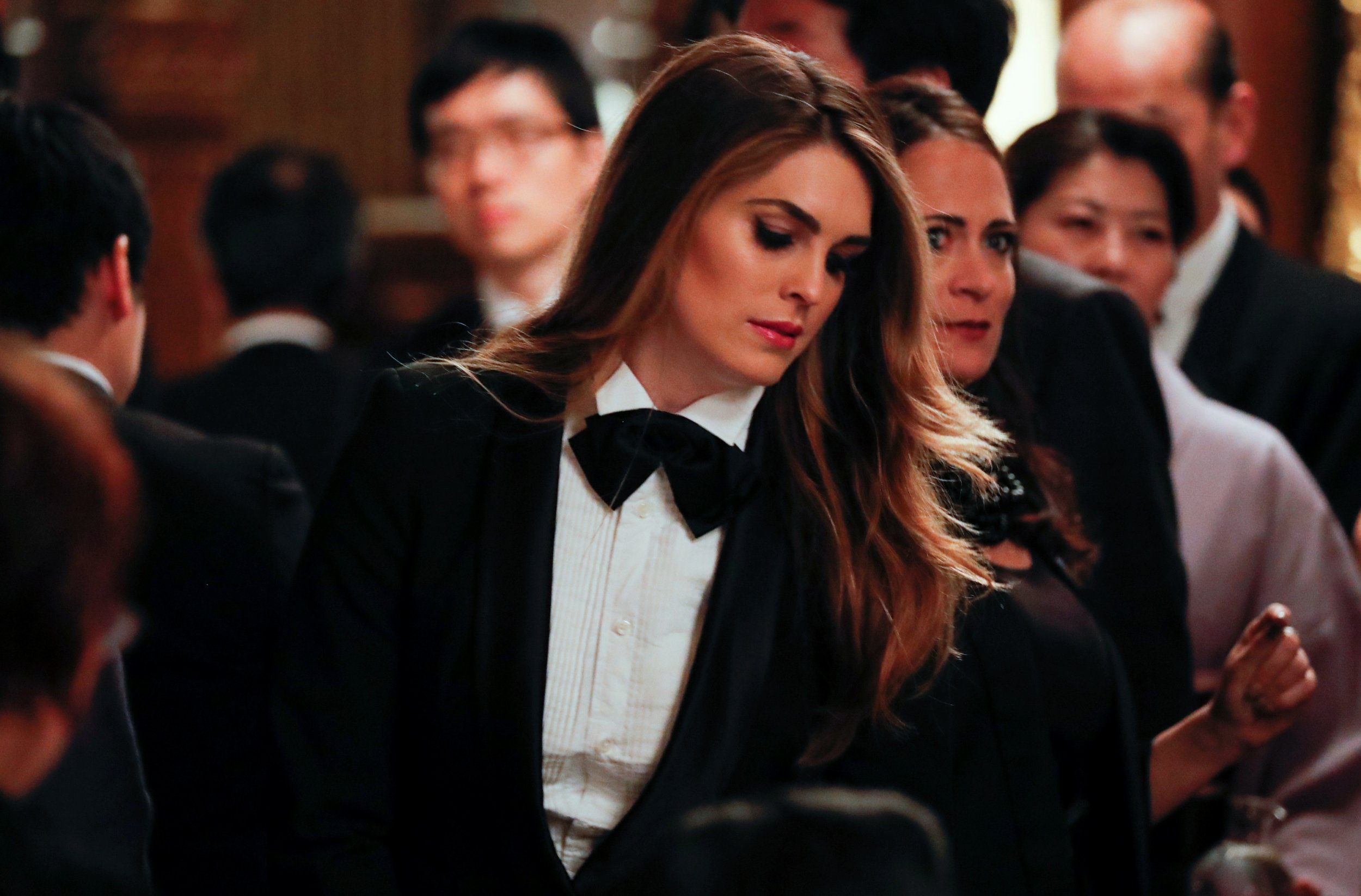 One of President Donald Trump's most loyal insiders is the next target in Special Counsel Robert Mueller's sights.
Hope Hicks, who worked for Trump's campaign before becoming White House communications director, will be grilled by Mueller's team as early as next week, a source told Newsweek — and the questions will center on possibly fabricated statements she helped produce about the campaign's contacts with Russian operatives during the 2016 election.
At issue is a statement provided to the media just days after the election, when Hicks flatly denied any campaign member conducted meetings with Russian representatives.
"It never happened," she said at the time, even as Russian Foreign Minister Sergei Ryabkov was admitting "there were contacts" made with the Trump team. "There was no communication between the campaign and any foreign entity during the campaign."
It is increasingly clear that Hicks's statement is untrue.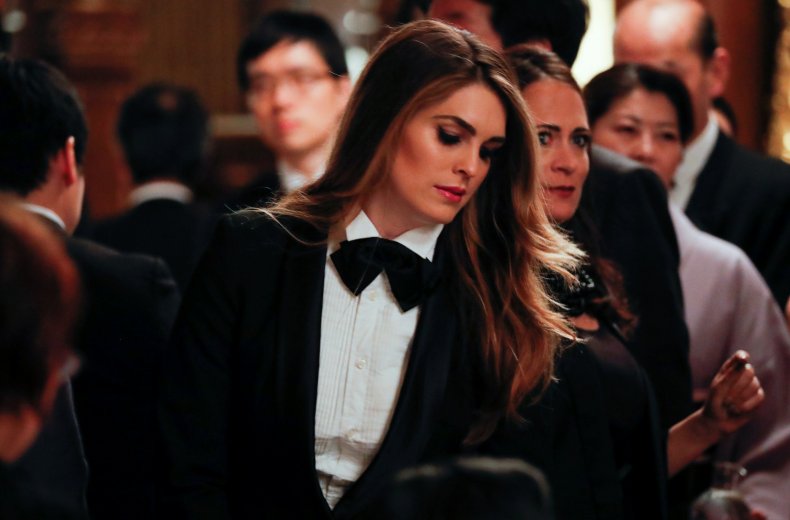 Last week, during his over six-hour testimony before the House Intelligence Committee, former campaign adviser Carter Page revealed under oath that he told Hicks of his travels to Moscow during the campaign.
If true, Page paints a very different picture of Hicks, who huddled with the president and other communication team members on Air Force One as the New York Times was preparing to break news about the now-famous Trump Tower meeting between campaign officials and Kremlin operatives. Hicks helped devise a statement that claimed the meeting was simply a discussion of U.S. adoption policies pertaining to Russia.
We now know far more details about that meeting, which included a Kremlin-linked lawyer and was set up by an intermediary who promised damaging information on Hillary Clinton.
"We know 'adoption' was code word for sanctions, and we know that statement was a total fabrication since the [Trump] campaign was looking for dirt on Hillary Clinton from the Russians," Jill Wine-Banks, a former Watergate prosecutor, told Newsweek. "I have faith the grand jury will get down to the bottom of what really happened in that meeting."
One thing is certain: Hicks' long established loyalty to Trump will certainly be tested.
Hicks, Trump's longest-serving political aide, was just 18-years-old when the future-president published one of his lesser-known works in 2006, titled Trump 101: The Way to Success.
The book was meant to serve as a bible for budding entrepreneurs hoping to achieve the same level of prosperity as the New York billionaire. "Beauty and elegance, whether in a woman, a building, or a work of art, is not just superficial or something pretty to see," he wrote at the time.
A decade later, the former Ralph Lauren model is immersed in Trump's inner circle, working directly with Ivanka Trump on the first daughter's fashion company, before serving as a liaison for a multitude of the first family's business ventures—all the while, living out most of her adult life in a Trump-owned property in Manhattan. When Trump was planning to launch his campaign in 2015, he called Hicks into a meeting and said, "I'm thinking about running for president, and you're going to be my press secretary."
Related: Jared Kushner Hid One of His Businesses on a Disclosure Form — Then Profited
Many women connected to Trump are facing legal jeopardy — Congressional Democrats have called for Ivanka Trump's security clearance to be reviewed due to her numerous conflicts of interest, and government watchdogs have balked at first daughter-in-law Lara Trump's mixing of campaign work and White House affairs — but Hicks is in an arguably more dire situation, thanks to the Mueller probe.
It's an odd place for her, given her low profile and the manner in which she has flown under the radar. She typically only generates headlines for her au courant style, most recently wearing a sharp tuxedo and bow tie to a state dinner with Japan's Prime Minister Shinzo Abe on Monday night.
She is much more than a quiet reflection of the first family's penchant for poise and elegance, however. Hicks served as a critical aide to the president during some of the most challenging moments of his first year in office, helping his administration and family develop their responses to bombshell reports about the campaign's suspected collusion with Russia during the 2016 election. That involvement will likely be a main focus of her testimony to Mueller's federal team of investigators.
"As a prosecutor, I would want to get every single detail possible out of Hope: what did she know about the meeting in Trump Tower between campaign officials and the Russians, what did the president know and what was his suggestion when it all came to light?" Wine-Banks, the former Watergate prosecutor, added. "But as her lawyer, I would be constantly warning her about committing perjury."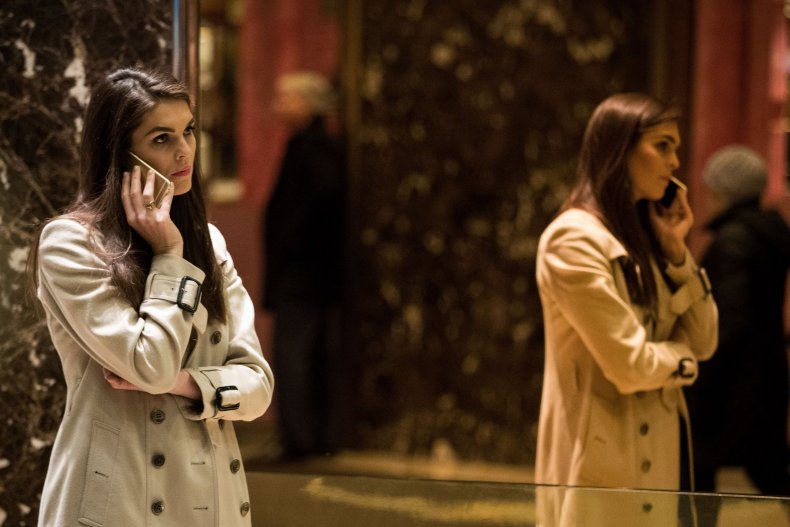 How exactly the special counsel uncovers the truth about what Hicks knows isn't as clear as her previous statements being patently false, Nick Akerman, another former Watergate prosecutor, told Newsweek.
"They're going to want to know everything about her conversations with Page, along with any other campaign official who met with the Russians and told her, and whether she took any of that information to the president," Ackerman said. "The bottom line here is that she's one his closest associates. … I don't think there should be an expectation that she's going to tell the truth. She's got a boss who lies about everything, who expects his subordinates to lie about everything, so I would be shocked if she fesses up to anything that's worthwhile."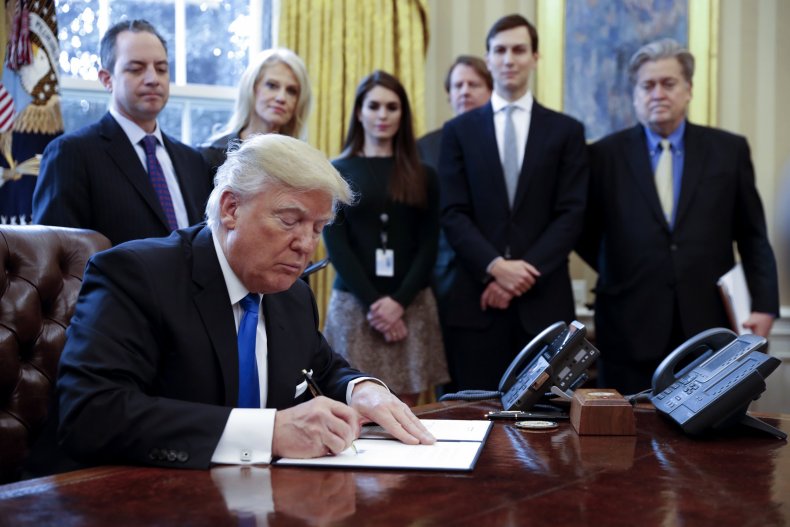 Hicks has rarely spoke to reporters on the record and did not respond to requests for comment on this story. Ty Cobb, the president's lawyer for the federal Russia probe, told Newsweek on Thursday the White House hopes to conclude interviews between the special counsel and current and former officials "before Thanksgiving or shortly thereafter."
"All I can say out of respect for the special counsel process and the privacy and dignity of our people is that the process continues to be one of cooperation," Cobb said.
Hicks could reveal profound insight into the campaign's communications with Russian operatives during the election in an effort to avoid legal jeopardy, Ackerman hypothesized, a move that would have "dangerous consequences" for the Trump administration. However, the prosecutor said it's more likely the special counsel will continue uncovering incriminating evidence through data like emails, text messages and phone calls—all of which could ensnare Hicks and bring the scandal one step closer to the president.
"Watergate was a much more encompassing investigation, but you didn't have computers at the time," Ackerman said. "If Hope gives false statements to a grand jury and they can prove through data that she lied to the government, she'd be indictable."