'Mulan' Concentration Camp Links Explained—Why the Disney Movie Faces Backlash
Disney's live-action remake of 90s classic animation Mulan has been plagued with calls for its boycott since its release on Disney+ last week, and now the film is facing criticism for acknowledging a Chinese security company in its end credits.
The remake is facing yet more backlash after its credits thanked the Turpan Municipal Bureau of Public Security, a government security agency in the Xinjiang province, where about one million people are thought to be detained.
The Chinese government is accused of serious human rights abuses in the region, where Muslim Uyghurs are said to be held in concentration camps.
According to the BBC, China says its detention camps in Xinjiang are necessary to improve security.
Word that the film's end credits thanked the agency began spreading Monday night.
Bethany Allen-Ebrahimian, a China reporter at Axios pointed the credit out on Twitter in a tweet which has garnered thousands of likes and retweeted.
"This is truly outrageous: The new live-action Mulan THANKS the Turpan Public Security Bureau (in southern Xinjiang) in the credits," she wrote. "That specific public security bureau has been deeply involved in the Xinjiang concentration camps."
Newsweek has reached out to Disney for comment.
Earlier this summer, the Washington Post published a piece on the situation in Xinjiang province detailing the "cultural genocide" of the Uighurs and other Muslims who are held in the camps.
Documents show that forced sterilization campaigns are implemented to curb the Muslim population in the so-called "re-education" camps but China says the aim is to prevent separatism, terrorism, and extremism in Xinjiang.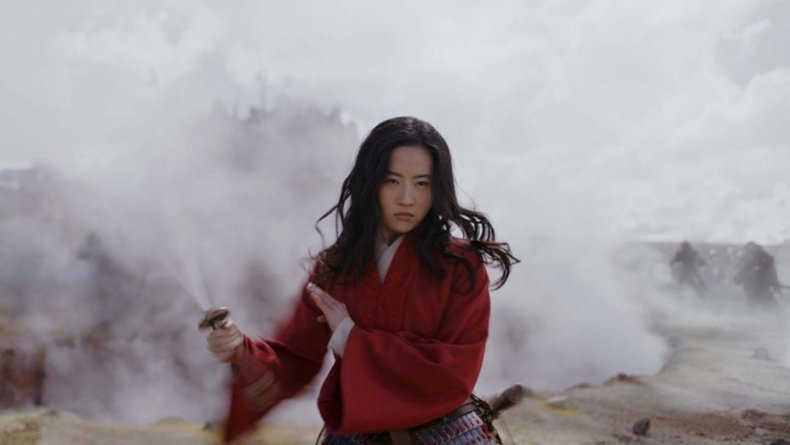 The government says the camps are voluntary schools for anti-extremism training.
Then this week, the publication linked the human rights abuses to the Mulan production, deeming the film a "scandal."
According to researcher Adrian Zenz, Turpan was the first documented case of political indoctrination used against Uighurs and Muslim minorities to "eradicate the soil for the breeding and spread of religious extremism."
The World Uyghur Congress has spoken out against Mulan, tweeting: "China says it is fighting the "three evil forces" of separatism, terrorism, and extremism in Xinjiang and says the camps are voluntary schools for anti-extremism training."
The film has also been criticized after star Yifei Liu supported Hong Kong police last year, when she shared a post from the Beijing newspaper People's Daily on the Chinese social media platform, Weibo.
"I support the Hong Kong police. You can all attack me now. What a shame for Hong Kong," Liu wrote.
Hong Kong activist Joshua Wong has called for a boycott of the film following quotes Liu made about her support of the police in the ongoing pro-democracy protests. Hong Kong's police force have been accused of violence towards demonstrators.