Multiple Dead After Mysterious Explosion at Russian Ammunition Plant
Amid the country's ongoing military conflict in Ukraine, an ammunition plant near the Ural Mountains in Russia suffered a massive explosion which resulted in fatalities.
The FKP Perm Powder Plant, which produces gunpowder and is located in the city of Perm, reportedly endured an explosion at approximately 8 p.m. local time, according to local authorities. The resulting fire eventually killed two workers and injured others. The incident has so far been pinned on "a product" that "caught fire."
"According to the information received, on 05/01/2022, at about 20:00, a product caught fire at the production site N 12 of the Plastmassa production facility at the Perm Powder Plant FKP," the Russian State Labor Inspectorate for the Perm Territory said in a statement. "As a result of the incident, 3 employees were injured, 1 of them died on the spot, 2 were taken to the hospital. Subsequently, another 1 worker died in the hospital."
The Inspectorate added that it is continuing to investigate the cause of the blast. Another news outlet, Visegrad 24, raised that notion of sabotage while sharing a video of the factory fire.
The outlet, which aggregates news about nations in the Visegrad region of Eastern Europe, also claimed that the factory produces materials used in specific Russian military ordinances.
"Massive explosion moments ago at the Perm gunpowder plant in Russia, which produces components for Grad and Smerch missiles as well as air defense systems," the outlet wrote in a tweet. "Another case of sabotage?"
Newsweek has been unable to verify claims about sabotage or about the ways in which the gunpowder from the plant is used. Newsweek also reached out to Russian authorities for comment.
Perm has a population of just over one million people and is located roughly 1,400 kilometers east of Moscow.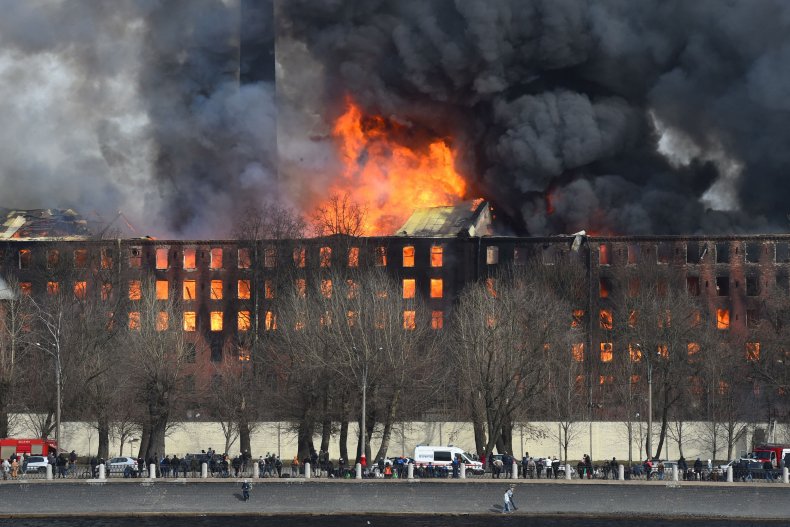 Numerous reports have emerged about alleged Ukrainian sabotage of Russian plants and factories since the latter began its invasion of the former in February. On April 25, The Guardian reported that fires had broken out at two oil depots in Bryansk, Russia, only around 100 miles from the Ukrainian border. The city also acts as a logistics hub for the Russian military's invasion of Ukraine.
Rob Lee, a military analyst who spoke to The Guardian, about the incident said that Ukrainian sabotage was a likely culprit, as destroying the depots would disrupt fuel supplies to the Russian military.
"The fact that it was two separate sites not far from the border is important," Lee explained.