Russia's Loss of Generals Shows 'Amazing Incompetence': Stavridis
James Stavridis, the former NATO supreme allied commander for Europe, said Sunday that Russia has displayed "amazing incompetence" noting the several Russian generals that have died since the beginning of the invasion of Ukraine.
"In modern history, there is no situation comparable in terms of the deaths of generals," Stavridis said during a radio interview on WABC 770 AM. "Just to make a point of comparison here, the United States in all of our wars in Afghanistan and Iraq...in all of those years and all of those battles, not a single general lost in actual combat."
The former commander added that "on the Russian side, in a two-month period, we have seen at least a dozen, if not more Russian generals killed. So amazing incompetence." He also criticized other aspects of the Russian military's performance, by saying that they have an "inability to conduct logistics" and "bad battle plans."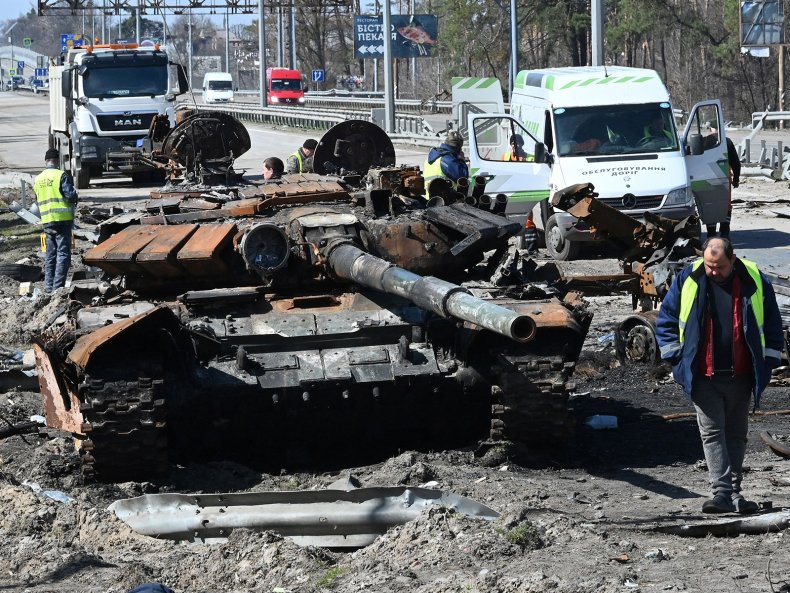 He also noted the loss of the Moskva, a Russian warship that the Pentagon said Ukrainians sunk with a missile last month. The loss of the ship was a $750 million hit to the Russian military, according to an analysis by Forbes Ukraine.
"It's been a bad performance by the Russians thus far," Stavridis said.
In late April, Newsweek compiled a list of several Russian generals who had been killed during the war. These include Major General Andrey Sukhovetsky, who served as the commanding general of Russia's 7th Guards Airborne Division and deputy commander of the 41st Combined Arms Army, and was reportedly killed by sniper fire in February. Vladimir Frolov, deputy commander of Russia's 8th Guards Combined Arms Army, was also reportedly killed last month.
A European diplomat, who spoke with Foreign Policy on the condition of anonymity about the deaths of Russian generals in March, said the failure of communications equipment has made them vulnerable.
"They're struggling on the front line to get their orders through," the diplomat said. "They're having to go to the front line to make things happen, which is putting them at much greater risk than you would normally see."
In an interview with ABC News last week, former U.S. ambassador to NATO Douglas Lute said he believes Russian forces can't seize the Ukrainian capital city of Kyiv or replace Ukrainian President Volodymyr Zelensky's government.
"Putin is trying to assess what might be possible and looking for opportunities and he'll grab the first good one available. Right now, there don't seem to be many good opportunities for Vladimir Putin," he said.