Multiple Great White, Hammerhead Sharks Filmed Near Tourist Hot Spot
Multiple sharks were filmed in the waters around the island of Martha's Vineyard over the weekend, prompting the tourist destination to close several popular beaches.
Shark sightings on the East Coast have exploded in number this summer—off Massachusetts' Cape Cod, 17 great white sharks were spotted in a single weekend earlier in August. Researchers explained that tourist and shark seasons typically coincide, increasing the number of sightings in places like Cape Cod.
According to the website TrackingSharks, there have been 32 shark attacks in the U.S. this year through Monday, with no fatalities.
Just 40 miles south of Cape Cod, in the popular tourist hot spot of Martha's Vineyard, multiple great whites and hammerheads were spotted on Sunday. According to a Facebook post by the Trustees on Martha's Vineyard, "two great whites and one hammerhead" were "sighted at Norton Point and South Beach" on Sunday morning.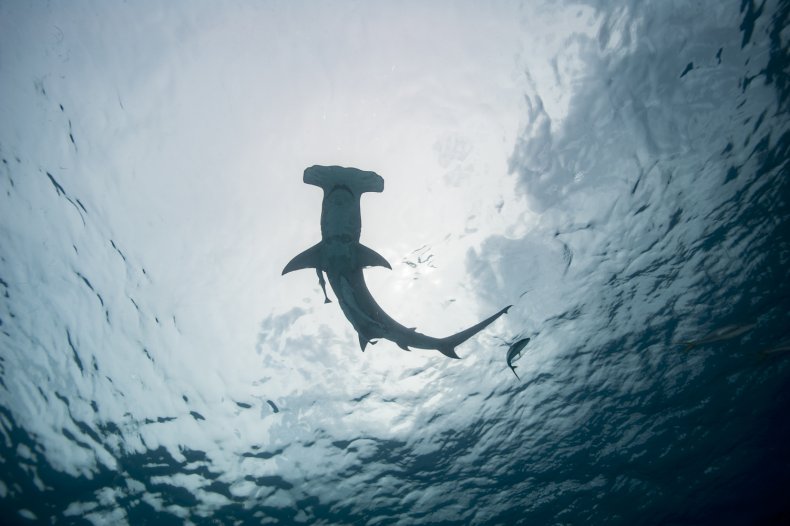 South Beach reopened at 11:30 that morning, but after another hammerhead was seen in the afternoon at Norton Point Beach, the Edgartown Parks Department closed the area for the day.
Drone footage taken by Martin Pradel showed two apparent hammerhead sharks. Pradel said they were "50 meters from the shore," according to The Martha's Vineyard Times.
Edgartown Parks Administrator Jessica McGroarty told The Times, "We are having a lot of shark sightings. Since I've been here, we've never had this many water closures."
McGroarty said that two-hour beach closures are standard after a shark sighting, though they can last longer if necessary.
"I'm always going to stay on the side of caution," McGroarty said. "It's better to be safe than sorry."
Sharks in East Coast waters are expected as they travel up and down North America each year as temperatures change, moving south toward the Gulf of Mexico in the winter, then north to food-rich areas near Canada during the summer.
Megan Winton, a scientist with the Atlantic White Shark Conservancy, told WFXT in Boston that sharks around the Massachusetts coast are more prevalent August through October.
"Just know that large sharks are here," Winton said. "They're a constant presence from June to the fall."
Around Cape Cod, great white sharks have attacked humans five times since 2012, and one attack in 2018 was fatal. The 26-year-old victim had been at Newcomb Hollow Beach when a great white attacked.
Newsweek reached out to the Atlantic White Shark Conservancy for comment.