Officials Investigate Multiple Drug Overdoses in Connecticut Park, Possibly from K2
UPDATE 3:01 p.m. EST - A man has been arrested in connection to at least 30 people who have overdosed at the New Haven Green in New Haven, Connecticut, the New Haven Register reported on Wednesday.
Felix Melendez, 37, was out on parole before his arrest, Police Chief Anthony Campbell told the publication.
UPDATE 1:45 p.m EST - At least 30 people have fallen ill from suspected drug overdoses at the New Haven Green in New Haven, WTNH reported.
At a news conference, Fire Chief John Alston Jr. told WTNH that victims apparently took K2, a synthetic drug. Alston told the publication they are waiting for the toxicology results to confirm.
Original Story:
Emergency officials have said they are responding to reports of multiple people overdosing in a Connecticut park.
City Office of Emergency Management Deputy Director Rick Fontana told the New Haven Register on Wednesday that there were more than a dozen cases of people overdosing at the New Haven Green in New Haven, Connecticut.
Officials told WVIT that it is believed at least 18 people have possibly overdosed from the synthetic drug known as K2.
Alston told the New Haven Register that three people overdosed last night and at least 13 other people are believed to have overdosed Wednesday in the park, but that number could increase. Alston said two of the overdoses are life-threatening, while others did not respond to Narcan, an anti-overdose medication, according to the publication.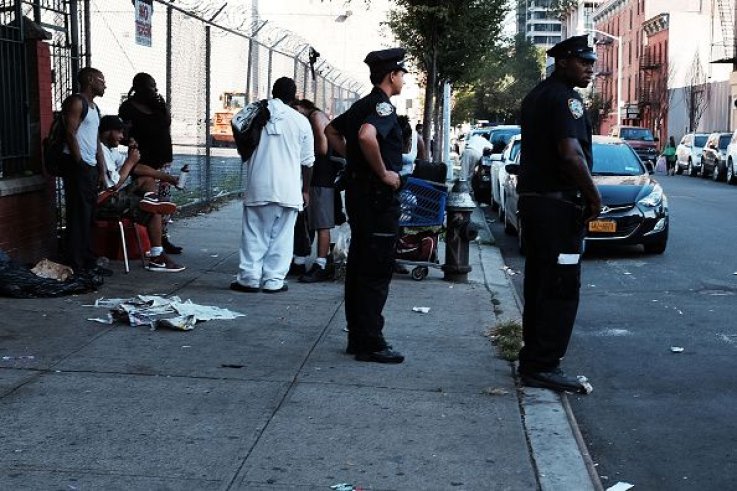 Laurence Grotheer, the director of communications for the City of New Haven told Newsweek that he was not able to confirm that it was a K2 overdose, but there were a number of suspected overdoses. Some of the victims were treated with Narcan, and the investigation is ongoing.
Authorities in New Haven issued a public health alert in January for K2 after five people overdosed on the drug, resulting in the one death, the New Haven Register previously reported.
K2 is made up of synthetic cannabinoids, according to the National Institute on Drug Abuse. The drug, also known as "Spice" is a "growing number of man-made mind-altering chemicals that are either sprayed on dried, shredded plant material so they can be smoked (herbal incense) or sold as liquids to be vaporized and inhaled in e-cigarettes and other devices (liquid incense)," according to the institute.
The drug works psychologically like marijuana and the "products are likely to contain substances that cause dramatically different effects than the user might expect," according to the institute. Side effects the drug may have include: elevated mood, relaxation and altered perception, according to the institute.
A drug test cannot always detect synthetic cannabinoid products because while it is similar to pot, it has a different structure, according to the scientists as reported last year in Trends in Pharmacological Studies. Synthetic pot can cause seizures, dependence, psychosis and death, according to the report. It can also cause confusion, vomiting, hallucinations and rapid heartbeat, according to the Centers for Disease Control and Prevention (CDC).
In May, 25 people were hospitalized in Brooklyn, New York, after a K2 overdose. Some people shook from the effects of the drug while laying on the floor, WABC reported.
Officials Investigate Multiple Drug Overdoses in Connecticut Park, Possibly from K2 | U.S.