At least three people, including one "juvenile female," were shot Friday afternoon in Washington D.C.'s Van Ness area, according to police.
Police are still searching for a suspect, or suspects, and many details surrounding the shooting remained unknown, D.C. Metropolitan Police Department (MPD) Assistant Chief Stuart Emerman said at an afternoon press conference.
"We do not have any motive at this time. We do not know the full details of what took place," Emerman said. "But we continue to ask the public to just steer clear of the area as we continue to investigate."
Police said two of the known shooting victims were adult males in addition to the juvenile female. The MPD advised residents in the Cleveland Park and Van Ness area to shelter in place. The shooting took place at the 2900 block of Van Ness Street, NW, according to police.
Emerman said at a briefing that the department responded to the area at about 3:20 p.m. due to sounds of gunshots, then located the three victims. He did not identify the victims, but said that they were transported to area hospitals and were in stable condition.
He said authorities were not yet sure if there were any relationships between the three victims.
The shooting in D.C. came on the heels of several recent incidents involving gun violence in the U.S. that gained national attention. Last week, an alleged gunman opened fire on a Brooklyn subway, and Easter weekend saw three mass shootings.
The University of D.C.'s Van Ness campus was placed on lockdown because of the incident. The school initially tweeted an emergency alert and directed people to shelter-in-place until further notice, and then updated in another tweet that the campus was on lockdown.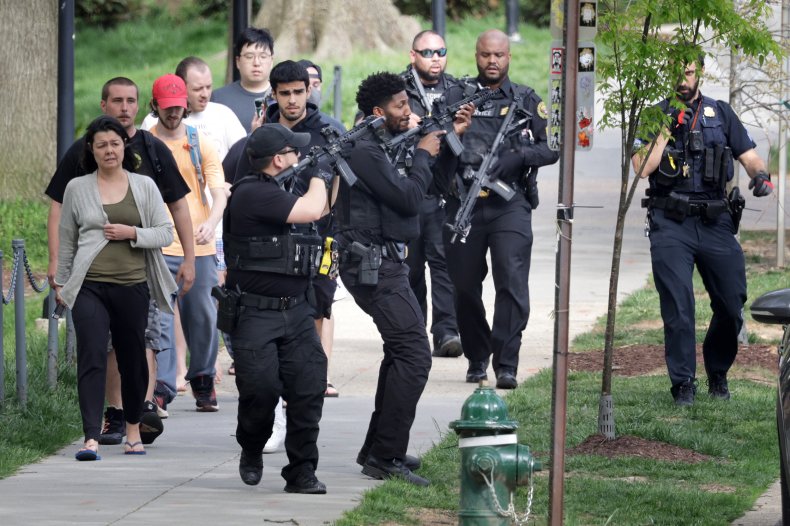 "Active shooting incident near student housing located on Van Ness Street/Connecticut Avenue NW. The suspect remains on the loose. Law enforcement is on the scene. Take shelter and stay in place until further notice," the University of D.C. tweeted.
A video posted on Twitter by a reporter with WUSA showed armed police escorting people away from the area of the shooting. A witness describing the incident in a video posted by the same reporter said that he heard dozens of shots fired while he was in his apartment around 3:15 p.m., though police have yet to verify how many shots were fired.
Emerman said that law enforcement is continuing to search the area, and that the MPD was receiving assistance from the Bureau of Alcohol, Tobacco, Firearms and Explosives, FBI and several other local and federal agencies and asked that anyone who was in the area of the incident and has information call them at (202) 727-9099 or text them at 50411.
D.C. Mayor Muriel Bowser thanked responders and asked residents to follow their guidelines amid the investigation.
"We're asking all of our residents to follow law enforcement instructions. Stay in your homes, shelter in place until the police are able to release these scenes and safely, really dig into this investigation close to where the shootings happened," she said.
Update 4/22/22, 6:10 p.m. ET: This story was updated with additional information and background.