White House Chief of Staff Contradicts Trump, Admits President 'Could Always Allow' People to See Tax Returns Despite Audit
President Donald Trump has repeatedly claimed that he could not release his tax returns due to their being under audit by the Internal Revenue Service (IRS), but White House Chief of Staff Mick Mulvaney contradicted that argument on Sunday.
Mulvaney went on Fox News Sunday to discuss the contentious matter of the president's tax returns. Last week, the Democrat-led House Ways and Means Committee formally requested six years of Trump's personal and business returns from the IRS. Trump is the first president in more than 40 years to have refused to have released the financial documents, despite significant criticism for witholding this information and in spite of promises he would eventually disclose it.
The president's chief of staff said that Democrats on the committee would "never" see Trump's tax returns, regardless of their efforts. "Nor should they," he added.
"If they don't get what they want in the Mueller report, they're going to ask for the taxes," said Mulvaney. "If they don't get what they want in the taxes, they're going to ask for something else. It doesn't surprise anybody," he said, suggesting the request was merely a political stunt.
Trump has repeatedly said that he cannot release his tax returns because he is currently undergoing an audit, even though no laws or regulations prevent him from sharing this information. When Fox fill-in host Bill Hemmer pointed out that the president's audit excuse was not a valid reason for witholding the returns, Mulvaney actually agreed.
"You could always allow people to see it," he admitted. "But that's not what's happening," he continued. "The democrats are demanding the IRS turn over the documents, and that is not going to happen, and they know it."
The president has used the audit excuse repeatedly since before his election to justify his decision not to release the returns. Trump deployed this explanation as recently as last Wednesday, when questioned by a reporter about the Ways and Means Committees request.
"We're under audit, despite what people said, and we're working that out -— I'm always under audit, it seems, but I've been under audit for many years, because the numbers are big, and I guess when you have a name, you're audited," he said. "But until such time as I'm not under audit, I would not be inclined to do that."
Many analysts and Democratic critics have long pushed back against the president's audit excuse, pointing out that this does not prevent the president from being transparent about his finances.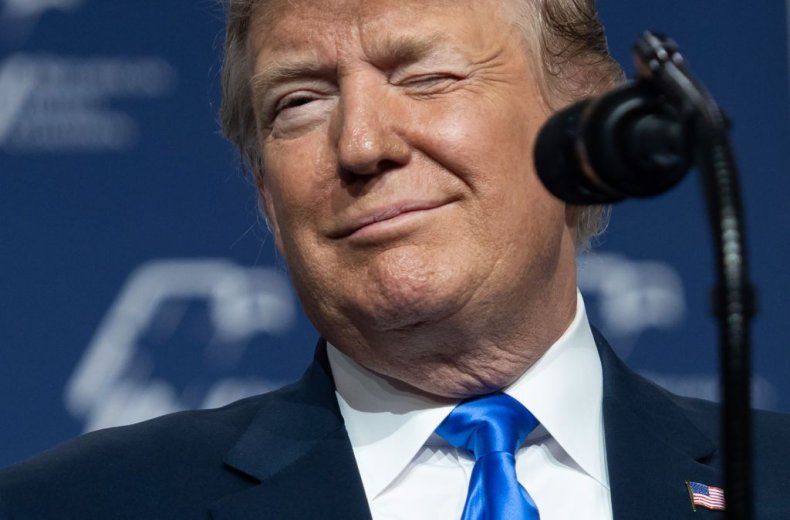 Several Democratic politicians also appeared on Sunday morning talk shows to explain the reason why the Ways and Committee is requesting the president's tax returns. They argued that the move is not meant to be a political attack.
"This is legitimate authority that the Congress has," Representative Dan Kildee, a Democrat from Michigan, said on ABC's This Week. "This president, by the way, is the least transparent president that we've had in half a century," he argued.
Representative Ben Ray Luján of New Mexico also appeared on Fox News Sunday , pushing back against criticism from Republicans about the effort, saying, "This is not political as our Republican colleagues are making it out to be."