Shock as Husband Is Caught Lying About 'Significant' Pay Rise
A husband has been slammed for lying about his "significant" pay rise to his wife, who asked for guidance under the handle @Stuckinthemiddle1990 on Mumsnet.
Her post received more than 1,730 votes, 90 percent of which said: "You are not being unreasonable."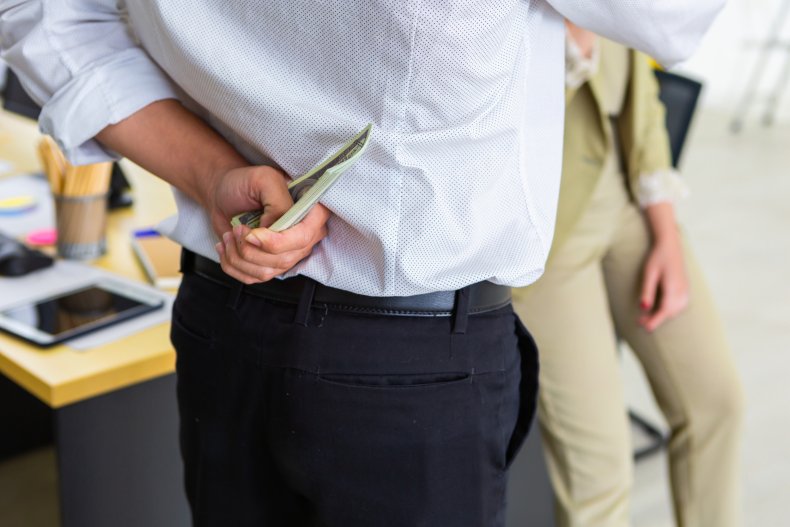 A behavioral relationship expert told Newsweek that the "main issue is the communication between the two of them."
According to a new CreditCards.com poll, 32 percent of 2,404 respondents who are in serious relationships admitted to spending more than their partners would be fine with, and 9 percent said that they are holding secret debt.
The wife wrote on Mumsnet that her husband has been headhunted for a job that pays an extra $17 per week, which they were planning to use on petrol.
The poster added: "I am applying for a promotion at work which, even at the bottom end of the scale, will bring in an extra $930 a month. It's huge, doing a job that I actually do every day anyways."
The wife added her husband's friend works in recruitment, so he offered help with her "supporting statement." While together, he received a text from her husband that he read out loud.
It said: "No hints needed, it's excellent," followed up with, "thanks so much, oh I haven't told her about the significant rise."
The wife then asked her husband, and she wrote on Mumsnet: "He said you know how much I'm being paid, to which I said I know how much you are being paid because you told me how much, but it's hardly significant unless you are lying to me. He said he wasn't and he went quiet."
After not speaking for 20 minutes, the husband told his wife he would receive an extra $87 a week, and added that he lied as he wanted to use the extra funds to pay off his $1,400 credit-card bill.
The woman finished her post by writing: "Every single penny I earn goes to joint finances. A portion of his goes to joint and then he keeps some for football season ticket and football beer money."
Have you noticed any red flags that made you end a relationship? Let us know via life@newsweek.com. We can ask experts for advice, and your story could be featured on Newsweek.
Newsweek reached out to expert and author Tracy Crossley, who specializes in treating individuals with unhealthy dating and relationship patterns.
She said: "The main issue is the communication between the two of them. For some reason, he did not feel safe or comfortable sharing the information. It could have to do with his guilt in how he already spends his money, perhaps feeling like he was taking advantage. It would explain his withholding by telling her about an increase whether it is $1 or $300 more a month."
Crossley added: "The other complexity related to their communication is when or why was it agreed she would contribute all of her money and he would not to their joint account. She might want to look at how she is placing herself in a position of being a martyr instead of being realistic. Where is she depriving herself?
"All to say the anger between them could have that sort of ammunition. They do not sound as though they ever set clear boundaries or expectations with how money is distributed. It leads to one partner acting as a parent and the other partner feeling like a child sneaking a cookie," Crossley said.
Without an understanding of the motivation each person has when it comes to their decisions, it is going to result in distress. There appears to be very little listening or understanding, but instead a "building of a case against the other," as though it justifies each of their anger toward the other.
"It is always an underlying reason and, in this case, they appear to not have broached their feelings about why both feel being in a relationship means sacrifice," Crossley said. "It is clear they both do, and that will never lead to being available, open, loving, or listening. There is already judgment built into what he did and her reaction."
What Do the Comments Say?
Speaking from experience, one Mumsnet user wrote: "My darling husband lied about his wages.. I filed for divorce the next day and threw him out."
"It's not about the amount, it's about the fact he's lied. I wouldn't be impressed," commented another.