Murder of Feminist Activist Micaela Garcia Shakes Argentina in Latest Episode of Violence Against Women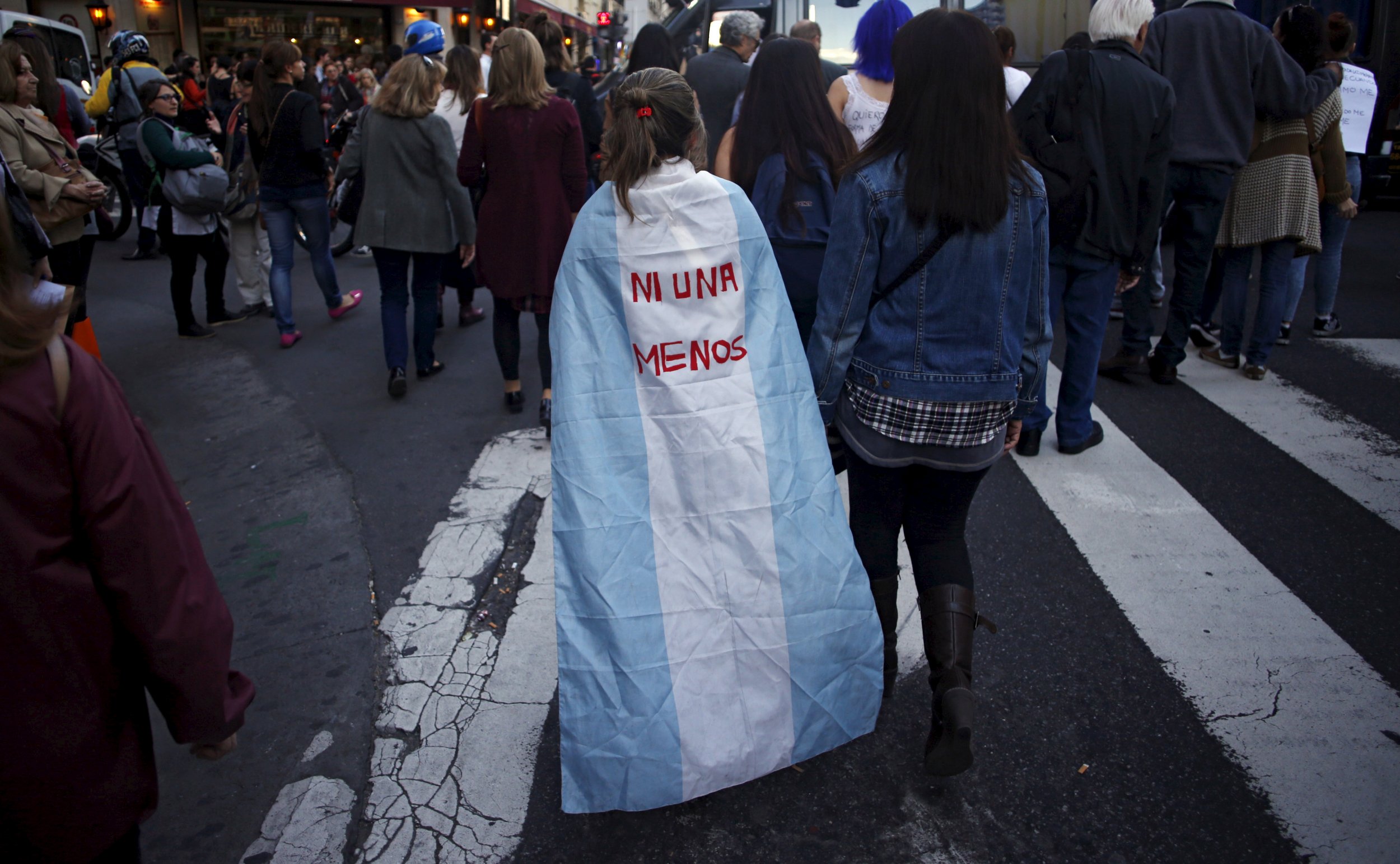 When the body of 21-year-old student and activist Micaela Garcia was discovered on April 8 on the outskirts of the town of Gualeguay, 140 miles north of Buenos Aires, thousands took to the streets to protest gender-based violence in Argentina.
On April 10, Pope Francis—one of Argentina's best-known citizens—telephoned Garcia's parents, Yuyo Garcia and Andrea Lescano. Writing on Facebook, Yuyo Garcia said: "This is how far your fight and message has come, my beautiful. Thank you Holy Father for your humility and your respect!"
Garcia was last seen leaving a nightclub at 5.30 a.m. on April 1 in Gualeguay, a city in the eastern province of Entre Rios. After her disappearance, her family and friends began sharing appeals for information on social media and many changed their profile pictures to images of their smiling relative and friend.
A fan of Evita, the first lady of Argentina who fought for women's suffrage and to improve conditions for poor people in the late 1940s, Garcia was an activist for the left-wing organization JP Evita and had a tattoo on her collar-bone that read Freedom.
She had been involved in "Not one less" ("Ni una menos" in Spanish) protest movement that began in Argentina in 2015 and spread across Latin America and the world. The protests were resurrected in June 2016 to commemorate the anniversary of the movement and in October 2016, after three men were accused of the rape and murder of 16-year-old Lucia Perez in Mar del Plata.
A police dog located Garcia's body on Saturday next to a tree in the outskirts of Gualeguay, naked and in an advanced state of decomposition, according to local police. Her family is now awaiting the result of the autopsy, which is to provide more information about the circumstances of her death.
Sebastian Jose Luis Wagner, 30, was arrested a day before the body was found. He had been jailed for nine years in 2012 for raping two women in 2010, but it emerged this weekend that a judge ordered his early release in July 2016 after he had completed only half his sentence.
In a statement, Fabiana Tunes, president of the government-linked National Council of Women, said: "We have two people responsible, both of whom are a product of a socio-cultural system that is sexist and patriarchal. On the one hand, the killer and on the other the judge, Carlos Alfredo Rossi, who decided to turn a deaf ear to the report of the provincial prison service and to the opinion of the prosecutor's office that advised against [Wagner's] release."
According to Tunes, failure of the the justice system highlighted the need for gender awareness. "This is something on which we are working hard," she added.
Read more: Argentinians protest against domestic violence with 'not one less' slogan
Speaking to the Argentinian Radio Mitre on April 9, Argentine President Mauricio Macri argued that "the laws we have are enough" but criticized the judge for releasing Wagner early.
"We cannot keep these kinds of judges. We all have to understand that we have to take responsibility, there is not a president or a government that solves the problems magically, we all are."
Micaela's family and friends will gather for her funeral service on April 11. Messages of condolences and outrage continue to pour out over social media, demanding justice for Micaela and all victims of gender-based violence.
According to La Casa del Encuentro, an Argentinian feminist organization monitoring femicides in the country, 230 women were murdered between January 1 and October 31, 2016—roughly one every 30 hours.